The British government now has a "sacred responsibility" to manage the economy prudently and leave the public finances strong for the future, said Chancellor Rishi Sunak in his keynote speech to the annual Conservative Party conference on Monday.
Sunak warned of "hard choices" that hinted at possible tax increases ahead and also highlighted that the CCP (Chinese Communist Party) virus crisis is not yet over.
"We are only partway through this crisis," he said and listed a plethora of costly fiscal measures that had been deployed in "one of the most comprehensive and generous packages of support in the world" to mitigate its onslaught.
After the nation was hit by around 200 billion pounds ($259 billion) of emergency spending, Britain has experienced a stark economic slump during the pandemic and is on course for its biggest budget deficit since World War II.
Public debt has now topped 2 trillion pounds ($2.6 trillion) and, according to the Office for National Statistics (ONS), compared with the end of 2019, the economy has fallen by 21.8 percent in the first six months of 2020, further than France, Italy, Germany, and the United States.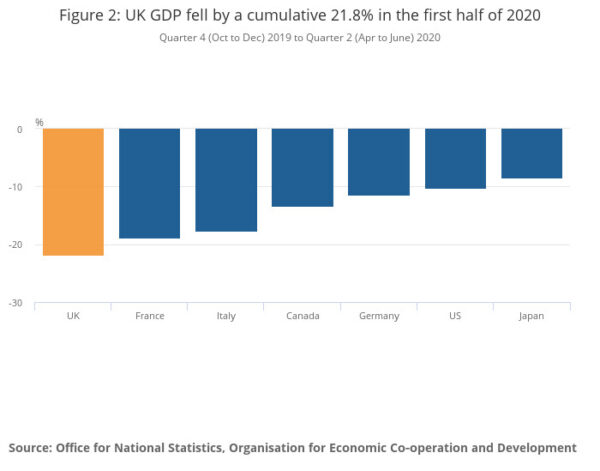 Sunak said the Conservative government would "always balance the books."
"If instead we argue there is no limit on what we can spend, that we can simply borrow our way out of any hole, what is the point in us?" he added.
'Deep' Changes
In his heavily pro-business speech, Sunak said he would be creative in finding ways to help the world's sixth-biggest economy recover from its record slump.
"We will help small businesses adapt," he said.
"And we will make it easier for those with the ambition and appetite to take risks and be bold, to do what they do best, and create jobs and growth," he added.
Sunak said the changes as a result of the pandemic, which reach "deep into our economy and society," must be faced.
"We are now seeing our economy go through changes as a result of coronavirus that can't be ignored," he said.
Sunak is replacing a huge subsidy program for furloughed workers, which expires on Oct. 31, with a less generous job support program. Economists expect unemployment to rise sharply in the coming months.
The annual Conservative Party conference, which ends on Oct. 6, is a virtual conference due to restrictions put in place to slow the spread of the CCP virus, commonly known as novel coronavirus.
Reuters contributed to this report.