The United Kingdom has condemned the Chinese regime's continued cyber attacks on governments and businesses around the world.
"Today we have another example of the Chinese using malicious cyber activity for criminal ends," said British Foreign Secretary Dominic Raab on Wednesday, after the U.S. Department of Justice announced the indictment of five Chinese nationals and two Malaysians on charges relating to cyber attacks.

The five Chinese nationals are allegedly responsible for cyber attacks affecting over 100 victim companies in the United States and other countries, including software development companies, computer hardware manufacturers, telecommunications providers, social media companies, video game companies, non-profit organizations, universities, think tanks, and foreign governments, as well as pro-democracy politicians and activists in Hong Kong.
Three of the five defendants were accused of targeting government computer networks in the United Kingdom, though they did not manage to compromise the networks.
"We condemn the attempted attacks against governments and businesses. This kind of opportunistic and reckless behaviour in cyberspace is wholly unacceptable," Raab said in a statement posted on the UK government website.

"The UK will continue to counter those conducting such cyber attacks, and work with our allies to hold perpetrators to account," he said.
In July, Raab raised concern over evidence that the Chinese regime was engaged in malicious cyber attacks against commercial, medical, and academic institutions in 11 countries, including in the UK.
It followed the U.S. indictment of two Chinese hackers for stealing millions of dollars worth of trade secrets and other sensitive information, and attempting to steal research on the COVID-19 pandemic, which is caused by the CCP (Chinese Communist Party) virus.

In December 2018, the UK issued a public statement expressing serious concern over the activities of hackers linked to China's Ministry of State Security, who had been stealing commercial intellectual property in Europe, Asia, and the United States through a malicious global hacking campaign, widely known as Cloud Hopper.
The UK is gearing up its defense against cyber threats from hostile states such as Russia and China, as part of the government's ongoing comprehensive review of its foreign, security, and defense policy.
Britain's Ministry of Defence is planning to pivot away from traditional defense and "operate much more in the newest domains of space, cyber, and sub-sea," UK Defence Secretary Ben Wallace said in July.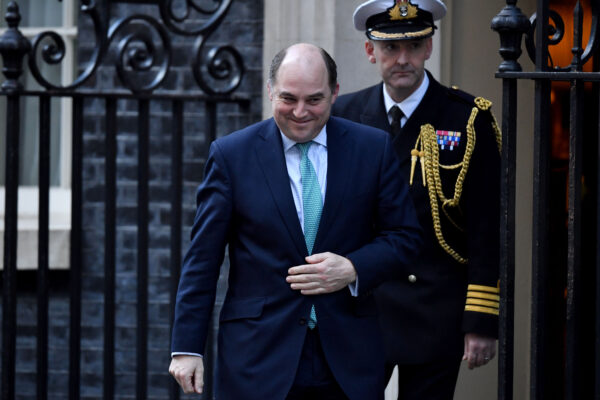 The shifting global picture has changed the character of warfare in ways that will challenge the West to keep pace with adversaries who do not play by the rules, said Lt. Gen. Jim Hockenhull, Britain's chief of defence intelligence, in a media briefing last week.
Conflict is bleeding into new domains such as cyber and space, threatening Britain's cohesion, resilience, and global interests, he warned, adding that the Chinese regime "poses the greatest threat to world order."
Cathy He and Mimi Nguyen Ly contributed to this report.