One might opine, "A funny thing happened on the way to the Brexit."
Essentially, UK Prime Minister Theresa May, taking countenance of strong polls favoring the Conservatives and wanting to strengthen her majority with a personal electoral victory when entering the Brexit negotiations, called a snap election for June 8.
It was a slightly mitigated disaster—but close to the classic "snatching defeat from the jaws of victory" sobriquet.
The Conservatives dropped from a slim but workable majority of 331 (326 required for majority) to 318 seats. They still held the largest block in Parliament and actually garnered more votes than in the previous election. The Labor Party, led by Jeremy Corbyn, often dismissed as a loony-tunes individual whose political views included leaving NATO, ending the UK nuclear deterrent, as well as withdrawing from the EU, nevertheless rose to 262 seats (from 232).
Exactly how May managed to orchestrate this defeat will be mulled over by legions of graduate students writing dissertations, but while victory has a thousand fathers (and mothers), defeat is an orphan. And, to mix metaphors, the donkey's tail of defeat is pinned on May.
Although she has rallied the Conservatives, including by firing her closest aides engaged in election tactics and bringing some critics back into Cabinet, other senior Tory figures that lost seats are more than a bit disgruntled. May will need armor plating on her back against ever-sharper knives.
Nevertheless, at this juncture, May appears to have reached an arrangement with the Democratic Unionist Party (DUP) whose 10 seats will accord May a very narrow majority.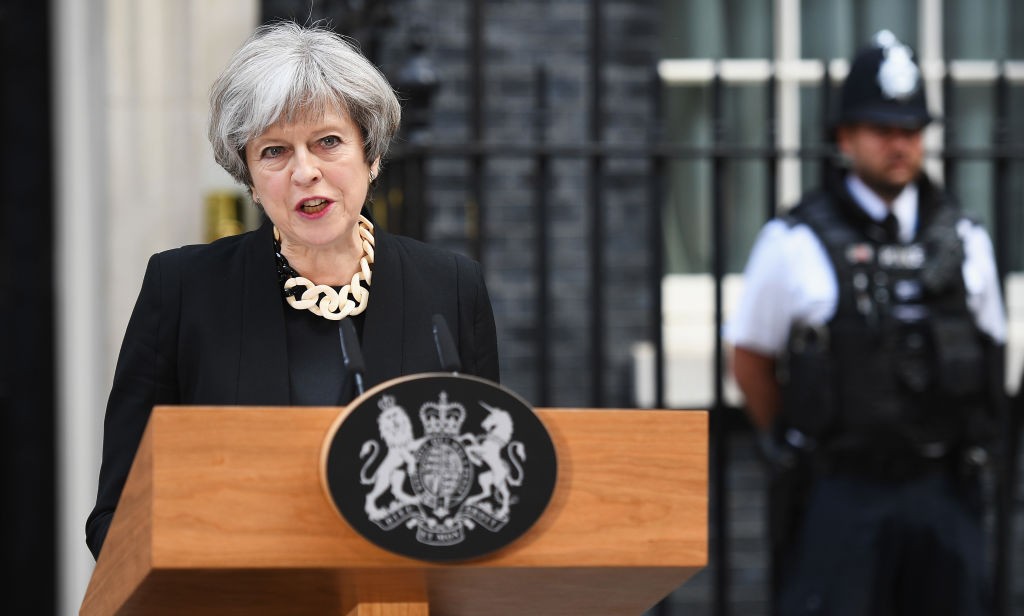 As a consequence, the state opening of Parliament was delayed but now set for June 21, and the opening of the Brexit negotiations should begin during the week of June 19.
But observers have the choice of various scenarios over days, weeks, and months ahead:
            — The pasteup Tory-DUP arrangement collapses with any sort of subsequent arrangements or a Tory decision to attempt to govern without a majority arrangement also failing;
            — The political picture becomes so confused with no parliamentary majority possible that another national election is necessary;
            — Demands for a second referendum on Brexit force such action;
            — Brexit negotiations open, but go nowhere with only "placeholder" positions from London. Reportedly the EU is ready for negotiation while the UK fibrillates. Anticipate that the EU presents "hard" options for any UK departure, including demands for massive UK payments, legal rights for EU citizens in the UK exceeding those of UK citizens, and no negotiations on a follow-on trade agreement until a basic accord on UK exit has been reached. Anticipate that London rejects all these demands.
The entire process is a "devil is in the details" exercise. As one observer noted, "The laws, administrations, and economies of EU member states have been enmeshed for decades. A sudden exit would not be in the interests of either the UK or the EU, so the treaty mandates a two-year negotiating period to tie up loose ends, such as finances and expat arrangements, and to hash out a new relationship."
But many project that two-years will be hardly enough to extract an agreement acceptable to EU capitals (which must approve the agreement) and London. Or whether a May-led government will survive those two years.
The core irritants for UK citizens remain. The endless frustration generated by Brussels-based EUcrats, who seem never to have found a topic in which they cannot meddle, continues. Bureaucrats in Brussels frequently have overweening control over many elements of British economy and society (those who favored Brexit claimed the EU parliament and courts make 60 percent of British laws and issue inter alia regulations regarding factory and office work conditions, farm work, oil drilling, cancer research, and doctors' working hours.) Bureaucrats are never loved, and foreign bureaucrats are even less lovable than indigenous nitpickers.
And UK citizens can reinforce their skepticism with continued association with the EU over projected EU plans to sanction the Czech Republic, Hungary, and Poland, including cutting EU subsidies, over their refusal to accept more than a handful of refugees. Ending free movement of EU populations and national control over refugee/immigration have been the brightest of "red lines" prompting UK Brexit thinking.
With so many balls in the air and so many options in play, we are still closer to the beginning of the beginning than to any resolution of Europe's key dilemma for the next several years. Happily, it will be a "jaw-jaw" dispute.
David T. Jones is a retired U.S. State Department senior foreign service career officer who has published several hundred books, articles, columns, and reviews on U.S.–Canadian bilateral issues and general foreign policy. During a career that spanned over 30 years, he concentrated on politico-military issues, serving as adviser for two Army chiefs of staff. Among his books is "Alternative North Americas: What Canada and the United States Can Learn from Each Other." 
Views expressed in this article are the opinions of the author and do not necessarily reflect the views of The Epoch Times.