For decades, Shanghai was in the hands of former Chinese Communist Party leader Jiang Zemin.
Those officials who rose to power through ties with Jiang when he was Party boss of Shanghai became known as the "Shanghai gang."
With Xi Jinping further consolidating his power following the 19th National Congress, it seems that this gang might be breaking up soon.
On Oct. 29, state media announced that Li Qiang will take over as Shanghai party secretary—the city's most powerful position—after Han Zheng, who currently holds that office, takes up his post as a Politburo Standing Committee member. Han was promoted to the CCP's top decision-making body at the conclusion of the 19th congress, a once-in-five-years political conclave at which the leadership gets reshuffled to determine the next generation of ruling elite.
Li, 58, is a close Xi's ally. When Xi was a party secretary of Zhejiang Province, Li was in charge of Wenzhou, a major city within Zhejiang Province. Later, in 2004, Li was promoted to be secretary-general of Zhejiang, becoming Xi's right-hand man.
After Xi took the helm at the 18th National Congress in 2012, Li was promoted to be governor of Zhejiang Province. Last year, Li replaced a Jiang faction official to become Jiangsu Province party secretary, the top position in the rich, coastal province that abuts Shanghai.
He will be relieved of that position to take over the Shanghai spot. In addition, Li is now also part of the new Politburo lineup, a group of 25 officials at the top of the CCP.
"This move signifies that Shanghai, once controlled by Jiang Zemin, is now in the hands of Xi Jinping," said veteran China watcher and journalist, Jiang Weiping, who now lives in Canada.
The journalist further predicted that more personnel changes will be coming to Shanghai, given that the city has long been associated with Jiang loyalists.
And while Han, who has close ties to Jiang Zemin, has been elevated to the elite Standing Committee, the journalist believes that removing Han from his power base is actually "luring an enemy out of his territory."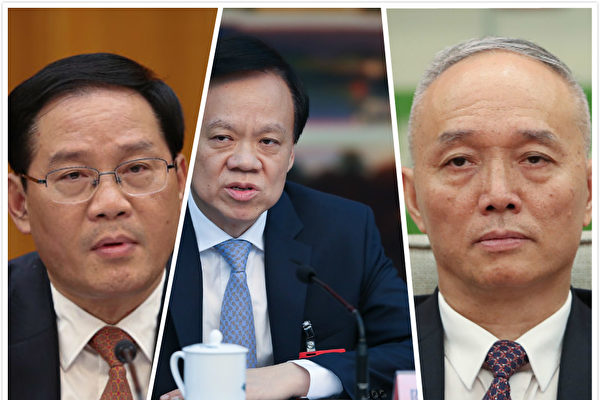 With Li's appointment, that means all four major cities directly controlled by central authorities—Beijing, Shanghai, Chongqing, and Tianjin—are solidly in Xi's control. The Beijing party secretary is Li Qi, who worked under Xi when both worked in Fujian and Zhejiang provinces; Chongqing is headed by Chen Min'er, an ally entrusted with ruling the city once commanded by the Jiang faction. Finally, Tianjin's party secretary is Li Hongzhong, an official with ties to Jiang, but who has repeatedly expressed loyalty to Xi. He is considered by political observers as a textbook example of a Jiang-faction turncoat.
Shanghai Gang
Jiang Zemin ensured the presence of allies by becoming the political patron to many officials in Shanghai. While Jiang was Shanghai's party secretary in the 1980s, he helped Meng Jianzhu ascend the ranks. Meng is now head of the security apparatus.
Zeng Qinghong, the former vice-chair of the CCP from 2003 to 2008, was Jiang's close confidant and ruthlessly destroyed Jiang's opponents to enable Jiang's rise to power. He also worked alongside Jiang in Shanghai.
Luo Ya and Zhang Dun contributed to this report.