Indian Temple Where Buddha Reached Enlightenment Hit by Bomb Blasts
July 6, 2013 11:04 pm Last Updated: July 8, 2013 8:40 am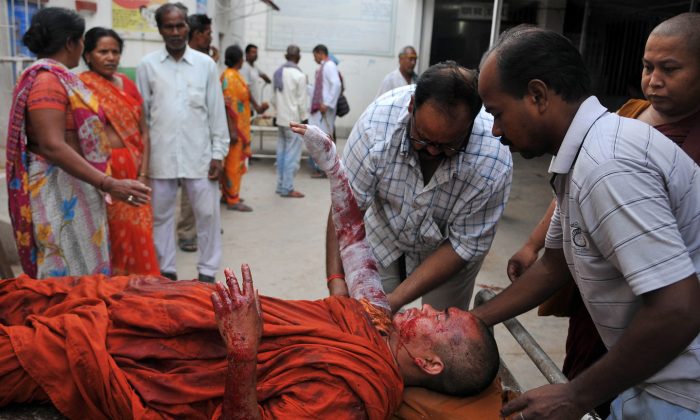 Eight bomb explosions rocked the temple premises of Mahabodhi temple in Bodh Gaya, central India, between 5.30 to 5.58 am local time Sunday.
According to a report by Indian broadcaster IBNlive, at least two people were injured in the blasts.
Mahabodhi temple is the place where Shakyamuni is believed to have reached enlightenment. The site was declared a world heritage site by UNESCO in 2002. 
Bihar Times quotes local police as saying that some of the blasts occurred close to the Mahabodhi tree under which Shakyamuni is said to have sat while reaching enlightenment. The temple structure and the sacred tree are reportedly safe.
Buddhist monks usually start gathering in the temple at around 4am. Pilgrims come to the temple from Srilanka, China, Japan, and other south-Asian countries.
"It was a terror attack," Indian Union Home Secretary Anil Goswami said according to IBNlive.  He said, however, that no group has claimed responsibility for the blasts so far and investigations are underway. 
According to media reports, four blasts took place within the temple complex and four outside it.
Meanwhile, the Indian Ministry of Home Affairs has issued an advisory to the cities of Delhi, Mumbai, Kolkata, Ahmedabad, Chennai, Bangalore, Hyderabad, and Pune. According to IBNlive, the advisory asked for special care to be taken of Buddhist shrines, places of worships, and Tibetan settlements in the wake of the conflict between Rohingya Muslims and Buddhists in Burma (officially known as Myanmar). Security has also been stepped up at the private office of Tibetan spiritual leader, the Dalai Lama, in Dharamsala according to IBNLive. 
Indian President Pranab Mukherjee and Prime Minister Manmohan Singh have condemned the attack. In a press statement, Singh said, "Our composite culture and traditions teach us respect for all religions, and such attacks on religious places will never be tolerated." He wished speedy recovery to those injured in the blasts.
Mukherjee called on people to maintain calm and restraint and to cooperate with the authorities in bringing the perpetrators to justice.