Breaking Beijing's Internet Blockade
August 5, 2008 6:27 pm Last Updated: October 1, 2015 10:58 pm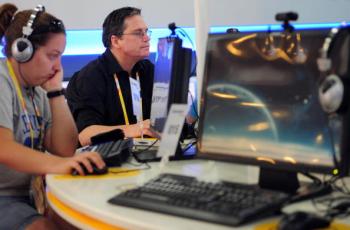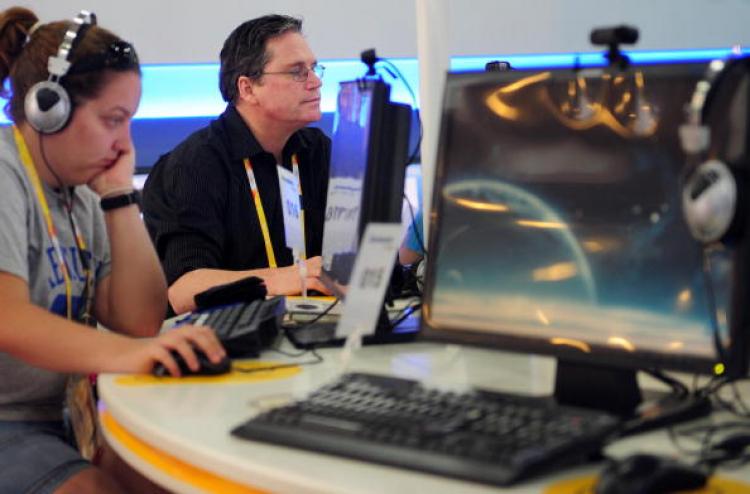 While journalists are still denied free internet access for the Olympics, grassroots efforts across China undermine the regime's censorship.
Detailed instructions for reporters to break through the "Great Firewall of China" are now available. The Global Internet Freedom Consortium (GIFC) has unveiled a package of free software that will enable Beijing reporters and tourists full Internet access. The tools are also becoming a growing force within China.
GIFC has been providing mainland Chinese with ways to bypass censors for years. Their software can be downloaded from http://www.internetfreedom.org.
"You can circumvent the censorship and continue to visit any web site when you are in China," said Tao Wang, Director of Operations at GIFC. The group say that about one million people worldwide benefit from using GIFC tools on a regular basis. Mr Wang encouraged journalists to visit the official website for updates during the Olympics.
The International Olympic Committee (IOC) was criticised last week for their complicity in denying reporters free internet access while in Beijing.
After public and media outcry, some websites were later announced to be unblocked. Others were singled out for continued censorship, such as those pertaining to Falun Gong or Tibet; The Epoch Times website is also heavily censored.
Recent reports revealed how the Chinese Communist Party's (CCP) promises for unfettered internet access were as empty as those for improved human rights. But while it's possible to suppress human rights with labour camps, jail, violence, and torture, maintaining the internet blockade is another story.
Bill Xia, founder of Dynamic Internet Technology, a company part of the Consortium, explained in an interview with The Epoch Times that more and more people inside China are finding out about how to get around the blockade.
"We receive a lot of feedback," says Xia. "Many people feel like these tools have opened a new world for them, and they can access so much information they could not otherwise see. Using those tools has become a very important part of their lives."
GIFC provides software which scatters web requests across a dynamic network of servers outside China, then re-assembles the encrypted data into a normal web page on the user's computer. People inside China are able to bypass the regime's censors by downloading and running these programs.
The software also employs complex encryption algorithms, keeping passwords and other sensitive information secure from the CCP's cyber-cops. Users are undetectable to China's net censors.
While GIFC does not collect demographic information for security reasons, Xia says that some users explain their backgrounds freely. They come from all walks of life, and include dissidents, intellectuals, students, and schoolteachers. "All kinds of people," says Xia.
Including, even, the Party's own cyber-cops.
Foreign experts say that the CCP's billion-dollar "Golden Shield Project" is now manned by 50,000 cyber police who monitor and attempt to control the Internet traffic of several hundred million users.
These same censors have stumbled across GIFC's software, and have themselves become dedicated users.
In 2007, for example, Xia says that his company was contacted by a cyber-cop working in one of the technical departments. He used the software at home to get around the blockage, and explained how he didn't believe in his job as an internet-censor in the first place.
Individuals like this now drop Xia and his team hints from the inside. "We have people who contact us. We have people who are part of the Communist Party, who participate in the blockade, and they try to warn us about the latest efforts of the CCP; they tell us that this isn't the kind of job they wanted to do."
What does the future hold for groups like GIFC, and for the Chinese "netizens" (internet citizens) who desire free information? "Basically, as the Olympics approach, the regime is enhancing internet censorship locally, so it's harder for people to say anything on the normal internet," Xia explains. "So we see a growing interest and growing usage of our tools, more and more people are using them."
While GIFC has its own mass-promotion mechanisms for its tools, happy users of the software have also become a powerful force, forwarding the information to colleagues, friends and peers. This continues despite the hostile environment for dissidence.
"A lot of people are predicting that something is going to happen in China because the regime has been pushing too hard to suppress people," Xia says. With the approach of the Olympics and the ever-increasing rise of social problems within China, Xia says the Party can only keep ramping up its censorship.
This, he says, will simply mean more people seek out ways to circumvent the blocks. "So while more people are using it to access information the government does not want them to see, this will also help them learn about how people outside China are fighting for their human rights. It will help them decide for themselves to fight for their own human rights."
Xia speculates that usage of the tools inside China will keep growing, while freedom to information will spread from person to person.
This will keep going until the CCP can no longer hide anything, he says.