Brazilian President Jair Bolsonaro announced Tuesday that he tested positive for COVID-19.
"Everyone knew that it would reach a considerable part of the population sooner or later. It was positive for me," Bolsonaro told reporters, referring to the test he took on Monday. "It came back positive," he said.
Bolsonaro's diagnosis came just three days after he had lunch at the home of the U.S. Ambassador to Brazil, Todd Chapman, in Brasília.
Earlier on Tuesday, his press office told CNN that Bolsonaro was receiving a dose of the antimalarial drug hydroxychloroquine and azithromycin.
On Monday, the Brazilian leader said that he took the COVID-19 test, and it found that his lungs are "clean" after reports said he was suffering from a fever. "I've done a lung screening, my lung is clean, OK? I went to do a COVID exam a while ago, but everything is okay," he told reporters.
But he also warned people not to get too close to him: "You can't get very close [to me], OK? Recommendation for everyone."
Brazil has reported more than 1.6 million cases of the CCP (Chinese Communist Party) virus, leading to more than 60,000 deaths, according to Johns Hopkins University.
The mayor of Manaus, the largest city in the Amazon area, was taken to a hospital in Sao Paulo after falling ill with the virus.
"The doctors are optimistic and so are we," Arthur Virgilio, the mayor, told The Guardian this week.
Bolsonaro has previously tested negative for the virus three times, including after he returned from a meeting with President Donald Trump in Florida in March. Several members of his entourage tested positive for the virus.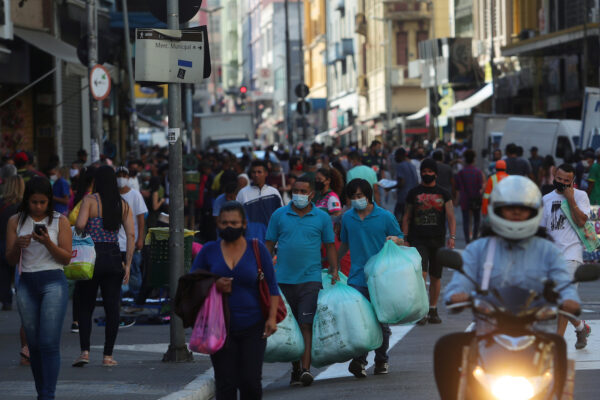 "Our life has to go on. Jobs should be maintained," Bolsonaro in March as cases started to rise. He has maintained that the economic troubles caused by lockdowns would be far greater than the CCP virus itself.
On Monday night Bolsonaro's son, Carlos, accused critics of seeking the president's death.
"The immense number of people rooting for the death of the head of the executive right now should trigger an immediate show of solidarity from other [political] leaders," Carlos Bolsonaro wrote on Twitter.
Last month, meanwhile, Bolsonaro said Brazil may be pulled out of the UN's World Health Organization (WHO) after it issued warnings about the rise of the virus in Latin America.
Bolsonaro said Brazil will consider leaving the organization unless it stops being a "partisan political organization," Reuters reported.