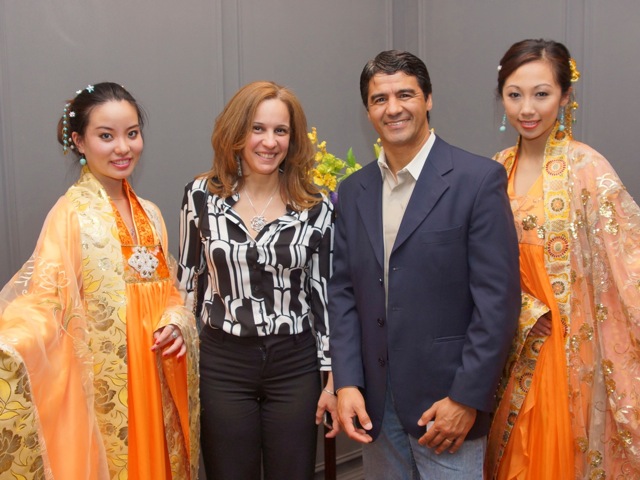 NEW YORK—Shen Yun Performing Arts left the sold-out audience at the Lincoln Center's David H. Koch Theater awestruck on Saturday night.
The owner of Brazilian language newspaper Comunidade News, Lucio Souza, whose nickname is "China" since he was a young boy, attended the performance with his wife, Christina Santos.
"It was very, very good," he said.
Shen Yun seeks to revive the traditional culture of China that was all but lost during decades of communist rule, the company says on its website. Chinese culture has a history that spans thousands of years and has been influenced heavily by Buddhism, Confucianism, and Taoism.
Mr. Souza said that he really "liked the performance" of the dancers in Shen Yun. "I loved the dancing and the jumping," he said. "It's beautiful."
Classical Chinese dance and ethnic folk dances from China are displayed throughout Shen Yun, the company says. The dance has been passed down since antiquity—first in the Chinese royal court—before it was systematized and now, it is considered a complete system.
The performance also includes a movement-filled, colorful digital backdrop, with which the dancers interact. It shows scenery from ancient China to modern times that compliment the dance, the company says.
"I love it when they mixed the [dance] with the screen," Mr. Souza said, referring to the backdrop. "It makes us feel like [it's real]. … It's very good," he added.
Mrs. Santos said she was impressed with the dance company's use of colors, saying it is "very nice." Shen Yun, she said, "is so relaxing."
With reporting by Tara MacIsaac and Jack Phillips.
Shen Yun Performing Arts, based in New York, has three touring companies that perform simultaneously around the world, with a mission to revive traditional Chinese culture. Shen Yun Performing Arts Touring Company will perform at the David H. Koch Theater at Lincoln Center through April 22.
For more information, visit ShenYunPerformingArts.org.