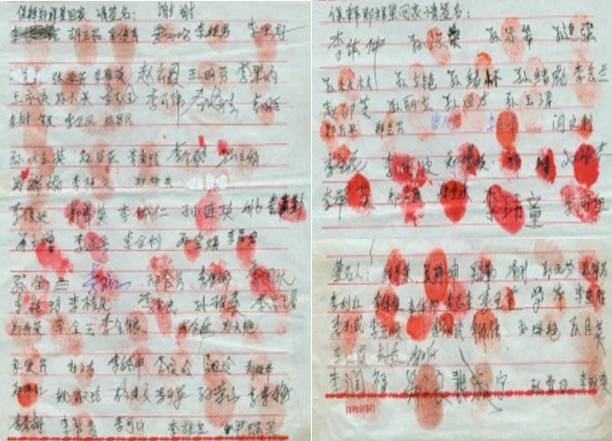 People in the "Brave 300" Village in Hebei province who signed a petition requesting the release of local Falun Gong practitioner Wang Xiaodong, are facing increased persecution, an insider has revealed to The Epoch Times. 
The local party committee recently requested all village party secretaries and directors publicly denounce Falun Gong, while the villagers are being threatened into signing "family commitment cards to reject evil religions."
Falun Gong, also known as Falun Dafa, is a meditation practice that has been the object of scorn by the Chinese regime since 1999. Thousands of practitioners are believed to have been killed or tortured.
In April, representatives from 300 households in Zhouguantun Village, Botou City signed their signatures and stamped their thumbprints to request the release of Wang Xiaodong, a Falun Gong practitioner, from the Botou City Detention Center where he was taken after being arrested from his home on Feb. 25.
The petition was reportedly circulated among members of the Politburo prompting local authorities to track down the villagers who signed the petition in an attempt to force them to recant their support for Falun Gong.
An insider source told The Epoch Times that the Botou City, Fu Township party committee recently held a township-wide meeting for all party cadres where they requested village cadres and directors from various villages to denounce and mock Falun Gong and carry out other orders aimed at attacking the spiritual practice. Zhouguantun village has since been covered with slogans slandering Falun Gong.
The insider also said that the Botou City public security bureau and national security brigade have been threatening other relatives in Wang's family to write so-called "apology letters."  Local Falun Gong practitioners are currently held under tight police surveillance.
On the evening of May 26, local police abducted Wang's sister Wang Xiaomei and another Falun Gong practitioner, Tang Jianying. They are currently being held at the Cangzhou City Detention Center in Hebei province, according to the insider source. 
The insider noted that Wang's relatives recently hired a Beijing lawyer named Li Changming to help defend Wang Xiaodong. On June 6, the lawyer went to court and was told that the court had already received the case more than 10 days ago. Wang's relatives were not informed of this. A court session is scheduled to begin soon, but a specific date was not given.
The insider also said that Wang Xiaodong's older brother visited him in mid-May at the detention center under the accompaniment of local police, and found that Wang had lost weight and become hunchbacked. "He was also beaten. Because there were people [police] watching, Wang's brother couldn't say much," the source said.
Click www.ept.ms/ccp-crisis to read about the most recent developments in the ongoing crisis within the Chinese communist regime. In this special topic, we provide readers with the necessary context to understand the situation. Get the RSS feed. Get the new interactive Timeline of Events. Who are the Major Players?

The Epoch Times publishes in 35 countries and in 19 languages. Subscribe to our e-newsletter.