Bradley Wiggins Wins Time Trial, Race Lead in Tour of Britain
September 17, 2013 12:36 pm Last Updated: September 17, 2013 12:38 pm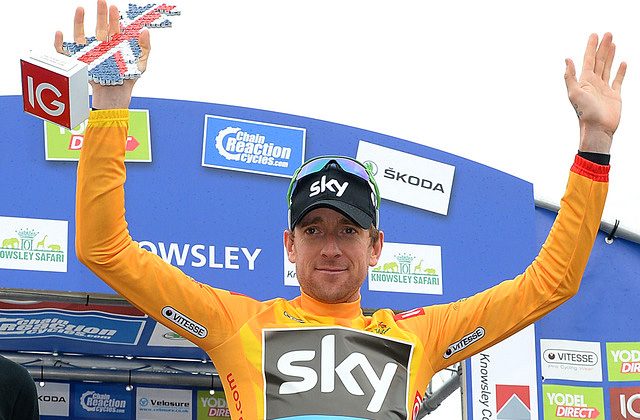 After dominating the cycling world in 2012, Sir Bradley had had a miserable 2013, with illness and injury sidelining him though all the important races. He finally got healthy and found his form in time for the Tour of Britain, only a week before the UCI World Championships, where he intends to contest the time trial.
Given all that, his dominating win in the Tour of Britain Stage Three time trial must be quite a confidence boost.
Wiggins rode the 16-km course in 19:54, 37 seconds faster than team mate Ian Stannard, giving Team Sky not only the stage win but also the top two places in General Classification. Sky's David López finished sixth.
Wiggins won because he is a great time trial rider finally reaching peak form after a season of difficulties. He also won because he was supremely determined and supremely prepared.
Before the race, while most riders were under shelter, avoiding the cold rain, Wiggins was out riding the hardest parts of the course, blasting through the roundabouts at ever higher speed to determine the limit.
"I went though those roundabouts a couple of time," he explained. "I got off the first time and pushed the bike against the floor to see how slippery it was. The next time I thought, 'I can take it at 40 K an hour," the next time took it fifty, then fifty-five, then the last time I got behind the car and came off it at sixty K an hour. I just wanted to be 100 percent sure that I could do that in the race."
Wiggins had been planning to win this stage from the moment he heard he wasn't on Sky's Tour de France team.
"Admittedly it's not been a great season up to now, for one reason or another, but the minute I wasn't riding the Tour [de France] I've been training locally, right through July—I couldn't tell you how many times I've been round this course," Wiggins told Universal Sports.
"I live 20 K from here and it was always on my mind—the Tour of Britain this time time trial. It was great just to get out there in front of everybody—I've got so many friends and family here and it was nice to do a performance like that."
Wiggins, though an Englishman, doesn't particularly like riding in the rain, something which was shown cl;early during this year's miserable Giro d'Italia. Wiggins, before he had to retire with a chest infection, crashed on one steep descent and rode the rest fo the way at half speed, unwilling to crash agion on the slippery roads. This time, however, he was totally committed—despite having crashed the day before.
"I think it was obvious, the commitment in those roundabouts in the rain even from the start, and crashing yesterday and not even flinching and getting back in— it's quite unlike me. I'd have normally thrown me toys out of the pram and wanted to go home."
Not this time. Wiggins knew that the time trial was the one stage where he could recoup a bit of the reputation he earned in 2012, and a little of the confidence he might have lost in 2013.
"I'm not the great climber like Dan Martin and [Nairo] Quintana and those guys, so to do a time trial, I want to get as much out of that time trial as possible," he said. "I just had to take every second I could."