A boxer who kissed a reporter on the mouth during a post-fight interview has dismissed the tornado of criticism that blew up on social media, claiming that they are friends.
Vegus Sports Daily reporter Jenny Sushe had described as "embarrassing" and "strange" the moment when world title contender Kubrat Pulev kissed her at the end of the interview following his victory on March 23 in California.
She had uploaded the interview to her Youtube channel, where previous video clicks number only in the hundreds. But this videot quickly went viral, picking up over one million views in four days.
Sushe's only public response to the social media storm was a reply to a question on Twitter about how she felt about the kiss. "Lil embarrassing. Strange," she wrote.
Former European heavyweight champion Pulev waited for a further day, as outrage gathered pace, before posting a statement in a Tweet entitled: "For the most commented kiss in the world!"
"The reporter, Jenny, is actually a friend of mine, and after the interview, I was so elated, I gave her a kiss," the statement read. "Later that night, she joined me and my other friends at my post-fight celebration.
"On the video, after our kiss, we both laughed about it and thanked each other. There really is nothing more to this."
Sushe posted a picture of herself with the Bulgarian fighter in a supermarket after the fight.
Vegus Sports Daily (VSD) issued a statement on March 25 describing Sushe as the "victim of an unwanted, unexpected and unsolicited forceful kiss."
"What happened to Ms. Sushe was completely blindsiding and unwarranted and we share in her shock, hurt, embarrassment and general outrage," the statement said.
Despite Sushe having given very little public indication of her response, VSD said it was working around the clock to investigate the matter. "We stand firmly behind Ms. Sushe as we continue to resolve this matter."
For the most commented kiss in the world! pic.twitter.com/T1Ktlprff4

— Kubrat Pulev (@KubratPulev) March 26, 2019
Pulev, who pulled out of a world title fight in 2017,  has only ever suffered one professional defeat—to long-time former heavyweight world chamption Vlladamir Klitschko in 2014.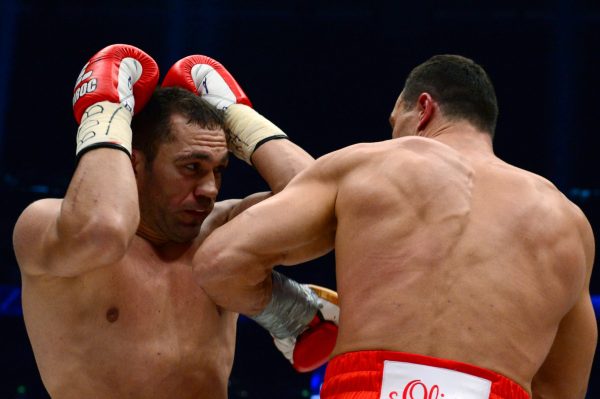 The fight on March 23 at the Hanger in California was his seventh fight since that defeat.
After three knockdowns, he finally dispatched his opponent in a knockout in the seventh round.
With blood still running down a cut by his eyebrow, Pulev gave a brief interview backstage to Sushe.
She was wrapping up the short interview by asking the fighter if he thought he should get a shot at taking on British boxer Tyson Fury.
"Yes," came the reply, shortly before he moved forward and kissed her on the mouth as he held her jaw.
Pulev immediately walked off, as Sushe turned to the camera, laughing, appearing surprised and said "Alright! Thank you!"
"Jesus Christ!" she added a second later as the leant in to switch off the camera, as a man's voice says, "Come on."