Boston Race Items Sale: Medals, Jackets Appear on eBay
April 18, 2013 1:37 pm Last Updated: April 18, 2013 1:40 pm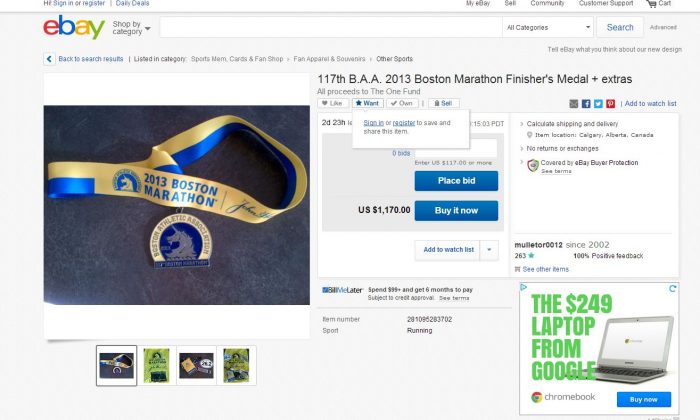 Boston race items sale: A large quantity of Boston Marathon memorabilia, including key chains, jackets, lapels, medals, and other items have hit eBay over the past several days.
The Boston Globe reported Wednesday that there were five active auctions for 2013 marathon medals on the website, with prices ranging from $114 to $306.
Dan Ashworth, who heads a company that makes the medals, told the Globe he is "disgusted" with the sellers, adding that "everyone was evacuated so the medals were probably just left there for anyone to take," suggesting that the medals may have been looted in the aftermath of the bombings.
"I don't know of any runners who would do that and sell their medals for a profit," Ashworth said. "I know several friends haven't gotten medals who were stopped at the 25-mile mark. A lot of people left the city or didn't want to go back to the site."
One user on eBay wrote of why he is selling the medal.
"I hold the memories, but I'm not a momento/souvenier [sic] type person. If I keep it, it ends up in a shoebox so I hope someone will buy it that will find it interesting or even inspiring," the user said, according to ABC News. He said he will keep the $120 to pay for next year's marathon and will give the rest to a "first responders or victims fund."
Other than medals, there are a number of other Boston Marathon 2013 items up for sale.
For example, a 2013 Boston Marathon jacket has a price listing of $79.99 and a hoodie is also being auctioned with a price of $74.99. 
Earlier this week, a video surfaced on YouTube showing people purportedly taking items after the marathon, with some netizens claiming they were looting.
Some of the items on eBay are being sold off to help victims of the bombing, including a finisher's medal with a starting price of $117.00. 
"Having taken part in the race, I feel it is my duty to help and support those who helped me along the way in the run. ALL PROCEEDS will be donated to The One Fund," the user said.
The proceeds for another item, a marathon shirt with a price of $17.99, will partially go to the American Red Cross of Eastern Massachusetts. 
According to ABC, eBay said that "out of respect for victims, eBay does not allow listings that graphically portray, glorify or attempt to profit from human tragedy or suffering. eBay's teams are monitoring related listings to ensure they comply with our policies and also taking into account reports from our community members."