The organizers of the Boston Marathon on April 6 barred Russian and Belarusian athletes from participating in this year's race.
The Boston Athletic Association (BAA) said the ban was to show support for Ukraine, as it remains under attack by Russia's military.
"Like so many around the world, we are horrified and outraged by what we have seen and learned from the reporting in Ukraine. We believe that running is a global sport and as such we must do what we can to show our support to the people of Ukraine," said BAA president Tom Grilk in a statement.
Natalia Shtrom, director of the Multicultural Resource Center in Massachusetts, told The Epoch Times she was horrified by the decision. "I'm in shock. I really have no words."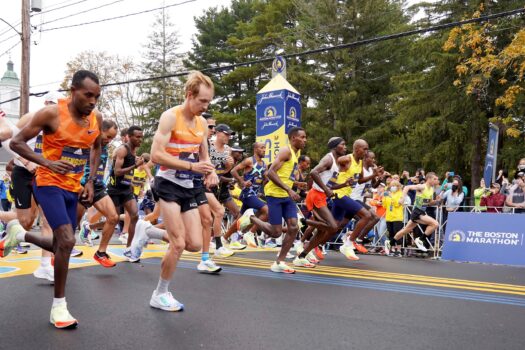 "I would never expect something like this in Massachusetts, especially in Boston," Shtrom, whose husband is Ukrainian, said.
She added that her organization is backed by an immigrant attorney from Belarus whose volunteer work has included helping Ukrainian families.
Boston University graduate Alex Vardanyan, a Russian citizen who works as an IT consultant in the Boston area on a university work authorization, told The Epoch Times that excluding Russian and Belarusian runners from an international event like the marathon is only hurting ordinary people "and not helping end the war."
Vardanyan is a native of Armenia who lived through the Nagorno-Karabakh conflict that saw the slaughter of Armenian civilians at the borders of Azerbaijan. He called the exclusion "double standards that are really sickening."
"There were no sanctions from the United States from that, so why now?" 
The Boston Marathon, which is slated to take place on April 18 this year, is always held on Patriot's Day in Massachusetts.
The city and state are filled with Revolutionary War enactments with the Boston Marathon drawing thousands of spectators to cheer on runners and meet them at the finish line in Boston's popular Copley Square.
Winners are often from other countries—including Russia. In 2007, Chuvashian resident Lidiya Grigoryeva was the women's Boston Marathon winner.
In 2013, tragedy hit the Boston race when two brothers with native ties to the Russian Republic of Chechnya planted two pressure-cooker bombs about a half block from the finish line. The blasts killed three people including an 8-year-old boy, maimed several others, and wounded 260 in total.
According to a House of Representatives Homeland Security Committee report released the following year, prior to the marathon bombing, Russian authorities had actually warned the FBI that one of the brothers—Tamerlan Tsarnaev—had ties to militant Islamists.
There are conflicting reports about the United States' handling of the information and allegations that Russia withheld vital information.
Tamerlan died in a shootout with police one week after the April 15 marathon massacre. His brother Dzhokhar is on death row for the attack.
Under the ban, Russian and Belarusian citizens already registered and living in the United States will be allowed to compete in the Boston Marathon. They will not, however, be allowed to run under the flag of their countries. Any registered runner from Russia and Belarus and still living in either country will not be able to run.
According to BAA, there are 63 Russian and Belarusian runners registered for this year's marathon.
In its 126th year, the Boston Marathon was last run in 2019 because of COVID-19. It drew about 26,000 spectators.
Both Shtrom and Vardanyan said they have attended the Boston Marathon in the past and were proud to cheer on all the runners.
Both Belarusian and Russian organizations based in Boston have held protests against Russia's invasion of Ukraine.
On its Twitter page, the group Belarusians in Boston recently posted pictures of a rally it held called "Belarus Freedom Day" in support of Ukraine in its fight against Russian aggression.