The UK's Prime Minister Boris Johnson has arrived in Saudi Arabia on Wednesday after visiting the United Arab Emirates (UAE) during a trip to reduce the West's dependence on Russian energy.
After touching down at Riyadh airport in Saudi Arabia on Wednesday, Johnson said he was "glad to be back" in the country during a tea ceremony.
During the trip, Downing Street expects Saudi Arabia's alfanar group will confirm £1 billion ($1.31 billion) of investment in the Lighthouse Green Fuels Project in Teesside, trying to produce sustainable aviation fuel from waste.
It is hoped the project will create more than 700 jobs during construction, and around 240 full-time jobs once fully operational.
Earlier on the day, Johnson met the UAE's de facto leader, Abu Dhabi Crown Prince Sheikh Mohammed bin Zayed al-Nahyan in a closed-door meeting.
A spokesman for No. 10 Downing Street said Johnson had "set out his deep concerns about the chaos unleashed by Russia's unprovoked invasion of Ukraine, and stressed the importance of working together to improve stability in the global energy market" during his meeting with the UAE leader.
"The leaders welcomed the longstanding partnership between our two countries and discussed opportunities to increase collaboration between the UK and UAE on energy security, green technology, and trade," the statement said.
"They also agreed on the need to bolster our strong security, defence, and intelligence co-operation in the face of growing global threats, including from the Houthis in Yemen."
The statement didn't mention whether Johnson had secured any kind of commitment to increasing oil production.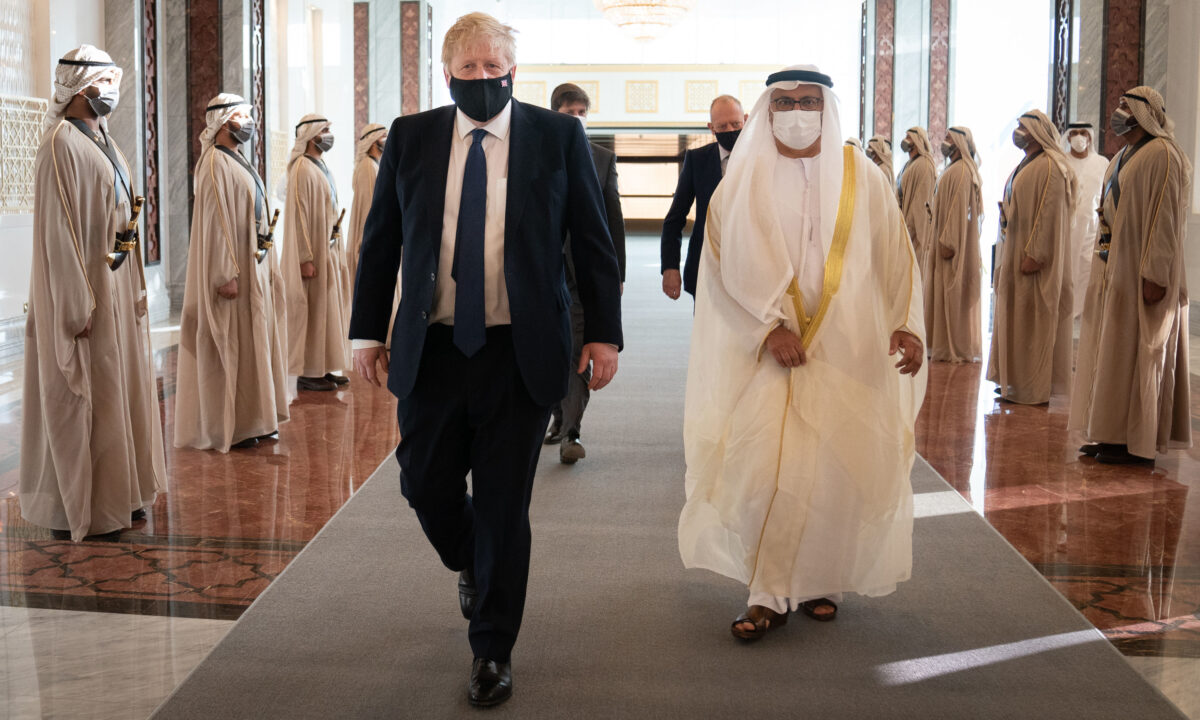 Johnson's trip has been controversial due to the two Gulf states' human rights records, especially in the wake of Saudi Arabia's recent execution of 81 people—the largest mass execution in the kingdom in modern history.
Critics have also questioned the choice to particularly strengthen ties with Mohammed bin Salman, with the Saudi leader having been alleged to have ordered the murder of U.S.-based journalist Jamal Khashoggi—an allegation the Saudi ruler denies.
Labour leader Sir Keir Starmer has said that "going cap in hand from dictator to dictator is not an energy strategy."
Conservative MP Julian Lewis, who chairs Parliament's Intelligence and Security Committee, also called on the government to ensure that "in seeking to lessen our dependence upon one source of oil and gas, we do not end up creating a source dependency on another unreliable and sometimes hostile regime."
But Johnson has defended the trip, saying he's trying to "build the widest possible coalition" to ensure Russian President Vladimir Putin does not succeed in his war effort.
"The UK is building an international coalition to deal with the new reality we face. The world must wean itself off Russian hydrocarbons and starve Putin's addiction to oil and gas," he said.
"Saudi Arabia and the United Arab Emirates are key international partners in that effort. We will work with them to ensure regional security, support the humanitarian relief effort, and stabilise global energy markets for the longer term."
Deputising Johnson during Prime Minister's Question session in Parliament on Wednesday, Deputy Prime Minister Dominic Raab told MPs the UK "will never allow our moral red lines to be blurred" when pressed on what more the government can do "to make the Saudis behave ethically."
Raab said he had raised human rights concerns with Saudi leaders when he was the Foreign Secretary and he knew that "the prime minister will be raising these issues again."
He also defended the effectiveness of these talks, citing the release of two prominent women's rights activists and author and critic Raif Badawi.
Downing Street later told reporters that Johnson had  "raised human rights issues" without giving details.
On Tuesday, Johnson told reporters that while only 3 percent of the UK's gas comes from Russia, "a lot more of our diesel" does.
Also on Wednesday, the International Energy Agency said in its monthly report that it had seen a reduction of total Russian oil exports of 2.5 million barrels per day (bpd), including 1.5 million bpd in crude oil.
The agency projected that three million bpd of Russian oil and products may not find their way to market beginning in April and the world is set for a supply deficit of 700,000 bpd in the second quarter.
PA media and Reuters contributed to this report.