Prime Minister Boris Johnson has urged football fans not to boo players when their teams take a knee ahead of Euro 2020 games.
It comes after former Prime Minister Gordan Brown said Johnson should support the gesture, and a minister from Johnson's cabinet said the gesture could create new divisions.
The England team was booed on June 1 when players took a knee ahead of a friendly warm-up game against Austria.
Manager Gareth Southgate has said on June 5 that his players now "feel more than ever determined to take the knee through this tournament," which starts on Sunday for the team when it plays Croatia.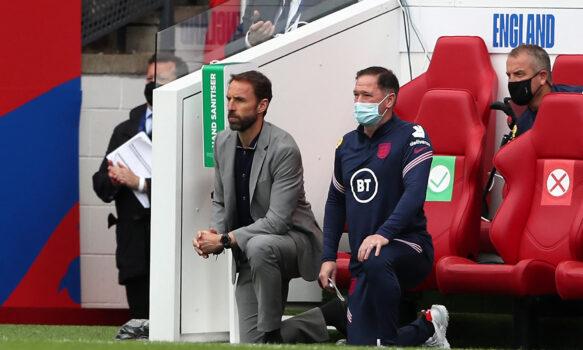 Asked if Johnson supports players taking the knee, his spokesman, who had previously stopped short at explicitly telling fans not to boo, said on Friday: "Yes. The Prime Minister respects the right of all people to peacefully protest and make their feelings known about injustices.
Johnson "wants to see everybody getting behind the team to cheer them on, not boo," the spokesman added, before declining to criticise education minister Gillian Keegan for calling the act "divisive."
On Thursday, Keegan told the BBC's "Question Time" programme that people are "perfectly free" to decide whether they should take the knee or not, but she considers kneeling more symbolism than action.
"We've seen [that] it's creating division," she said.
"And by the way, the people who are booing, I'm pretty sure most of them would like to end racism as well."
Keegan said that there are "different things that people are interpreting."
After England was booed by fans, Southgate said that the booing felt like a criticism of the team's black players and the gesture wasn't a political stand but a supportive gesture of each other.
But Keegan said not everyone agrees.
"There are some Conservative MPs (that) are very much against it. Why? Because Black Lives Matter (BLM) stands for things that they don't stand for. It's really about defunding the police and the overthrow of capitalism, which is, you know, Black Lives Matter the actual political organisation," she said.
"And some people will take it and think that's supporting Black Lives Matter. I'm sure Black Lives Matter will think it's supporting them."
Speaking to BBC Radio 4's "Today" programme on Friday, Vaccines minister Nadhim Zahawi said he "absolutely" backs "the symbolism of reminding the world of how painful it is to be subjected to the racism that Marcus Rashford has been subjected to, whether on social media or elsewhere."
"If you then extrapolate to a Black Lives Matter movement that has a political agenda … that's a different place," he said.
"That's my point, which is why I think we just have to differentiate and rightly back our team."
Rashford, a footballer from the Manchester United club, said he received at least 70 racial slurs on his social media accounts after his team lost to Villarreal at the Europa League final on May 26.
Assistant Chief Constable of Greater Manchester Police Chris Sykes confirmed that "a number of racially aggravated social media posts" had been made "towards numerous Manchester United players,"  and that the posts "originate from countries across the world as well as the UK."
"Nobody should be subject to hateful language and abuse and it is deeply upsetting not only to those who receive these comments, but to anyone who witnesses it on a public forum."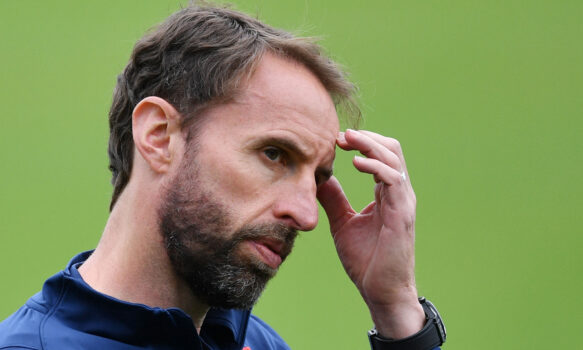 Southgate wrote an emotional letter on June 8, implying the gesture of taking a knee is about supporting players who receive racial abuse.
"Why would you tag someone in on a conversation that is abusive? Why would you choose to insult somebody for something as ridiculous as the colour of their skin?" he wrote.
Southgate said that it's the players' "duty to continue to interact with the public on matters such as equality, inclusivity and racial injustice, while using the power of their voices to help put debates on the table, raise awareness and educate."
However, journalist Ben Cobley criticised the football world, saying "near-unanimous response has been to shift the goalposts."
"When the kneeling began at the return of football last June, it was made quite explicit that it was in support of the Black Lives Matter movement," Cobley wrote in Spiked.
"Players wore the BLM message on the back of their shirts for the first 12 games of the season. Arsenal placed large BLM banners in the stands at the Emirates to convey the messaging. Sky Sports and BT Sports both displayed BLM branding on their screens while broadcasting matches. In its communications, the England football team also promoted Black Lives Matter. So did the players," he added.
Taking the knee is a gesture made by many celebrities, politicians, and professional athletes in support of the Black Lives Matter movement, especially after the death of George Floyd in the United States.
The UK's opposition leader Sir Keir Starmer posted a photo on June 9, 2020, showing him and deputy Labour leader Angela Rayner kneeling in a room, with a caption reading "We kneel with all those opposing anti-Black racism. #BlackLivesMatter" that was followed by three fists of different colours.
Before Johnson's spokesman made the comment on Friday, Starmer had accused Johnson of "a failure of leadership" by failing to swiftly criticise the booing.
The Wales team has confirmed that it will also take a knee ahead of the games. The Scotland Team initially said on Thursday that they would "take a stand against racism" instead of kneeling, but decided on Friday that the team would kneel when it plays England in London to show solidarity, while standing when Scotland hosts Croatia.
So far, six teams have taken a knee and/or said they would do so during Euro 2020 tournament. When Belgium players took a knee on Sunday, players of their opponent Croatia team stood watching.
PA contributed to this report.