WASHINGTON—At any given time, at the busiest border station in the country, only around 17 Border Patrol agents are deployed to patrol a 53-mile border, according to Brandon Judd, president of the National Border Patrol Council.
The McAllen Border Patrol Station, located in southeast Texas, patrols 53 miles of the Mexican border along the winding Rio Grande. The station is one of more than 150 border stations in the country.
"You cannot properly patrol 53 miles of border with 17 agents—you just can't do it," Judd said.
He said around 700 Border Patrol agents are assigned to the McAllen station, but after accounting for days off, annual leave, and sick leave, approximately 400 agents are working over a 24-hour period.
For the sake of border security, this is entirely unjustifiable.
Of those 400 agents, only around 50 are deployed to the border—which, over three shifts in a 24-hour period, puts about 17 agents on patrol at any given time.
"For the sake of border security, this is entirely unjustifiable," he said at a House hearing on April 12.
The rest of the agents are tied up "doing so many different duties, it's not even funny," he said.
"My issue is the number of administrative positions … [which] we shouldn't be dedicating a law enforcement officer to doing, such as [vehicle control]."
Judd said support staff should be hired instead, at a smaller cost to taxpayers. "We're taking law enforcement out of the field to do administration duties that could be done by a clerical position—it just doesn't make sense."
He said if resources were being used properly, it's likely fewer National Guard troops would need to be deployed. The Department of Defense has given provision for 4,000 guardsmen to be deployed to the border in a supporting role to Border Patrol. The number is changing daily, but as of April 16, around 900 were on the border—650 in Texas, 250 in Arizona, and just over 60 in New Mexico.
But Border Patrol is still about 2,000 agents below the congressionally mandated floor of 21,370 agents. Attrition is high and recruitment is difficult, Judd said.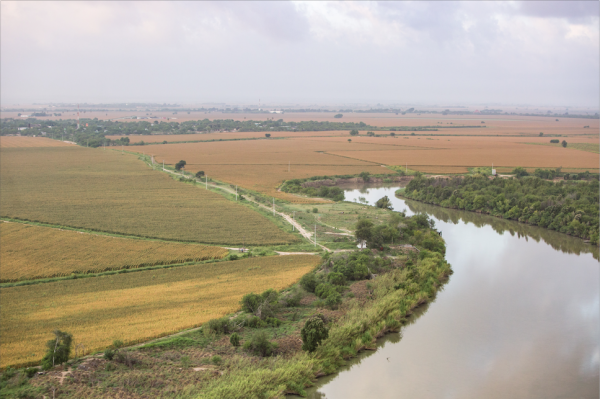 Illegal Crossings
The McAllen Station falls within the Rio Grande Valley Sector, which sees the highest number of illegal border crossings in the nation.
In March, illegal crossings spiked beyond what they had been for the last three years. More than 37,000 illegal immigrants were apprehended by Border Patrol in March and 14,000 of them came through the Rio Grande Valley Sector.
Judd said that "although the sector is reporting an official apprehension rate of 79 percent, agents have relayed to me that the sector would be lucky to have an apprehension rate of 50 percent, pointing to the misuse of resources."
If the 50 percent catch rate is accurate, that means another 14,000 illegal aliens freely crossed into the United States. And the 14,000 that got away are likely a more dangerous population, said Judd, because the population that were caught were asylum-seekers—unaccompanied minors and family units.
Asylum seekers can enter the United States through ports of entry and accomplish the exact same thing as if they crossed the border illegally, Judd said.
"But the smugglers force them to cross the border between the ports of entry, because they know that it's going to force us to deploy our resources to take those individuals into custody," he said.
"And when we deploy our resources … we create huge gaps in the border where we don't have coverage, and then the smugglers cross their higher value products through."
Those higher value products are usually drugs and people who would not be eligible for asylum.