Border Patrol agents have caught the largest group of illegal immigrants ever to be intercepted at one time, according to U.S. Customs and Border Protection (CBP).
Officials said in a statement that the historic interception—carried out in New Mexico on April 30—amounted to a total of 424 illegal immigrants.
The group, detained after midnight in Sunland park, consisted mostly of Central American families and unaccompanied minors.
A second group consisting of 230 illegal immigrants was intercepted in New Mexico's Antelope wells at around 2 a.m., CBP said.
LARGEST GROUP APPREHENDED—#BorderPatrol agents apprehended the largest group of 424 illegal aliens just after midnight this morning in Sunland Park, NM. A second group of 230 illegal aliens was also apprehended in Antelope Wells, NM this morning. More: https://t.co/54XxK78XB2 pic.twitter.com/i5owidRi1t

— CBP (@CBP) April 30, 2019
"This is an ongoing situation that U.S Border Patrol agents are facing in southern New Mexico: hundreds of parents and children being encountered by agents after having faced a dangerous journey in the hands of unscrupulous smugglers," CBP said in a statement. "Criminal organizations continue to exploit innocent human lives in order to enhance their illicit activities without due regard to the risks of human life. In most cases these smugglers never cross the border themselves in order to avoid apprehension."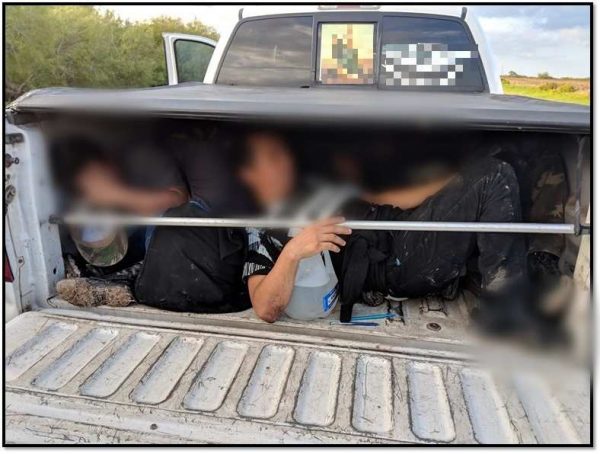 'Unprecedented' Border Security Crisis
Earlier, CPB officials said in a press conference on March 27 that extraordinary steps were being taken in response to "an unprecedented humanitarian and border security crisis."
Unusual new measures include reassigning up to 750 Customs and Border Patrol Officers from ports of entry along the southwest border, who "will soon be supporting Border Patrol with care and custody of migrants."
"The United States Border Patrol (USBP) continues to apprehend illegal alien families and unaccompanied children in steadily increasing numbers. To process and ensure appropriate care for those in custody, resources including personnel have been diverted from other border security priorities," a CBP spokesperson said, according to the Texas Tribune.
"This shifting of resources and personnel will have a detrimental impact at all Southwest border ports of entry," the CBP said in a statement. "CBP will have to close lanes, resulting in increased wait times for commercial shipments and travelers."
Immigration officials were cited by the Tribune as saying that resources from the checkpoints are "intended as a temporary measure."
'Overwhelming the Entire System'
U.S. Customs and Border Protection Commissioner Kevin K. McAleenan told the press conference in El Paso that a dramatic increase in illegal crossings along the southwest border was a major strain on law enforcement resources.
"The surge numbers are just overwhelming the entire system," McAleenan said, according to the El Paso Times.
"CBP is facing an unprecedented humanitarian and border security crisis all along our southwest border," McAleenan said in a statement. "And nowhere has that crisis manifested more acutely than here in El Paso sector. Here in El Paso, we have almost 3,500 migrants in custody this morning, in facilities designed for many fewer. We had over 1,000 apprehensions on Monday. The vast majority are families from Central America."
Arrests along the Mexican border jumped to 66,450 in February, 149 percent more than a year earlier.
The number of illegal immigrant apprehensions in the Border Patrol's El Paso sector grew by about 800 percent over the past year.
"Nationwide, CBP had more than 12,000 migrants in custody this week," CBP said in a statement. "The agency considers 4,000 to be a high number of migrants in custody and 6,000 to be at a crisis level. More than 12,000 migrants in custody is unprecedented."
Immigration officials expect that in the month of March, CBP agents will make over 100,000 illegal immigrant apprehensions.
If accurate, those figures will represent the highest monthly total in a decade.
"When you have checkpoints shutting down and you have huge distractions away from the core mission of border security, that puts our country in a very vulnerable position," said Manuel Padilla, commander of the Department of Homeland Security's Joint Task Force-West and the former head of the Border Patrol in the Rio Grande Valley, according to The Associated Press.
Migrants Entering Mexico
About 300,000 migrants from around the globe entered Mexico with the intention of illegally crossing into the United States in the first three months of 2019, according to Mexican officials.
The country's Interior Secretary Olga Sánchez Cordero said at a press conference on April 23 that Mexico had seen an increase in migrants from Honduras and a smaller number from Guatemala, El Salvador, and Cuba along with African and Asian nations, reported local news website Mexico News Daily.
Sánchez Cordero described this migration flow as "unprecedented and unusual" and added that "six caravanas madrecitas," or little mother caravans that have around 2,000 people in each, entering Mexico in recent months.
On April 18, an Epoch Times reporter who was at the border reported that Border Patrol agents had arrested seven Chinese, one Mexican, and one El Salvadoran minor who crossed the border illegally at Mission, Texas.
"Out with #BorderPatrol in Mission, Texas, and just caught 7 Chinese, 1 Mexican, and 1 El Salvadoran minor. All trying to evade capture. Chinese man said he paid $15k for the whole package (flights to Mexico, smuggled across border)," Epoch Times reporter Charlotte Cuthbertson wrote on Twitter.
Out with #BorderPatrol in Mission, Texas, and just caught 7 Chinese, 1 Mexican, and 1 El Salvadoran minor. All trying to evade capture. Chinese man said he paid $15k for the whole package (flights to Mexico, smuggled across border) pic.twitter.com/Ic9MPhg7le

— CharlotteCuthbertson (@charlottecuthbo) April 18, 2019
The increase of migrants trying to enter the United States is backed up by CBP data.
Earlier this month, CBP said agents encountered over 103,000 individuals on the southwestern border in the month of March. Of those, 92,000 were Border Patrol apprehensions—which is an increase of 35 percent compared to February.
The agency also said that for the first half of the 2019 fiscal year, agents arrested over 385,000 illegal immigrants at the southwest border, which is more than double the apprehensions during the same period last fiscal year.
Epoch Times reporter Janita Kan contributed to this article.