A 3-year-old boy was all by himself in the middle of a cornfield on the Texas border when Border Patrol agents found him Tuesday, April 23, U.S. Customs and Border Protection officials said.
The boy was crying, and had his name and phone numbers written on his shoes. The agency tweeted out an image indicating they were still trying to reach the child's family.
"We believe the boy was with a larger group that ran when they encountered agents," the tweet says.
Early this morning, #USBP Agents found a 3-year-old boy alone and crying in a corn field in TX. He had his name & phone numbers written on his shoes. #CBP is attempting to reach his family. We believe the boy was with a larger group that ran when they encountered Agents. pic.twitter.com/0s0zwmFxih

— CBP (@CBP) April 24, 2019
Irma Chapa, communications director for the Border Patrol's Rio Grande Valley Sector, said agents responded Tuesday morning to a group of illegal immigrants who had crossed the Rio Grande.
The group scattered and fled back to the river, Chapa said. As agents were searching for them, they heard a child crying in a nearby field.
"Agents searched and located a sobbing toddler abandoned in the middle of the field," Chapa said. "The child appeared to be healthy and unharmed."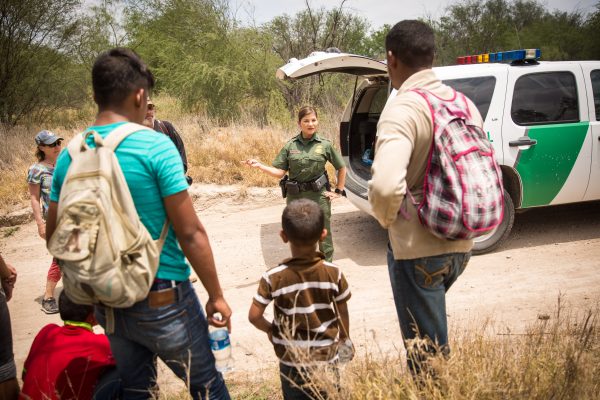 He was transported to the Border Patrol Station and law enforcement agencies are assisting in locating the boy's family, Chapa said.
It's not the first time this has happened in South Texas, and "unfortunately it won't be the last," the sector's chief, Rodolfo Karisch said.
"This incident highlights the dangers faced by illegal immigrants at the hands of smugglers," Karisch said. "Children, in particular, are extremely vulnerable, not only to exploitation but also to the elements of the environment."
Immigration–Claims of Credible Fear Increase
The Border Patrol said on Dec. 10 that claims of credible fear, or applications for asylum, have increased.
There were 521,090 total apprehensions in fiscal year 2018, which ended with September. Out of those, 18 percent, or nearly 93,000 aliens, claimed credible fear.
The increase continues a trend and represented a jump from 13 percent the prior fiscal year. In that year, just 55,584 migrants claimed credible fear. In the fiscal years from 2000 to 2013, fewer than one percent of migrants claimed credible fear.
Credible fear is when migrants have any fear or concern about being returned to their home country or last country of residence. Agents also ask if a migrant would be harmed if they were returned.
Though 89 percent of aliens from Central America pass the initial credible fear interview at the border, just 9 pecent of those are ultimately granted asylum, The Epoch Times previously reported. Often, the migrants pay a smuggler up to $7,000 for passage to the U.S. border and are coached on how to pass the credible fear screening.
"These numbers reflect a dramatic increase in initial fear claims by those encountered on the border, which is straining border security, immigration enforcement and courts, and other federal resources," said Border Patrol Commissioner Kevin McAleenan in a statement.
"As the majority of these claims will not be successful when they are adjudicated by an immigration court, we need Congress to act to address these vulnerabilities in our immigration system which continue to negatively impact border security efforts."
Human Trafficking Crisis at the Border
Human trafficking is a major crisis in America. Every year, tens of thousands are smuggled across our borders into the United States as human slaves.
On this episode of "American Thought Leaders," Epoch Times senior editor Jan Jekielek talks with Anna Paulina, an anti-trafficking advocate, who is also director of Hispanic engagement for Turning Point USA.
They discuss the realities of this horrific human trafficking crisis as well as possible solutions. They also talk about the crisis on the border and why the number of illegal immigrants entering the United States has skyrocketed this year.
Epoch Times reporter Jan Jekielek contributed to this report.