WASHINGTON—Huge groups of Central Americans have brought U.S. border security to its knees, as an estimated 100,000 illegal immigrants will overwhelm the system this month.
Border Patrol agents arrested 3,974 illegal aliens along the southwest border on March 19 alone.
Detention facilities are bursting at the seams, and even local NGOs are struggling to handle the influx.
"With 55,000 families, including 40,000 children, expected to enter the process this month, we are doing everything we can to simply avoid a tragedy in a CBP facility," Customs and Border Protection Commissioner Kevin McAleenan said on March 27.
"But with these numbers, with the types of illnesses we're seeing at the border, I fear that it's just a matter of time."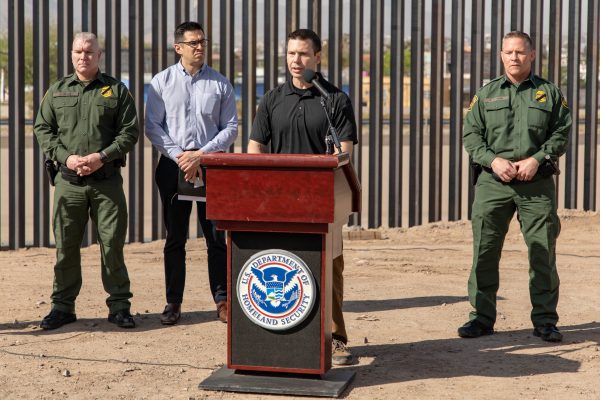 McAleenan said in the past four days, Border Patrol has encountered infants with 105-degree fevers, a 2-year-old in the desert having seizures, a 19-year-old with a congenital heart defect who needs emergency surgery, and a 40-year-old man suffering from multi-organ failure, but trying to refuse medical care.
He said migrants are quarantined in the El Paso Del Norte center with the flu, chicken pox, and lice.
"Our expanded medical efforts are saving lives, but they come at a high cost to our enforcement mission," McAleenan said.
To relieve overcrowding at many facilities, Border Patrol agents have had to start releasing illegal immigrants immediately upon apprehending and processing them.
"For the first time in over a decade, CBP is performing direct releases of migrants," McAleenan said. "This is in a limited capacity, it's very reluctantly, and it represents a negative outcome for enforcement."
He said the practice will only encourage even more migrants to cross the U.S. border illegally and claim asylum—regardless of the merit of their claim.
"But it is the only current option that we have from a life and safety perspective to try to reduce the overcrowding in our facilities," McAleenan said.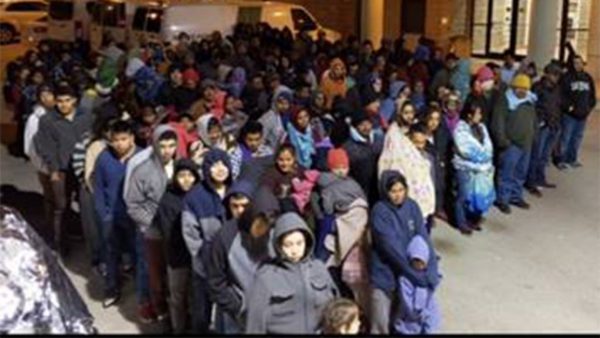 Trade and Travel Impact
Trade and travel between the United States and Mexico is also being affected, with the shift of 750 CBP officers from ports of entry to help Border Patrol care for migrants. The 750 officers will be moved from the San Diego, El Paso, and Laredo, Texas; and Tucson, Arizona, ports of entry.
"CBP officers will be helping Border Patrol with processing, transportation, and hospital watch," McAleenan said. "There will be impacts to traffic at the border. There will be a slowdown in the processing of trade. There will be wait times in our pedestrian and passenger vehicle lanes."
He said in some sectors, an average of 40 percent of the Border Patrol agents are fully engaged in just the care, transport, and processing of migrants.
"Those agents are not on the line, they're not able to provide their border security functions," he said, adding that cartels and smuggling organizations are taking full advantage of the gaps to bring in drugs and criminals.
In the Rio Grande Valley sector so far this fiscal year, more than 25,000 illegal aliens have evaded capture by Border Patrol and are now somewhere in the interior of the United States.
Plea to Congress
McAleenan said the only way to fundamentally address the crisis is for Congress to close the legal loopholes that are acting as magnets for migrants—the vast majority of which he says are economic migrants.
The Justice Department has said that only 9 percent of Central Americans who claim asylum at the border will end up being granted asylum by an immigration judge.
"Legislative relief, changes in the law, and closing the vulnerabilities in our legal framework is the only way that this flow is going to be reduced and we're going to be able to restore integrity to our immigration system," McAleenan said. "Right now, we are not even able to reach the claims of legitimate asylum-seekers."
The two legislative changes needed are to the Flores Settlement Agreement and the Trafficking Victims Protection Reauthorization Act (TVPRA).
The 1997 Clinton-era Flores Agreement initially set standards of care for unaccompanied minors being held in immigration detention. However, a significant change to the agreement in 2015 relaxed the interpretation to say that all minors crossing the border (unaccompanied and with adults) must be released from detention within 20 days.
This resulted in the catch-and-release phenomenon of all minors and family units and is the likely reason why the number of family units has surged to 136,000 in just the first five months of fiscal 2019 from 77,600 for the entire fiscal 2016.
McAleenan said Congress needs to allow for the detention of asylum-seekers for four to six weeks to complete their immigration court proceedings.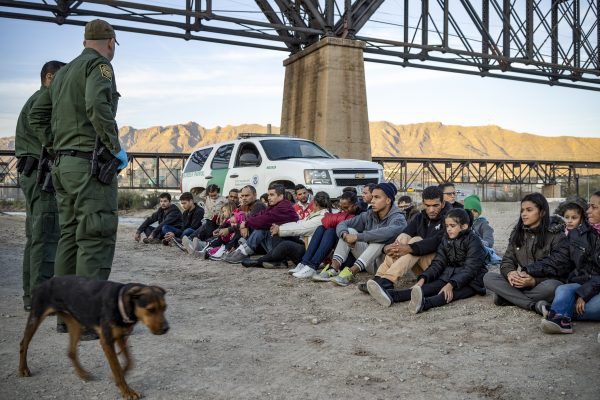 He also wants Congress to address the disparity in the TVPRA, which says a Mexican or Canadian minor who isn't being trafficked can be returned to their home country; however, a minor of any other (noncontiguous) country can't be returned.
"We have government partners in the Northern Triangle—in El Salvador, Guatemala, Honduras—who are ready to take children back and handle that humanely. Those are their citizens, they believe they have the responsibility for," McAleenan said. "And we're not allowed to do that under the law, under the TVPRA."