Many potential buyers have been undeterred by rising home prices throughout Southern California, despite high unemployment and cutthroat competition for houses entering the market, say realtors.
Others, however, say they've been priced out of the state and have decided to leave—especially young, potential first-time buyers. Some experts are calling for a hike in mortgage interest rates to calm the market.
In Orange County, record-low interest rates for mortgages have encouraged the demand for housing, and with limited inventory, home prices have risen. In 2020, Southern California saw a 13 percent rise in the median sold prices of single-family homes, according to the California Association of Realtors.
Tracey Kirk-Johnson, a realtor in Orange County, told The Epoch Times that California's housing market is "looking up."
"Pretty much each home that is selling, as long as it's been listed at fair market value, … is selling for the new high of the neighborhood," she said.
She said prices are being driven up because there are "too few homes" and "too many qualified buyers wanting to take advantage of the low interest rates."
"We don't have enough homes to sell," Kirk-Johnson said. "Buyers are waiving appraised value and coming in with the difference in cash."
Daniel Peacock, a 32-year-old realtor from Carlsbad, told The Epoch Times that housing in Southern California is growing as an investment opportunity by the day.
"A lot of investors are putting their money into real estate because it's a safe bet compared to other markets at risk from COVID-19," Peacock said.
The main demographic in his area of business is middle-aged people looking for a different lifestyle, outside of the more populated areas, he said. "Land is hot right now. Everyone needs a place to live, especially since more people are working from home … people want the space."
When houses hit the market, they don't stay long. By the end of 2020, the expected market duration for a house in Orange County (from initial sale announcement to escrow) stood at 37 days, according to broker Steven Thomas's Reports on Housing. That's compared to 82 days a year ago.
While the market is booming, it comes with a cost, Peacock said. "The price of real estate is driving most young people out of the state."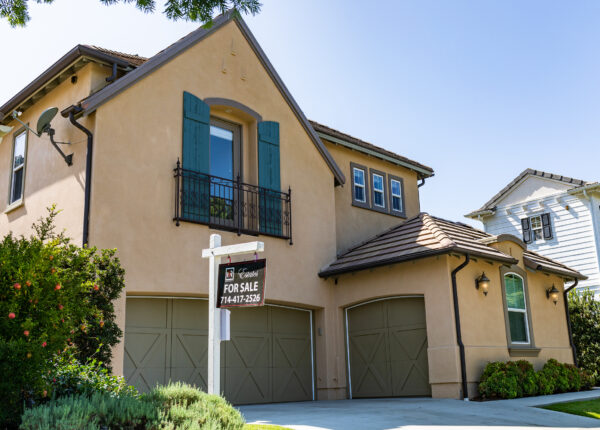 A Better Option
As home prices, along with taxes, continue to be higher than any other state, some young families are opting to leave for a higher quality of life.
"My wife and I are leaving California for many reasons," Matt Thalin, a construction worker leaving Los Angeles for Idaho, told The Epoch Times. "The biggest was being able to raise a family in a house that we can afford. The second reason was health. My wife has a lot of health issues, and being here is making them worse."
Thalin said he and his wife want to be able to choose for themselves what's best for their kids—and that California is "a state that wants to take that away from parents."
"Politically, this city is a mess, and we see it getting worse every day—and quality of living is just a lot better outside the California walls," he said.
According to the Public Policy Institute of California (PPIC), "The rising cost of housing has emerged as a threat to the state's future economy and the well-being of its citizens." Researchers at the PPIC noted before the pandemic that "the state's affordability problem has been aggravated by slow growth in household income."
According to a statewide survey conducted by the PPIC in 2017, 47 percent of Californians—including 61 percent of renters—said at the time that housing costs were a financial strain on themselves and their families. Since then, these costs have increased.
As the Thalins join a mass of Californians leaving for other states, California continues to be the nation's most populous state. It continues to grow, but at a much slower pace; the California Department of Finance noted in December 2020 that population growth has not been this slow since 1900, with a growth rate of only .05 percent from July 2019 to July 2020.
Bucking the Trend
While other Californians transition from urban areas to the suburbs, or choose to leave the state altogether, one young Los Angeles couple took advantage of a competitive home-buying opportunity and decided to purchase their first home in Inglewood, on the west side of Los Angeles.
"I think that the adage of 'location, location, location' rings true," Travis Anderson, 31, told The Epoch Times. "Inglewood is an up-and-coming area, and this particular part of Inglewood that we moved into is probably the best."
Anderson, a financial planner and analyst, said such low interest rates make it a good time to build equity rather than pay rent. "Finding that neighborhood that is not overpriced but adjacent to desirable areas would be my strategy for finding other opportunities," he said.
The Year Ahead
In January, in his Reports on Housing, Thomas compared the market to "a pot of spaghetti that is boiling over" and said the only quick fix would be to "turn down the temperature."
"The only way to turn down the heat is for [interest] rates to rise," Thomas stated. "Buyers may be rooting for an easier market with less competition, fewer competing offers, and a gentler rise in values, but that would come at the expense of higher rates and higher monthly payments."
But local economist Tim Shaler told The Epoch Times that last year's housing patterns could change and the market could adjust in 2021, as state-mandated regulations are lifted and schools, businesses, and entertainment venues slowly begin to reopen.
"The dramatic move away from urban centers to suburbs will likely slow dramatically after this upcoming home-buying season," Shaler said. "As bars, restaurants, museums, live sports, live concerts, and other venues reopen, the advantages of being close to those venues will reemerge."
Residents may also benefit from an unexpected fallout from the pandemic: reduced rents. "With rents so much lower now than when the pandemic started, many tenants may be able to get rent concessions from their current landlords, which would also slow their willingness to move away from the urban centers," Shaler said.
"This slowing will also be affected by any change in interest rates—which are more likely to go up than down from here—and increased willingness to share confined spaces, such as elevators and office buildings, if enough of the population gets vaccinated."