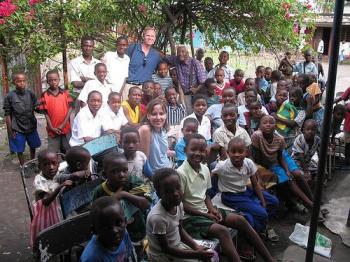 When Xavier Helgesen decided to sell some used textbooks online in 2001, the new grad from University of Notre Dame found success and inspiration that would blossom into a multimillion-dollar business with a mission to promote literacy worldwide.
The business is Better World Books (BWB), an online bookseller and a triple-bottom-line company that cares about profit not only in the economic sense but also with social and environmental good built in.
"Our vision is that we can be a more profitable company by trying to set very high standards in social and environmental performance, as long as we do those smartly," said Mr. Helgesen, who co-founded BWB with fellow Notre Dame graduates Christopher "Kreece" Fuchs and Jeff Kurtzman.
BWB collects donated, resalable used books through book drives and library discards and donations programs.
It sells both used and new books to grow its business, help libraries raise money, and help charities fund literacy programs in the U.S. and abroad.
The company redistributes or recycles books that it can't sell, and buys carbon offsets through an organization called Carbonfund.org to offset pollution from shipping.
With two million used books and additional new titles in its selection, the award-winning U.S.-based social enterprise is now shipping thousands of books to Canada for a cheap flat rate of US$3.97.
"The kind of charitable spirit in Canada, people are very, very open to this idea so our book drives are usually really successful and we get a lot of high-quality books," Mr. Helgesen said.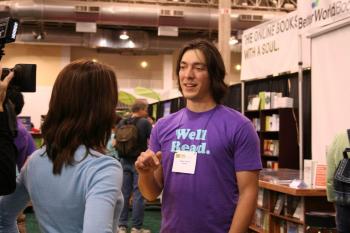 Replicating Success
Mr. Helgesen never thought he'd be a bookseller. In university his interest was in the Internet and entrepreneurship online.
"[But] when I graduated in the middle of the dotcom bust there were very few opportunities to start a company or join an existing start-up," he said.
He was trying to make ends meet. When he took some textbooks to sell back to the college bookstore, they barely gave him anything for them, so he decided to try selling them online. He learned that by selling to other students those students paid a lot less for the books while he got a lot more money back.
That gave him the idea of holding a book drive to get lots of donated used books to sell and then give the proceeds to a good cause. He and his friends ran a book drive at Notre Dame to benefit a community learning centre in 2002.
"That proved to be a success. We sold about $20,000 of books and decided to try to replicate that across the country."
They formed BWB and the next year their business model won the $7,000 grand prize in the Notre Dame Social Venture Business Plan Competition.
Benefiting Libraries

BWB pays for the shipping of donated books to its warehouse in Mishawaka, Indiana. It recovers the cost when it sells the books and shares the proceeds with its partnering libraries and literacy organizations.
The bookseller also offers buyers free shipping in the U.S. and a low rate of US$3.97 worldwide, "so that it's very, very affordable, not a barrier," Mr. Helgesen said.
The company sells books online through its own website as well as Amazon and other outlets, and ships to more than 180 countries worldwide.
It's raised over $5.5 million for global literacy. And the nearly 18 million books it's saved from landfills have been collected through book drives at 1,800 colleges and universities and via discards and donations programs from more than 1,400 libraries in the U.S.
Last year BWB launched a U.K. division. It's also expanding into Canada where it hopes to get more libraries involved.
Kitchener Public Library, Toronto Public Library, the libraries at University of Calgary and University of Toronto, and a handful of other smaller libraries have already partnered with BWB.
Besides holding an annual book sale and donating discarded books to local community organizations, Kitchener Public Library sends about half of its discards to BWB and receives 15 per cent of the sale proceeds, said Lesa Balch, senior manager of service development.
"We see the promotion of literacy through providing books to BWB as just as important a factor as the actual proceeds we receive," she added.
Another important aspect is having the books go to people who can use them, she said.
Mr. Helgesen agreed. He noted that recycling is better than throwing books away but takes a lot of energy and is not 100 per cent environmentally benign. Meanwhile, "a book is a perfect item to just reuse and reuse and reuse."
"It's a very valuable partnership for us," said Ms. Balch.
Literacy Initiatives Overseas

Among the over 80 literacy and education nonprofits that BWB supports, its main partners are Books For Africa, Room to Read, Worldfund, Invisible Children, and National Centre for Family Literacy.
Their literacy work crosses the U.S., Asia, Africa, and Latin America and focuses on funding "high-impact literacy programs" as well as providing physical books.
This work has taken Mr. Helgesen to places he never thought he would go.
"I never thought I would get to go to the slums of Rio," he said. He was there to visit a literacy program financed and managed by Worldfund. "We were visiting this amazing school that was giving an extremely high quality of education to the kids growing up in this slum."
As a Books For Africa board member, he's also visited Africa and seen the books that BWB collected and funded actually arriving there and being used.
English books there cost twice as much as in the U.S. or Canada due to the cost of import, while the people there are much poorer. So there's a huge demand for affordable or free English books in countries like Tanzania, Kenya, South Africa, and Zambia where English is the official language, Mr. Helgesen said.
In the case of Room to Read's work in Vietnam and Cambodia, BWB's funding has supported the printing of children's books in both English and the local language.
'Get a Better Deal in Addition to Doing Something Good'
BWB sees its literacy work "as an extremely long-term business strategy," said Mr. Helgesen.
Currently only one out of seven people in the world has both the education and financial resources to buy books online, he said. And one out of seven can't read, he noted.
"They're effectively shut out from modern society."
But he thinks a lot more people will be reading in, say, 100 years. And BWB plans on being around in 100 years. It's also "very bullish on the physical book still being a very important medium for transmitting information."
BWB plans to expand by making it easier for people to donate books to and buy books from the company.
It's working on establishing multiple drop-off points in different cities so it can collect books on a mass scale. It also wants to establish a more well-known consumer brand to drive the literacy mission forward.
In Canada, it's hoping to set up a warehouse or shipping facility to serve Canadian customers.
"If people know that they can buy from us instead of Amazon or the big corporate competitors, and that they'll probably get a better deal in addition to doing something good, I think a lot of people will get behind that," said Mr. Helgesen.