Senators taking time to be in Washington to hear arguments for and against removing President Donald Trump from office could cause serious problems for the senators' presidential campaigns, Sen. Cory Booker (D-N.J.) said.
Booker told the Associated Press podcast on Wednesday that the Senate impeachment trial could inflict a "big, big blow" to his campaign.
The first Democratic caucus is Feb. 3 in Iowa. The impeachment trial hasn't started yet because House Speaker Nancy Pelosi (D-Calif.) hasn't transmitted the impeachment articles to the Senate. The trial was originally supposed to start this month.
Trump was impeached on Dec. 18, 2019, for abuse of office and obstruction of Congress.
"If this trial lasts two weeks, that is literally dozens of events we won't be able to do," Booker said this week.
Booker is one of five senators still in the 2020 race. Sens. Bernie Sanders (I-Vt.), Elizabeth Warren (D-Mass.), Amy Klobuchar (D-Minn.), and Michael Bennet (D-Colo.) are the others.
"We thought the final hurdles before the Iowa caucuses would just be coordinating field operations, getting precinct captains signed up, all of those things. Well, those things are going great. We're seeing a surge in Iowa—lots of energy, momentum," Booker said on the podcast.
"But God, now we have real, demanding things going on in Washington. I swore an oath to do this job and I'm gonna do it, so that means classified briefings, possible impeachment trials."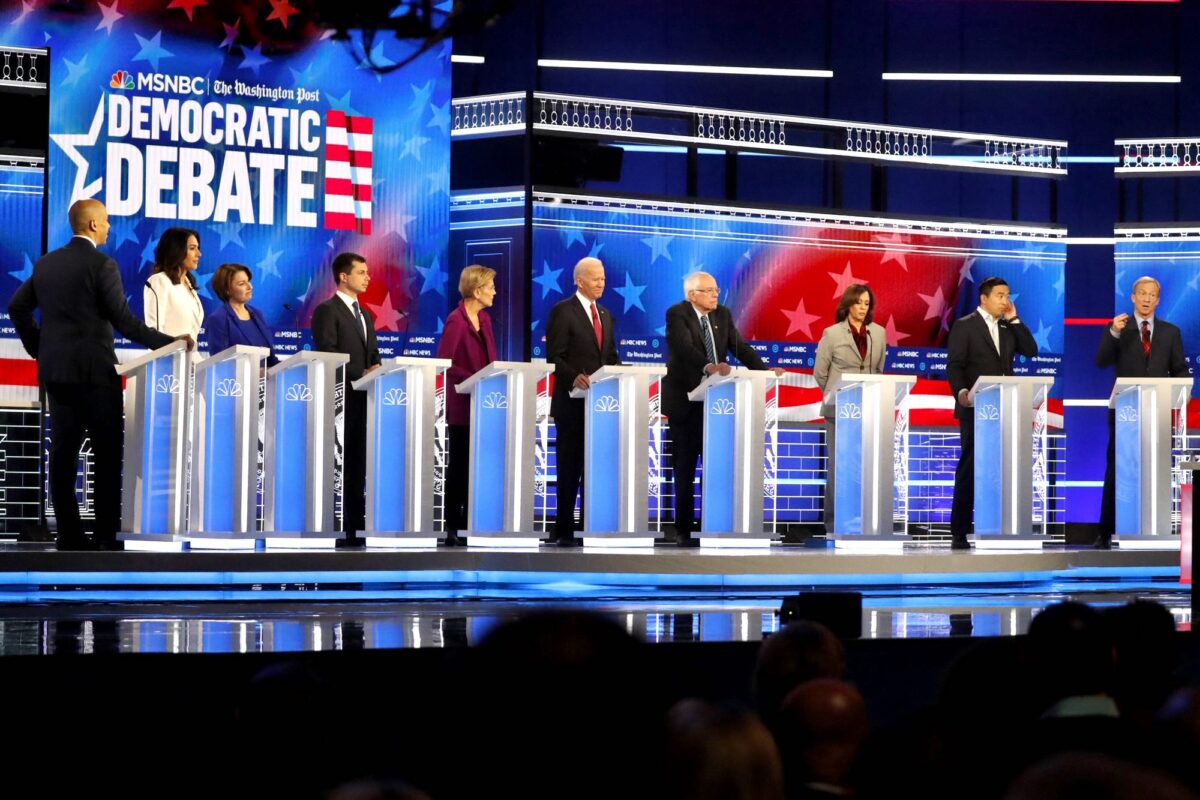 The Democratic National Committee (DNC) has acknowledged the potential disruption of an impeachment trial. Appearing on MSNBC this week, DNC Chairman Tom Perez said the Jan. 14 debate scheduled in Iowa would be rescheduled if the trial was taking place that day.
"Democrats and our senators can walk and chew gum," Perez said. "Obviously, if there's a trial on the 14th, then we'll move the debate. If there's not, then we're going to have the debate. At the moment, all systems are go, and so we're going to move forward."
While Booker and Bennet haven't yet qualified for the debate, Klobuchar, Sanders, and Warren have. Warren has said she'll be in Washington if an impeachment trial takes place but has not discussed how her campaign would be affected.
Sanders's campaign outlined a plan that would see the candidate, who has amassed a huge war chest, flying on private jets at night during an impeachment trial to campaign events.
"They're not going to be meeting at night [for the trial], so we can obviously fly from D.C. to states and hold events in the evening and fly back, you know, so he can be back in the morning to do his work in the Senate," Sanders campaign adviser Jeff Weaver told NBC.
"He's an energetic candidate. He has a very vigorous schedule, and, you know, he can do that."
Booker and Klobuchar have mentioned campaigning through video conferences and Skype if they're stuck in Washington for a trial. An aide to Bennet signaled the candidate would spend time in New Hampshire, a state much closer to Washington than Iowa.