The yield on the benchmark 10-year U.S. Treasury note fell to an all-time low Tuesday, as investors sought refuge from a stock market rout sparked by the spread of the novel coronavirus.
After first slipping from its recent 2 percent plateau during Monday's stock selloff, the 10-year yield fell to 1.317 percent the following day, according to TradingView.
Bond yields move inversely to prices, with falling yields a sign of investors seeking a safe harbor for assets as fear roils markets.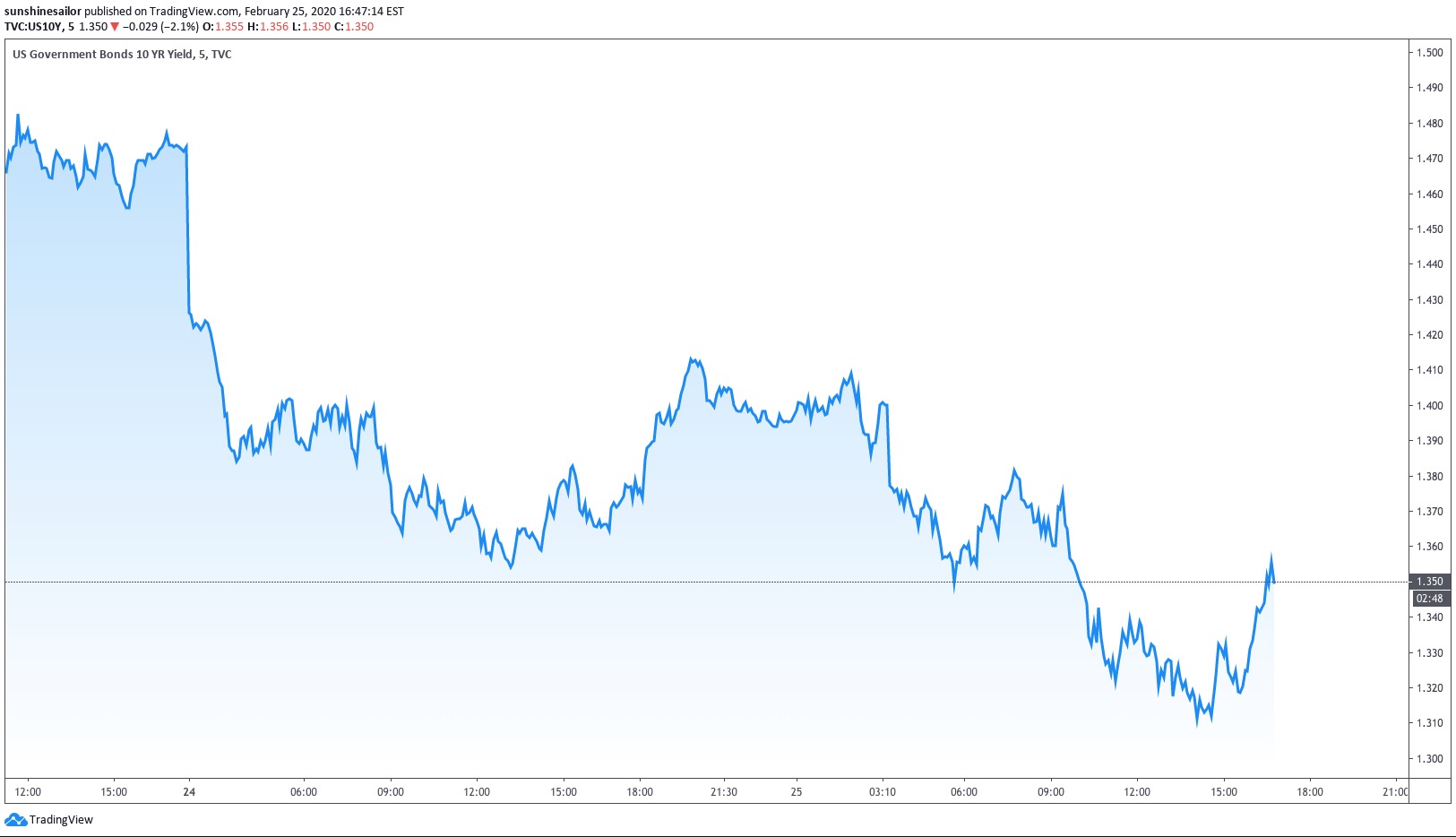 Investors continued fleeing risk assets on Tuesday, with the Dow Jones logging its worst 2-day point slide in history and the VIX, a stock market volatility measure known on Wall Street as the "fear gauge," spiking briefly beyond its red-line threshold of 30, a level associated with major uncertainty and investor fear.
"Records are being broken across asset classes. Last week, equities hit an all-time high before falling 8% through today. In rates, the 30-Year Treasury fell to its lowest level in history on Monday and has since continued to fall, while the 10-Year Treasury reached its lowest level today," said Allen Sukholitsky, chief macro strategist at Xallarap Advisory, in an email.
"The traditional interpretation is that lower rates are positive for equities," Sukholitsky told The Epoch Times. "We believe the opposite. Rates are reflecting a weakening economic growth environment being made weaker by the impact of COVID-19."
Stock-index futures initially turned higher in morning trading on Tuesday as investors bet on a bounceback from the biggest one-day percentage loss for the Dow Jones Industrial Average and the S&P 500 index in more than two years. A Tuesday pause or bounceback for equities would not be unusual.
But hopes of a bounceback were soon dashed as major Wall Street indices briefly ticked up, and then continued their downward crawl, while bonds absorbed new inflows.
"The 10-year dropping to a new all-time low suggests that market participants believe that the effects of the coronavirus will have a material impact on the U.S. and global economy. It should be noted that just a couple of weeks ago one market narrative was improvement in the U.S. economy," said Peter Donisanu, chief financial strategist at Franklin Madison Advisors.
"Yet, 10-year yields have been in decline since the start of the year, and part of a broader decline from November of 2019 as recession worries have lingered," Donisanu told The Epoch Times via email.
"Put simply, recession risks have increased," he said.
In Tuesday's remarks at a business conference, Federal Reserve Vice Chair Richard Clarida said the central bank was "closely monitoring" the coronavirus outbreak, but that it was too early to say whether the economy would be impacted enough to warrant a monetary policy shift.
Yet markets are anticipating rate cuts are on the way.
"We are reminding investors that the FOMC does not want an inverted yield curve, and at this rate, it will need to cut 50 bps in order to achieve that," Sukholitsky said. "The likelihood that we move our base case forecast from 50 bps in cuts by the end of the year to 75 bps, is growing."