Bombardier's CSeries Aircraft Successfully Completes Maiden Flight
September 17, 2013 8:38 am Last Updated: September 18, 2013 8:40 am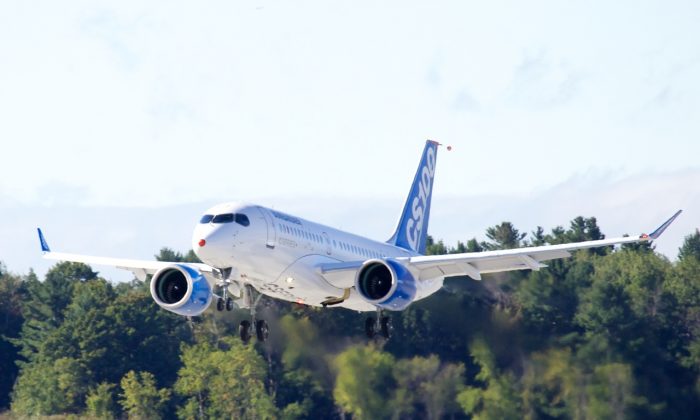 Bombardier's new commercial aircraft, the CSeries, successfully completed its maiden flight on Monday, bringing the Canadian company closer to taking on industry giants Airbus and Boeing in the commercial aircraft market.
"The patience, care, and quality that has gone into the CSeries aircraft's development program shone through today as we celebrate this milestone achievement of the first all-new, single-aisle aircraft that will revolutionize the 100- to 149-seat commercial aircraft market–with its outstanding economics, reduced environmental footprint, and exceptional flying experience," said Mike Arcamone, president of Bombardier's commercial aircraft division, in a statement.
The company so far has 388 booked orders and commitments for the CSeries aircraft, with 177 firm orders.
During the test flight, the CS100 jetliner used for the test reached an altitude of 3,810 metres and a speed of 426 kilometres per hour.
Captain Charles Ellis, the flight captain, said the test flight went according to plan.
"The performance of the CSeries aircraft was very impressive! We couldn't have wished for a better maiden flight," Ellis said.
The aircraft was greeted by over 3,000 Bombardier employees and board members, as well as customers, partners, and suppliers, upon its return to the company's facility in Mirabel, Quebec.
"Five years in the making, the CSeries aircraft's first flight is the culmination of an incredible amount of hard work and dedication from our employees, partners, and suppliers around the world," said Rob Dewar, vice president and general manager of the CSeries program.
Monday's test flight marked the start of the aircraft's flight test program before customer delivery.