Bomb and Vehicle Attack on Market in China Kills 31
May 23, 2014 11:06 am Last Updated: June 24, 2015 8:05 pm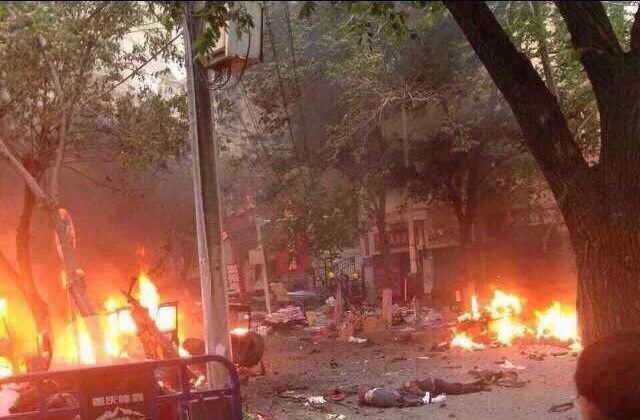 A black Passat and a grey Geely SUV drove through an open market in the capital of China's northern Xinjiang Province Thursday, throwing explosives out the windows and crashing through the crowd, according to witnesses. By the end of the episode 31 people were dead and 94 injured. Chinese authorities have called it another instance of violent terrorism, though the official statement did not identify a culprit, nor refer to ethnic separatism as a cause of the violence. 
The Xinjiang Uyghur Autonomous Region is a traditionally Turkic-speaking area that was annexed by the Chinese Communist Party, and made part of the People's Republic of China, in 1949. The Communist Party's colonial-style rule of Xinjiang, and repression of the Muslim beliefs of its residents are causes of ongoing resentment and violence. 
Two Vehicles
The two vehicles smashed through the barriers around the open air market in Urumqi, the capital of Xinjiang, at around 7:50 a.m. on Thursday, going on to detonate explosives and crush hawkers and citizens who had come to buy vegetables, according to Tianshan News, a local media agency.
"I heard over a dozen explosions," said a street vendor who witnessed the incident, according to the state-run China News.
Photos uploaded to social media platforms by eyewitnesses show stalls and cars on fire as smoke billows into the sky. Injured people lie in the middle of the road, some unconscious. Dead bodies were placed in rows on flatbed trucks.
'Strike Hard' 
The Ministry of Public Security later announced that the incident was a "serious violent terrorist attack."
Chinese Communist Party leader Xi Jinping sent out instructions to "comprehensively strengthen social patrols, control, and prevention," and to "maintain a strike-hard and high-pressure stance." Xi also emphasized the need to "ring the alarm bell on terrorism and strike a heavy blow to the terrorists."
Official reports have not released any information about precisely who was behind the attack, and no groups have so far claimed responsibility. Some media reports, including those in official channels in Xinjiang, identified the attack as driven by ethnic separatism, but stopped short of identifying the attackers as Uyghurs. The official statement from the central government did not refer to ethnic issues.
The White House released a statement condemning the attack as a "despicable and outrageous" act of violence against innocent civilians.
In the hours directly following the blast media reporting in China was free and fast, with Phoenix Television running a live feed from the site and interviewing witnesses. At about 10 a.m. control of information tightened significantly, with no more live television and fewer pictures and comments from the scene flowing onto social media.
Ongoing Strife
Conflicts between Uyghur Muslims in Xinjiang and Communist Party rule have intensified in recent years, while incidents like the recent attack invariably become catalysts for further suppression.
Local authorities have laid down restrictions on Uyghur men growing their beards, as well as women wearing headscarves and girls wearing Islamic dress at school, RFA said. Several women and middle school girls were recently detained for wearing headscarves, and crowds then formed calling for their release.
Those protests, on May 20 in Kashgar, a city in Xinjiang, led to the most recent instance of official violence against Uyghurs, as police opened fire on hundreds, according to Radio Free Asia. Eyewitnesses told RFA that at least four people were killed at the scene, though the death toll may be higher.
Later, Internet users posted online signs that Communist Party propagandists had put up in public in an attempt to further enforce the prohibition on ethnic and religious dress: "Women and ladies, please take off your veils," the sign said. "Don't disturb modern civilized society."