Boeing 777 Faces $2.7 Million Fine for Bad Parts
July 27, 2013 10:30 am Last Updated: October 23, 2013 3:19 pm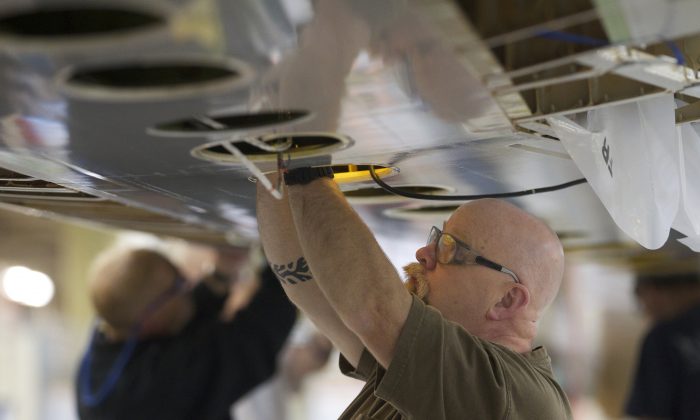 Boeing is facing a $2.75 million fine from the U.S. Department of Transportation's Federal Aviation Administration (FAA) over installing bad fasteners on its 777 long-range passenger plane.
In an FAA statement on Friday, the authority said that back in October 2008, they sent a letter of investigation to Boeing over "installing nonconforming fasteners on its model 777 airplanes."
Boeing replied by setting action plans and deadlines to correct the problem, but didn't implement them for over two years.
"Manufacturers must make it a priority to identify and correct quality problems in a timely manner," said FAA Administrator Michael Huerta in the statement.
According to the FAA, Boeing did stop using the fasteners themselves, but "some of the underlying manufacturing issues continued to exist until after the corrective action plan was in place."
An Asiana Airlines Boeing 777 crash-landed at San Francisco International Airport July 6, killing two people and injuring scores more. Investigations are still underway to discover the cause of the crash.
Boeing has 30 days to respond to the FAA's letter.
Boeing 787 Issues
Meanwhile, United Airlines and Japan's All Nippon Airways both reported problems with wiring in the emergency transmitters on the Boeing 787. The problems were found during inspection, but faulty wiring may have caused the fire aboard the parked Boeing 787 at London's Heathrow Airport earlier this month.
On July 20, the FAA reacted saying they are working with Boeing to develop special inspection instructions for the wiring. Such inspections would be made mandatory for all large commercial planes.
The crash landing at New York's LaGuardia airport on July 22 also involved a Boeing 737. Ten people were injured when the plane lost its front landing gear.