DAYTONA BEACH, Fla.—Trent Hindman and Cameron Cassels drove their #12 Bodymotion Racing
Porsche Cayman GT4 from 16th place on the starting grid to victory in the season-opening IMSA CTSCC BMW Endurance Challenge at Daytona Friday, Jan. 27.
Hindman and Cassels led a Porsche parade–the top four finishers drove Cayman GT4s; six of the top ten finishers drove Porsches. Porsche also scored  three of the top four spots in Sport Tuner.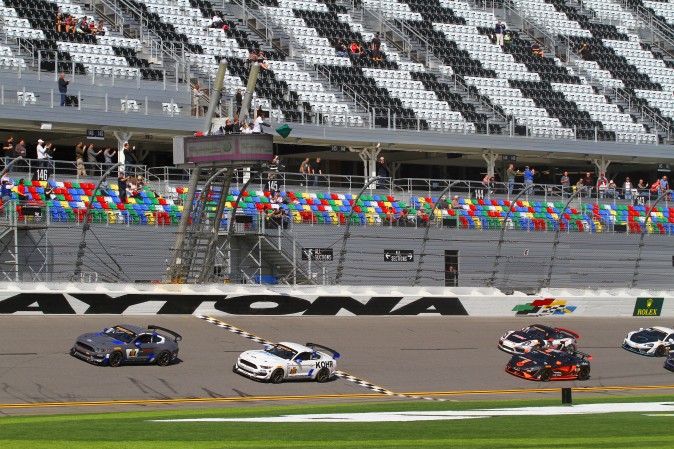 Trent Hindman had raced three times at Daytona and finished in the top four each time. For Cassels, it was his first trip to the Speedway.
"We won Daytona how crazy is that?" Cassels asked at the post-race press conference. "This is a place I had always dreamed of coming.
"We had no expectations coming here, after facing some adversity at the beginning of the season but the team rallied together from the Roar on [Roar Before the Rolex 25, Jan. 6–8.]
"I can't thank Trent enough, and I thank the entire crew at Bodymotion for the work they did to get this car ready and get it on the track. Trent drove a flawless race."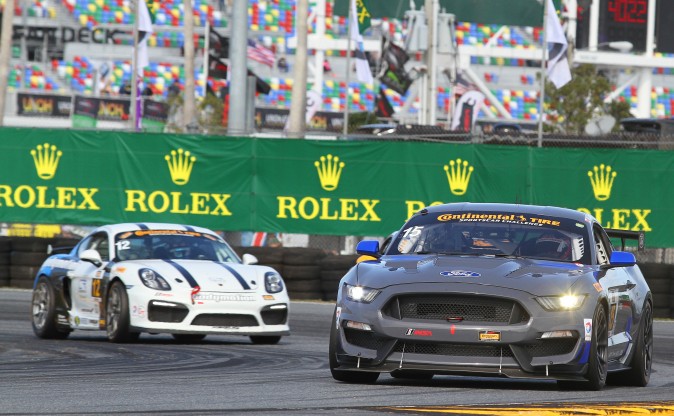 Hindman expanded on this theme, explaining that the car had had so many problems at the Roar that they had had to leave early. The Bodymotion team worked non-stop to prepare the car for the race, and obviously succeeded.
"It took all the hard work that's been put in by the Bodymotion guys, by Cameron, by myself, over the off-season, to end up with this result," Hindman said.
"We were very fortunate to have it on track without any sort of lingering issues, which was a huge step in the right direction after all the doubt we had after the Roar.
"I suppose for me third time's the charm here, I want to keep that trend going for sure.
"It was great team win by Bodymotion and by Cameron and I'm just glad to be a part of it."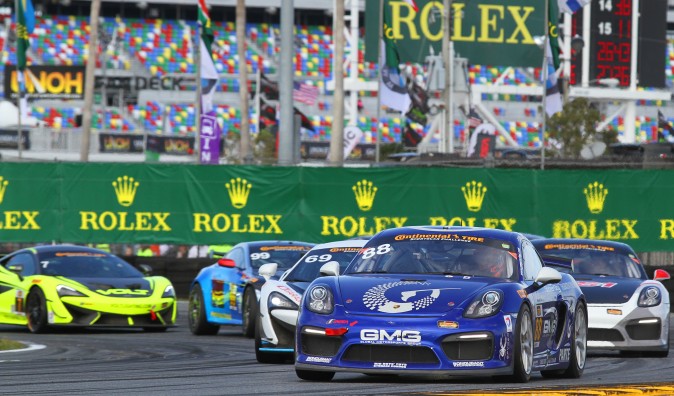 Traffic
CTSCC opened its rules to allow a number of new makes and models for 2017, which resulted in quite a few more cars on track. Negotioating a way safely through the pack was a challenge, but a manageable challenge, Hindman explained.
"We started in the back and were able to push our way forward quite a bit in the first stint—that was a lot of fun, but it was definitely tough. We had to get around 20 cars to reach P1 [first place] and that's certainly a tall order on any day.
Still, at the end of the day it's not too far outside of what I am used to.
"Having run the Continental Tire SportsCar Challenge now going on my fourth season, I've been in heavy traffic, I've been in the thick of it before. Now every time I approach another car it's either calling upon experience or trying to adapt and learn something new.
"Also, I live in New Jersey and have to drive the New Jersey Turnpike every day; that certainly helps when it comes to traffic management."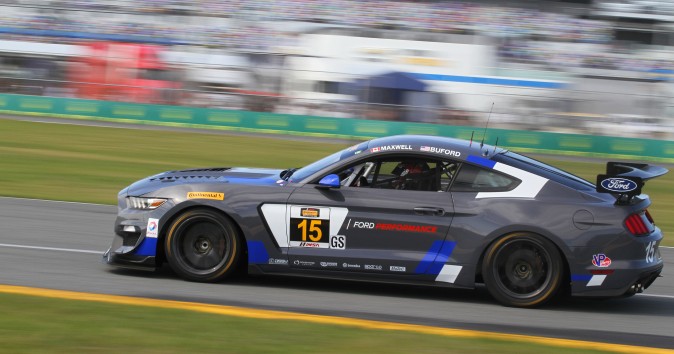 Mustangs Lead Early, Then Porsches Push Past
The race was dominated early by the #15 Multimatic Mustang of Jade Buford and Scott Maxwell, until a penalty dropped the car down the order. The team recovered only to earn a second penalty for spinning the wheels while on the jacks (due to a sticky paddle shifter) dropped the car from second to fifth.
Pole sitter Dean Martin in the #59 KohR Motorsports chased Maxwell for most of the first hour until a drive train failure cost the team a lot of time.
Dylan Murcott and Dillon Machavern in the Race Development Center Porsche Cayman GT4 then took their turn in the lead, fighting with a pair CJ Wilson Caymans, the #33 of Till Bechtolsheimer and Marc Miller (which finished second) and the #35 of Damian Faulkner and Russell Ward (which finished third.)
The Bodymotion Porsche took the lead briefly on lap 40 when the leaders pitted under yellow, then took it again on lap 66 when Bechtolsheimer pitted and handed off to Miller.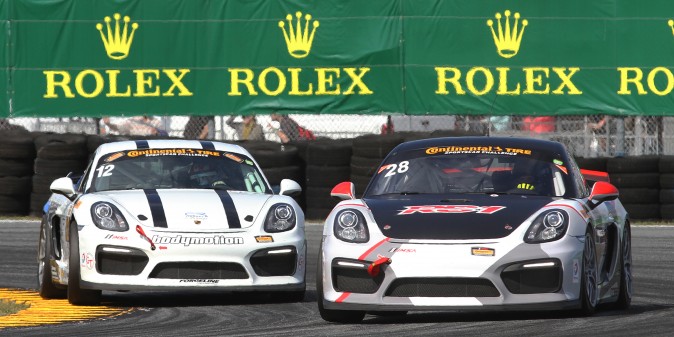 Cautions Create Options
The race became a strategic battle starting with a full-course caution on lap 70, two thirds of the way through the race. Teams had to choose to pit for full service and lose track position or pit quickly, get ahead on track, and try to defend the position against cars on fresh tires.
The Bodymotion team opted to bring the #12 in for fuel and four tires, as did the #33 and #35. Jesse Lazare in the #69 Motorports in Action McLaren and Nico Rondet in the #77 C360R McLaren stayed out, hoping to catch another caution later.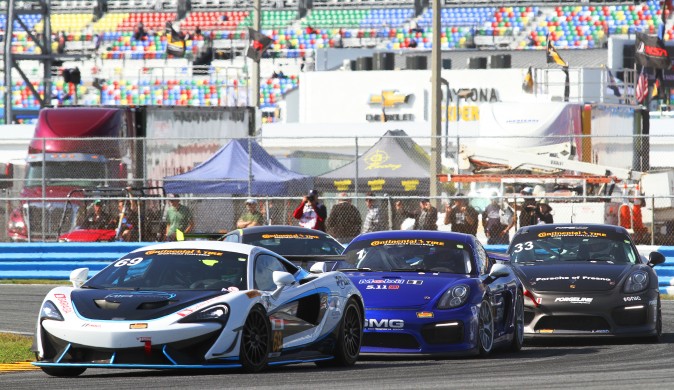 This pair moved to the front of the pack and swapped the lead between them—sometimes forcefully—until lap 84, when Lazare had to pit. Contact between the two McLarens apparently tore loose a coolant line on Rondet's car, and as he took the lead on lap 84, the line gave way, dumping coolant all over the track at Turn One.
Rondet spun twice, as did other cars, bringing out another full-course caution.
Hindman brought the Bodymotion Porsche in for a timed fuel stop—he had already taken tires on the previous stop, so he headed back out in a hurry and took the lead. Maxwell in the Multimatic Mustang took right –side tires only and got out in second. Stewards then ruled that Hindman had illegally cut in front of Maxwell on pit road, and made him turn over the position.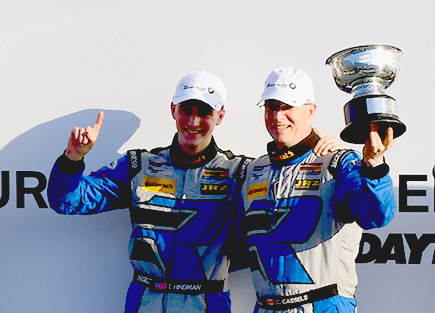 That didn't last. Maxwell was called back in to serve a penalty for spinning his wheels, and fell to eight, leaving Hindman in the lead.
The drama wasn't over. The #52 Mini JCW mini crashed through a tire barrier on lap 98, bringing out yet another full-course caution.
At this point strategy was irrelevant; the race would be resolved in a two-lap shootout. Trent Hindman had the lead and he held the lead, beating out the tow CJ Wilson Racing Porsche Caymans and the RS1 Porsche as well, crossing the finish line .577 seconds ahead of his nearest rival.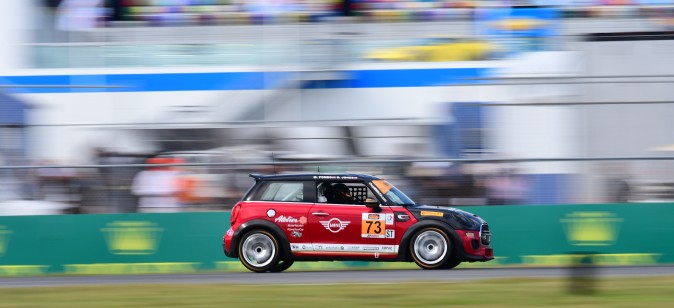 Pombo, Jones Score First Daytona Win in ST
Matt Pombo and Derek Jones co-drove their #73 Mini JCW Cooper Mini to the team's first win. Jones started the race in third, and stayed in the top three and was leading when he handed off the car to Pombo halfway through the race.
Pombo continued to run up front, fighting off challenges from the #17 RS1Cayman of Nick Galante and Spencer Pumpelly, and the #56 Murillo Racing Porsche Cayman driven by Jeff Mosing and Eric Foss, and the #17 RS1Cayman driven by Nick Galante and Spencer Pumpelly. These two cars finished second and third in class.
"It's a huge win for us," Derek Jones said after the race. "Daytona is an iconic track to come win at. Our car is not the aero car for Daytona, so we weren't expecting that."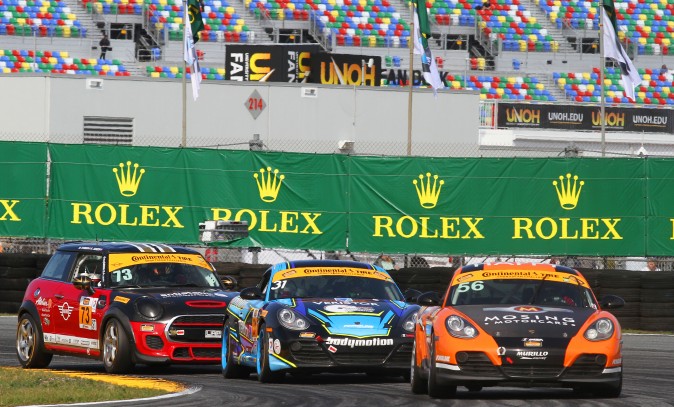 Team mate Matt Pombo had praise for his co-driver. "For us as a team—I preach this a lot, having driven in this series for a while now—you can't finish a car without a starting driver and Derek did a tremendous job today.
What's the key in this series—especially a four-hour race—is to take over a car that's driveable and raceable so I commend him for that. We wouldn't be here without that.
Coming to the end there was a lot of gamesmanship, which cautions to take and which ones to not. We were fortunate; we happened to take one at the right time and then there was another caution that really got us to the end The fuel mileage was going to be really tight until that last caution. It just kind of played out in our favor.
We had to focus on the restart at the end. Like Derek our car isn't the most aero car in the field, so when everybody got back up behind me I got a little nervous on the restart. I gapped them a little bit, gained five or six car lengths, and when we moved into the infield our car was just really, really good so I was cool by the time we got out to Turn Six.
Pombo elaborated on the JCW Mini's characteristics:
"The car is essentially a breadbox. It makes a big hole behind us—cars draft very easily behind us. That was my worry on the restart—we punch a really big hole in the air.
"Our front-wheel-drive car handles so good through the turns. Through the infield and through high-speed turns like the Bus Stop we're one of the fastest cars on the track.
"We get to speed quicker—we're still six miles an hour down on top speed to the other cars but we get through the turns really good and get out and get up to top speed, and then they can draft through our hole.
"I'm thrilled to be here, to bring Mini to Daytona and get the win, it's a really big win for our group. We've had a lot of tears over the last year with really close finishes, so to finally get one at Daytona, with BMW, our parent brand. I've had horrendous luck at Daytona up to this point."
JCW Mini planned from the start to split the race between the two drivers, with Jones starting. The team figured each driver was strong enough to match whatever pace the competition would set.
"Honestly, I don't think there is anybody in the field who can beat Matthew when he's fresh and has a good car," Jones said. "We came in leading and finished leading, so it was a great day for us."
Endurance Format
IMSA experimented with a four-hour race at Daytona—twice the usual length of Continental Tires SportsCar Challenge events—which gave drivers more time behind the wheel, crews more chances to make adjustments and forced ace strategists to make a whole new set of plans and calculations.
The new format worked wonderfully—attrition was low, and excitement was high. CTSCC will also run four hours at Laguna Seca in September.