Police in Lufkin, Texas, released body camera footage showing a man allegedly trying to grab an officer's gun before another officer opens fire.
The suspect, identified as 26-year-old Todd Sturgis, had felony warrants out for his arrest in Lufkin and Tarrant County, according to East Texas Matters. The shooting took place at 10:30 p.m. on Sept. 10.
A woman who answered the door to the apartment initially denied knowing the man's location, but she eventually allowed police inside. They found him in the bedroom, the report said.
Sturgis was hit with a Taser, but it was not effective in subduing him. He then tried to take the officer's gun, and in the struggle, the officer fired a single shot, hitting Sturgis in the torso, according to the local news website.
He was taken to a nearby hospital and was in stable condition, officials said.
The officer involved in the shooting was not harmed.
KTRE reported that Sturgis was wanted for leading officers on a high-speed chase in August after they tried to arrest him for kidnapping, evading arrest, and delivery of a controlled substance. Officials got a tip that he was seen at the Pinewood Park Apartments.
Officers noted that during the Sept. 10 arrest and shooting, Sturgis refused to keep his hands up, and he "continually reached under a bed and mattress," KRTE reported.
Sturgis will face additional charges of two counts of disarming a peace officer and resisting arrest, the report said.
Other details about the incident were not provided.
The officer who is involved was placed on administrative leave with pay until the Texas Rangers have finished their investigation into the shooting.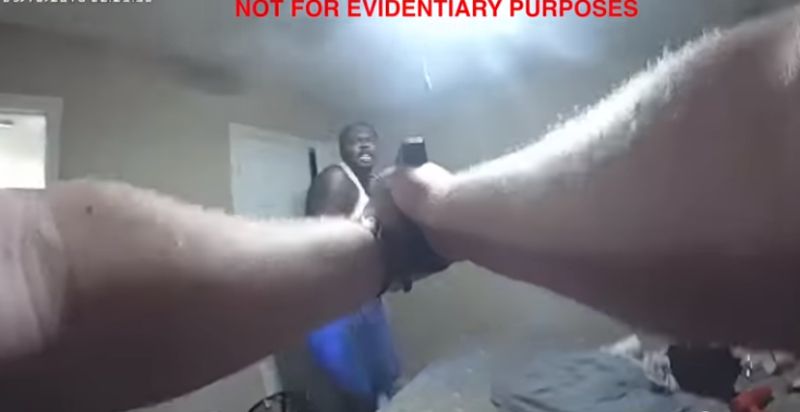 Questions About Tasers
In a 2016 report, Los Angeles Police Department officers used Tasers 1,101 times in 2015, but the device only worked just under half the time, or 516 times, SCPR reported.
"So many shootings involve an inefficient Taser first," said Peter Moskos, who is a former Baltimore police officer and professor at the John Jay College of Criminal Justice, NBC reported. "They often don't work, and then what?"
"Tasers are not for deadly force situations," said Eugene O'Donnell, who is a professor at the John Jay College of Criminal Justice, in a 2016 NBC report. "The only time the police need to be shooting is when there is an absolute matter between life and death. It's not a tool for apprehension."
William Terrill, a criminology professor at Arizona State University, added, "If you were to respond with less force, it will put you in danger or another citizen in danger."
Video Credit: Las Vegas Police Department