The body of a man who disappeared after a San Francisco 49ers vs. New York Giants football game on Nov. 12 at Levi's Stadium in Santa Clara has been found.
The army veteran's body was discovered almost 3 miles away in the waters off San Jose, authorities announced on Nov. 20.
"The Santa Clara County Medical Examiner-Coroner's Office has identified the body found in the water near the Alviso Marina as that of 32-year-old Ian Powers, a Spokane, Washington, resident," said police in a statement.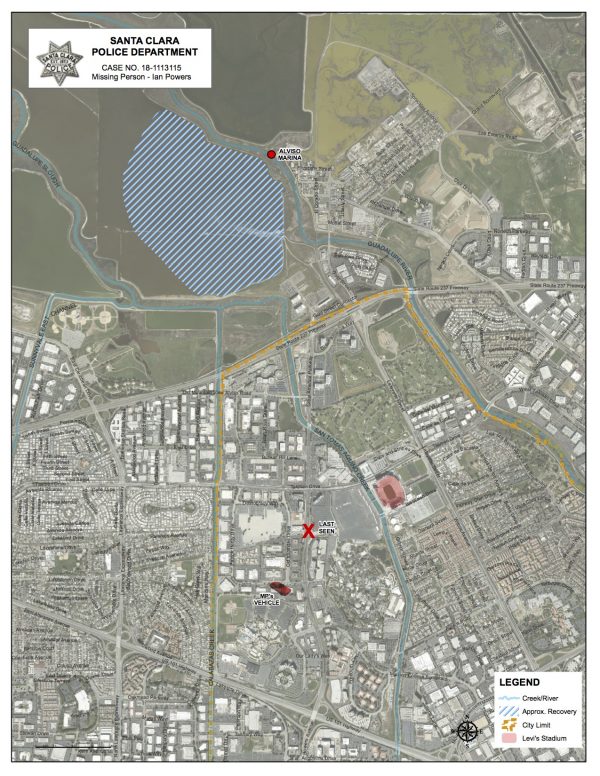 Powers and his girlfriend, who were both from Spokane, had been visiting family in the area while traveling to Los Angeles.
That night, Powers told his girlfriend during the last quarter that he was going to use the restroom, but he didn't come back to his seat. She received a few text messages, and the couple made one video call after the game was over, but she never saw him again.
The next morning, he still hadn't returned to their hotel, so she called the police and reported him missing.
"The last communication Powers had with family was at approximately 10:00pm. All efforts to locate Powers were fruitless. Powers vehicle was located in a nearby parking lot," wrote the Santa Clara Police Department on a Facebook post.
The 49ers fan vanished while wearing his red 49ers T-shirt and hat. His girlfriend said he had been drinking that night, but he had never done anything like this before.
Powers was last seen on surveillance footage leaving the stadium, reported ABC30. Family members and authorities conducted a thorough search for the man over multiple days.
On Saturday, Nov. 17, the San Jose Police Department responded to a call about a body in the water near the marina.
"A group of duck hunters reported seeing a body lying face down in the low-tide water approximately one mile north of the Alviso Marina boat ramp. Rescue divers from the Santa Clara County Sheriff's Office Dive Team responded and assisted the Coroner's Office in recovering the body," stated the police.
The cause of Powers's death was determined to be accidental saltwater drowning, and the investigation into his disappearance has been closed.
Police said it was possible that Powers, who reportedly did not know how to swim, somehow entered the river close to the stadium, which could have carried him toward the marina.
"It's not easy to get into the waterway," Santa Clara Police Capt. Wahid Kazem told NBC. "We can speculate to say maybe he thought that he could cross the waterway. Perhaps he thought that where he needed to be or his car or his family was on the other side of the waterway. I can understand where some may look at that waterway and think that, 'Oh, I can just run across this.' But if you actually step into the middle of that waterway, it's going to sink down quite a bit to the point where you're going to realize this is not as easy as I thought."
Powers's uncle wrote a Facebook post confirming his death on Nov. 19.