Divers have recovered the body of a 9-year-old Illinois boy that went missing at a lake in Wauconda after falling into the water while paddleboating.
Authorities have identified the boy as Geraldo Rodriguez Jr., according to ABC7.
The boy went missing on Friday, April 19, according to a GoFundMe campaign page set up by the boy's aunt Angi Rodriguez. She wrote that her nephew and a friend took a paddleboat out onto Bangs Lake and it capsized.
"Both of the kids fell out," Rodriguez wrote. "The 10-year-old boy was rescued by a nearby fisherman and a recovery search began for my 9-year-old nephew Geraldo until the early morning hours."
Geraldo Rodriguez is supposed to celebrate his 10th birthday tomorrow. His family was going to throw him a party today. Instead, they're searching for him after he fell off a paddle boat in Bangs Lake. @WGNNews pic.twitter.com/wxsEvUMfvf

— Kelly Davis (@kellykdavis) April 20, 2019
Officials cited by the Chicago Tribune said in a statement that "at approximately 7:20 p.m, two male juveniles on a paddleboat became distressed and went into the water."
Fishermen who heard screams rushed to help and managed to pull one of the boys to safety.
Rescue crews worked until around 3 a.m. before the search was called off due to bad weather, the Tribune reported.
"We haven't slept, none of us have slept. We were driving around last night just looking on the shore, hoping that he's out there somewhere and we were going to find him," Angi Rodriguez told ABC7.
The search reconvened on Saturday morning. Around noon, divers pulled the boy's body out of the water.
She said the boy's tragic death came just one day before his 10th birthday party.
"Sunday was his birthday, today was supposed to be his birthday party," she said. "We were supposed to be celebrating his birthday today, instead we are grieving the loss of this beautiful soul!"
The Wauconda Fire Department's Chief Mike DaValle told ABC7 the boy's parents said they were not aware their son and the other boy had taken a boat out onto the lake.
"As you can imagine they're very distraught; they're looking for closure, which its completely understandable. So, we're gonna do our best to give them the closure they need and deserve today," DaValle told ABC7.
Mortality Figures in the United States
According to 2017 data from the Centers for Disease Control and Prevention (CDC), National Center for Health Statistics, the 10 leading causes of death in the United States were: heart disease, cancer, unintentional injuries, chronic lower respiratory diseases, stroke, Alzheimer disease, diabetes, influenza and pneumonia, kidney disease, and suicide.
The third most common cause of death in the United States was unintentional injury.
"The most common unintentional injuries result from motor vehicle crashes, falls, fires and burns, drowning, poisonings and aspirations," according to the CDC.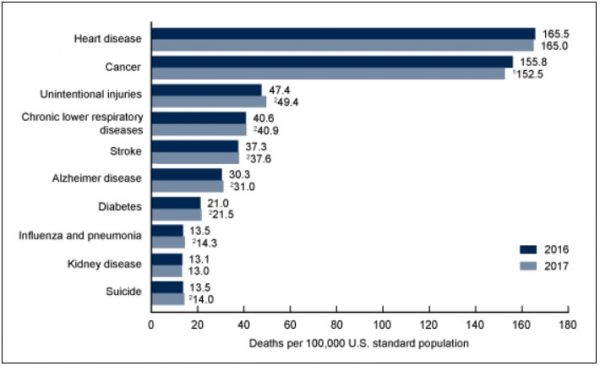 These further break down as follows: the most common are unintentional poisoning deaths (58,335), followed by motor vehicle traffic deaths (40,327), and unintentional fall deaths in third place (34,673).
According to the CDC, between 2005 and 2014, there was an average of 3,536 unintentional drownings every year in the United States, not including boating-related incidents. For the same time period, there were on average 332 people who died from boating-related incidents.
About one in five drowning fatalities are children under 14, the CDC notes. For every child that dies due to drowning, five receive emergency department care for nonfatal injuries.
The total number of emergency department visits for unintentional injuries in the U.S. in 2017 was 30.8 million, according to the CDC.
The 10 leading causes accounted for 74 percent of all deaths in the United States in 2017.