Thirty-nine people who were found dead inside a truck in the United Kingdom this week were identified as Chinese nationals, it was reported Thursday.
Police said that the bodies, which were found in Essex, were inside a trailer that had arrived in Purfleet on the River Thames from Zeebrugge in Belgium.
Chief Superintendent Andrew Mariner said in a statement, "This is a tragic incident where a large number of people have lost their lives. Our enquiries are ongoing to establish what has happened. We are in the process of identifying the victims, however I anticipate that this could be a lengthy process."
He added: "We believe the lorry is from Bulgaria and entered the country at Holyhead on Saturday 19 October and we are working closely with our partners to investigate. We have arrested the lorry driver in connection with the incident who remains in police custody as our enquiries continue. I appreciate this cordon is going to disrupt the activity of local businesses in the area and we will work to ensure that disruption is kept as short as possible. We are working with Thurrock Council to mitigate against any impact our investigation scene will have locally."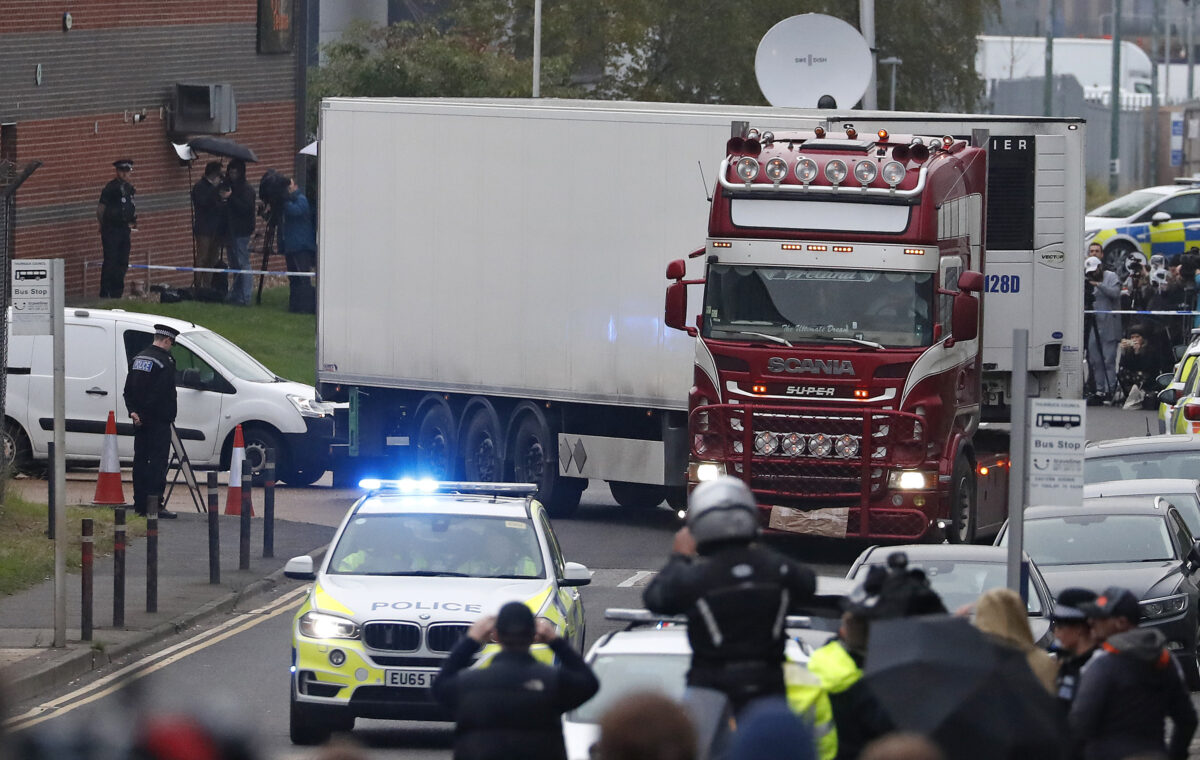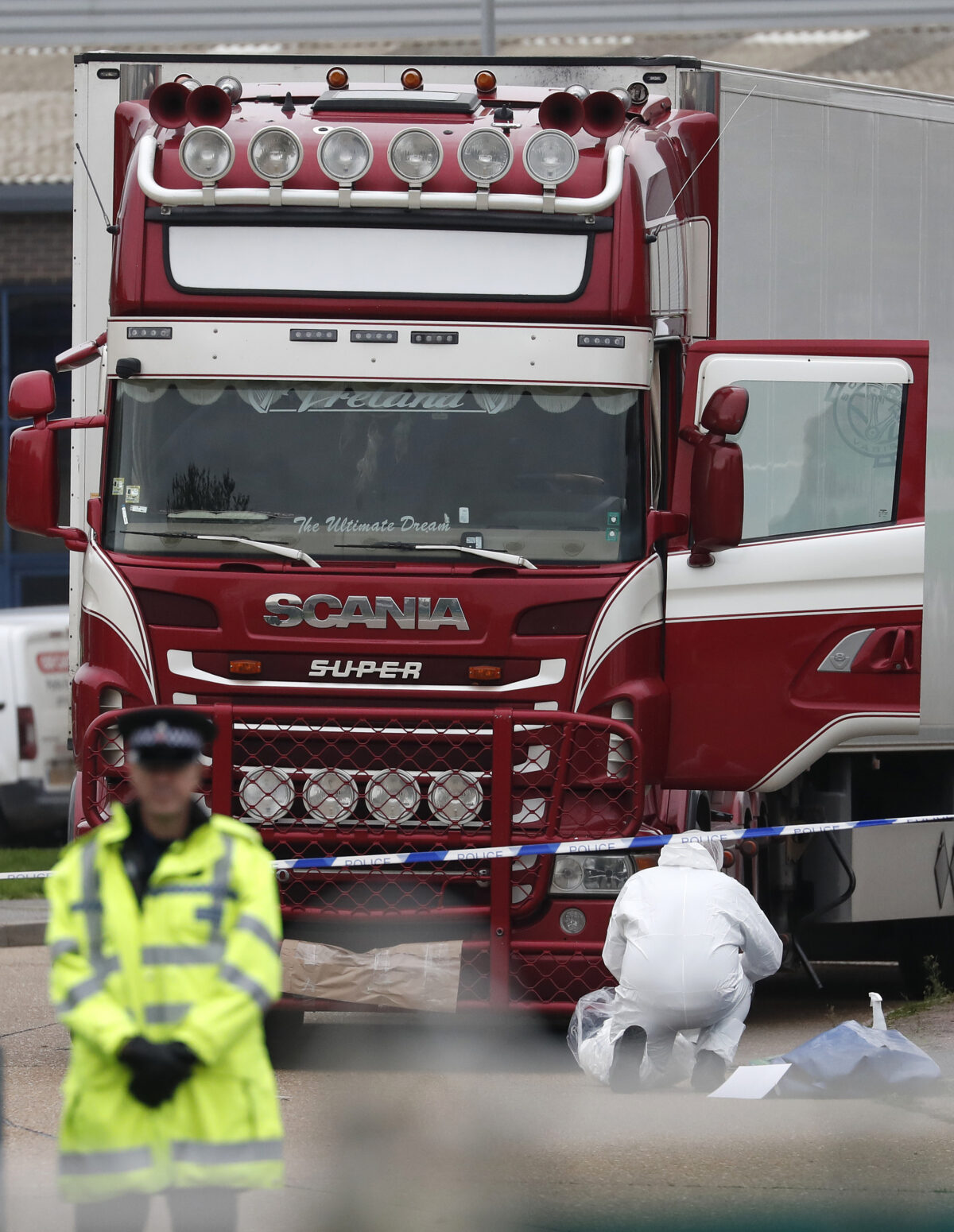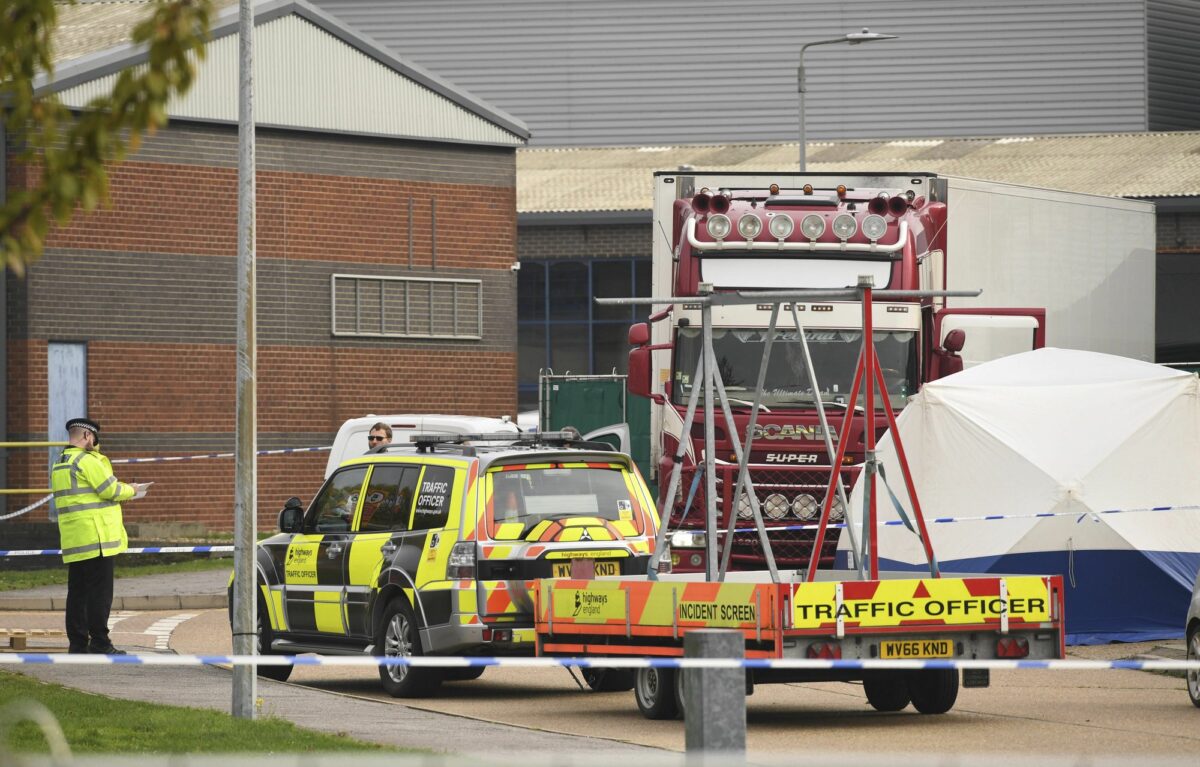 Truck driver Mo Robinson, 25, is now being questioned by police. He is being held on suspicion of murdering the 31 men and eight women, reported the BBC.
Councillor Paul Berry told the news outlet that the village of Laurelvale in County Armagh, his family lives, was in "complete shock."
"The local community is hoping that he [Mo Robinson] has been caught up innocently in this matter but that's in the hands of Essex Police, and we will leave it in their professional hands to try to catch the perpetrators of this," he added.
Chinese regime officials said they had read the reports about the deaths, according to the BBC.
For years, illegal immigrants have attempted to reach Britain stowed away in trucks, often from the European mainland. In the biggest tragedy of this kind, 58 Chinese were found dead in a tomato truck in 2000 at the port of Dover, noted Reuters.
The discovery of the bodies was made at 1:40 a.m. just over an hour after the container arrived in Purfleet, not far from the industrial estate in Grays.
The vehicle has now been moved to a secure site at nearby Tilbury Docks where forensic work can take place.
The National Crime Agency, which targets serious and organized crime, said it was helping the investigation and working urgently to identify any gangs potentially involved.
Shaun Sawyer, national spokesman for British police on human trafficking, said thousands of people were seeking to come to the United Kingdom illegally. While they were able to rescue many of those smuggled in, Britain was perceived by organized crime as a potentially easy target for traffickers.
Reuters contributed to this report.