Board of Elections Responds to Thompson's Criticism
September 16, 2013 5:21 pm Last Updated: September 16, 2013 5:22 pm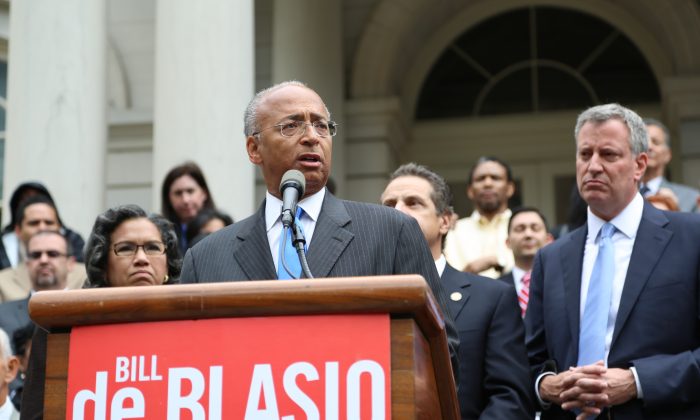 NEW YORK—Bill Thompson heavily criticized the city's Board of Elections at a press conference in Manhattan Monday, Sept. 16, where he formally withdrew from the mayoral race.
Thompson said the public should be outraged that "almost a week after the primary, we still don't know the outcome of the election." 
The situation with the Board of Elections is a disgrace, Thompson said at the press conference. "We don't know if there should be a runoff, or if there shouldn't be a runoff. We don't know how many votes I got, or even how many votes were cast." 
Valerie Vazquez-Rivera, director of communications and public affairs for the Board of Elections in the City of New York, said the agency would be reporting the total votes from the lever machines by the close of business Sept. 16.
"Ultimately he (Thompson) should take his recommendations to the state legislature, because the Board of Elections complied with election law, with the timeline prescribed in election law," she said.
But the results the board will release tonight, from counting the ballots in the more than 5000 lever machines used during the primary Sept. 10 will not be official, she said, because the Commissioners of the Board of Elections in the City of New York first needs to certify them.
"We began opening them up on Friday in the presence of the campaigns," she said. "And at 10 a.m. today, in the borough offices in the city of New York we began opening up all paper ballots," including absentee, affidavit, and emergency votes.
"The process is statutorily set," she said. "We tried to expedite the process as much as possible within the parameters of the law," Vazquez-Rivera said.