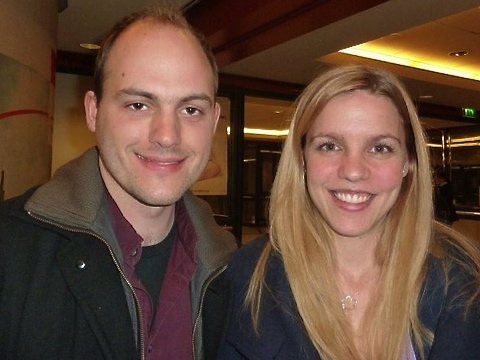 FRANKFURT, Germany—Dr. Katharina de Parade, member of the board of directors of the German Pharmacist Association, and Dr. Lars Wellejus, a professor, both attended the Shen Yun Performing Arts International Company's matinee performance on March 31 in the Jahrhunderthalle in Frankfurt am Main.
New York-based Shen Yun is the world's premier classical Chinese dance and music company. A performance by Shen Yun is a presentation of traditional Chinese culture as it once was: a study in grace, wisdom, and the virtues distilled from the five millennia of Chinese civilization," describes the Shen Yun website.
Dr. Wellejus was impressed by the grandeur of the artistry and synchronization of the dancers, calling it "truly an amazing performance."
"What touched me deeply was the group formation, the elegance, and the perfection displayed throughout the show. One recognizes the maturity of the Chinese culture through the rhythm displayed by the performers, the colors and the grace, which are all fused into one unity.
"We all can profit from the artistic maturity of this Chinese performance."
Dr. de Parade agreed and said, "I experienced a wonderful evening. I truly loved the show."
One of the features that strikes audience members most is Shen Yun's colorful costumes, according to its website. "These hundreds of gorgeous, hand-made garments span China's dynasties, regions, and ethnic groups."
Dr. de Parade commented on "the rich colors" of the costumes calling them "unbelievably impressive." "When watching the scene Snowflakes Welcoming Spring, it helped me leave behind the long and cold winter we have just experienced in Germany. The appearance of the blooms amidst the snowflakes was marvelous. Now, I'm looking even more longingly towards the coming of spring."
Shen Yun's one-of-a-kind orchestra, with its all-original compositions, blends East and West like no other; two great classical music traditions producing one fresh, unexpected sound, something that Dr. Wellejus enjoyed.
"The harmonic blending of Western and Eastern instruments was outstanding," he said.
According to the emcees, as the Chinese regime does not encourage the traditional arts and values that Shen Yun presents, the company cannot currently perform in China.
Dr. Wellejus said, "Very little Chinese culture comes to Europe and it is deplorable that Shen Yun cannot perform in China."
Dr. Wellejus said that he "will tell everyone that they should see Shen Yun in any other European city where Shen Yun is playing. Don't miss it!"
New York-based Shen Yun Performing Arts has three touring companies that perform simultaneously around the world. Shen Yun Performing Arts International Company will next perform in Stockholm, Sweden from April 4-6.
For more information, please visit ShenYunPerformingArts.org.