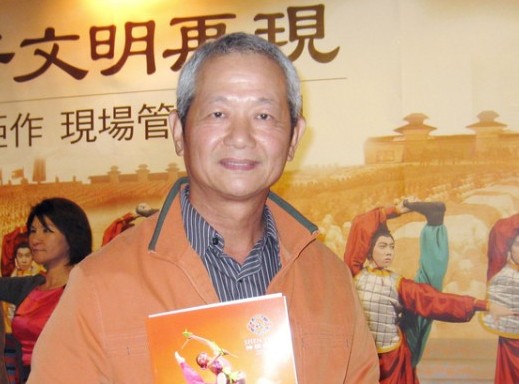 TAINAN, Taiwan—Eagerly awaited, Shen Yun Performing Arts New York Company finally presented the premiere show of its 2012 Taiwan tour at Tainan Municipal Cultural Center Auditorium on the evening of March 7.
After seeing the Shen Yun performance with his wife for the third consecutive year, Mr. Lai Qinyan, manager and board director of the Kaoching Building Materials Co., Ltd., said that he was totally enthralled with the program this year, and looked forward to another magnificent performance next year.
After seeing Shen Yun perform for three years in a row, he said that not only did he enjoy Shen Yun very much, but he has become a big fan of the company, saying, "She Yun has all-new programs every year. As expected, this year's program is really even more fabulous than that of last year." Right after seeing the performance, he said with excitement, "When watching the performance, I was fully concentrated, and totally enthralled by the superb performance. It was indeed wonderful."
Mr. Lai said, "I enjoyed every part. Watching those dancers' movement was like seeing real fairies dancing on the stage. The female dancers' movements were so beautiful and elegant as if they were really fairies, while the male dancers' movements were so vigorous and touching. In addition, the choreography was exceptionally good. Not only was it very vivid, but it was also very inspiring."
He also said Shen Yun's perfect presentation was something that could really move the audience to tears. When talking about the program depicting the Chinese communist regime's persecution of Falun Gong practitioners, Mr. Lai commented, "I indeed feel very sorry for them, as they are kind people being viciously persecuted. By no means should it occur in modern society."
Mr. Lai mentioned that, through seeing the traditional culture and the truthful themes displayed by Shen Yun, he has gained more insight into the Chinese communist regime's persecution of beliefs, and has come to understand his relatives' cultivation of Falun Gong. He concluded that good things are not supposed to be suppressed, and he would definitely see the performance when Shen Yun comes back again next year.
Reporting by Li Qingdai & Billy Shyu
New York-based Shen Yun Performing Arts has three touring companies that perform simultaneously around the world. For more information, visit ShenYunPerformingArts.org 
Read the Chinese original