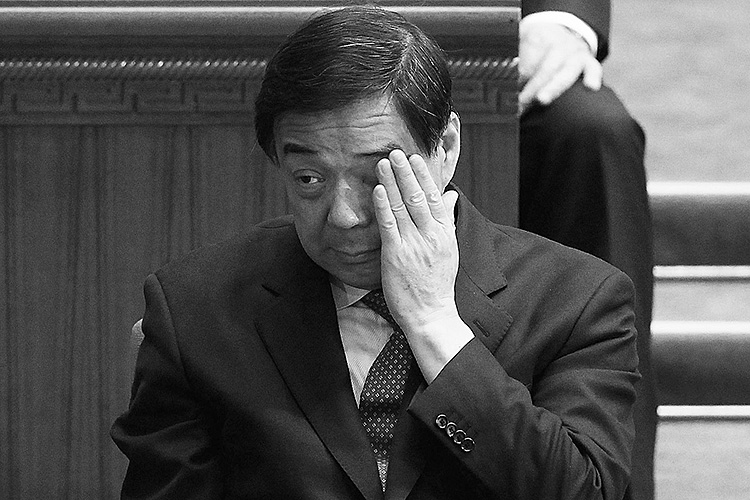 Bo Xilai has been placed under house arrest by the agency responsible for the security of top Chinese Communist Party leaders, according to an overseas Chinese magazine thought to be affiliated with a former Party leader. Bo has also been put under the CCP's disciplinary proceedings known as "shuanggui," according to reports in the Hong Kong and Japanese media.
UPDATE: Zhou Yongkang Lost Power Struggle, Say Chinese Netizens
The article in Foreign Reference News, the magazine rumored to be affiliated with Jiang Zemin's faction of the Chinese regime, said that Bo and officials who support him are in the hands of the secretive security force the Central Guard Bureau.
Jiang Zemin was the leader of the CCP from 1989-2002; Bo Xilai was one of his proteges, and recently fell out of favor in a dramatic power struggle.
The Foreign Reference News piece also said that Bo's wife, Gu Kailai, has been taken away by the Party's Central Commission for Discipline Inspection "for investigation."
Party chief Hu Jintao was said to have personally handled Bo's arrest, sending orders to the Secretariat and the Director of the General Office of the CCP's Central Committee to mobilize the Central Guard Bureau's bodyguards against Bo, according to Foreign Reference News.
Hu Jintao and his right-hand-man, Wen Jiabao, are understood to have long been dissatisfied with Bo's public behavior and political initiatives. Formerly the regime's Commerce Minister, Bo was sent to Chongqing after being caught in embarrassing international lawsuits lodged by Falun Gong practitioners, who Bo had previously persecuted under Jiang's orders. 
But when he got to Chongqing, rather than go down quietly, Bo tried to resurrect his political career with brash public mobilization campaigns. Styling himself as a Mao Zedong-like figure, Bo organized the mass singing of revolutionary songs and conducted a sometimes brutal campaign against individuals alleged to be part of the "mafia." Critics contend this was merely a way to eliminate political enemies and in the process seize their assets.
---
Click this tag to read The Epoch Times' collection of articles on the Chinese Regime in Crisis. Intra-CCP politics are a challenge to make sense of, even for veteran China watchers. Here we attempt to provide readers with the necessary context to understand the situation.
---
Bo's fortunes began to unravel when his deputy, Wang Lijun, on Feb. 6 traveled secretly to the American consulate in Chengdu, a city some hours from Chongqing, and attempted to defect. It was thought that central authorities were investigating Wang as a way of getting at Bo. Subsequent reports and rumors said that Wang had divulged Bo's secrets, including an elaborate coup plot that would be sprung next year on the new leadership, with the help of another Jiang Zemin stalwart.
In a related development, Japan's Sankei newspaper and Hong Kong's Apple Daily reported rumors that Bo Xilai had been put under "shuanggui," which literally means "double designation" (to be investigated at a designated time and place).
Shuanggui is an internal Party procedure of detention and interrogation, ostensibly used to deal with corrupt cadres or cadres who have "violated discipline." Strictly speaking it is unlawful, but its existence is widely acknowledged and has been used by the Party since its days as a guerrilla insurgency.
The Apple Daily quotes Phoenix Television's reporter, Deng Zuo in Beijing, who wrote on his Sina Weibo page that he heard reports that Bo was put under shuanggui due to the Wang Lijun incident, and his wife Gu Kailai's law firm's involvement in corruption.
With research by Jane Lin.
---

The Epoch Times predicted Bo Xilai's fall back on Feb. 18. You might be interested in the new op-ed by Heng He:
The Ouster of Bo Xilai Is Only the Beginning
Both Chinese Premier Wen Jiabao's answer at the NPC press conference and a circular from the CCP Central Committee name Bo Xilai as responsible for the Wang Lijun incident. But the leader's responsibility is not a strong enough reason for removing a provincial level Party secretary. This about much more than Wang.
---