Built at the BMW Spartanburg plant in South Carolina, the 2017 BMW X5 xDrive40e is the German-based automotive manufacturer's very first production plug-in hybrid (PHEV) model. Based upon our time spent with this vehicle, you might prepare yourself to expect more plug-ins coming from this Bavarian automaker in the near and long term.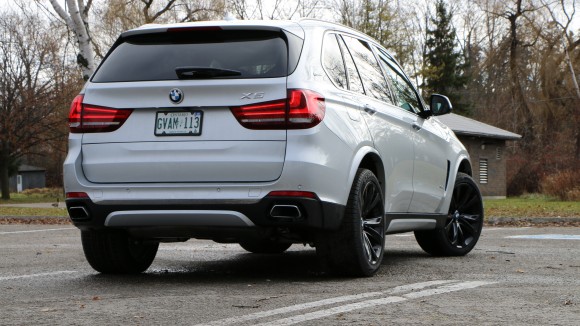 As two seasons attempted to crossover, we took this luxury, sport utility vehicle on all manner of roads and through several seasonal environmental conditions: dry; rain-soaked; patchy ice; and, snow-covered pavement. Through it all, this heavy (more than 2267 kg) vehicle with massive and even aggressive-looking optional 20-inch wheels, and the well-tested xDrive system handled everything with grace (when required) and firm "belligerence" when called upon.
First of all, in spite of what its model designation might suggest, the X5 xDrive40e does not have a 4.0 L engine under the hood—far from it. As in all hybrid-type vehicles, there are actually two engines or motors. The internal-combustion component of the powertrain is a turbocharged 2.0 L 4-cylinder engine, paired with an electric motor. The 111 hp e-motor is integrated into the 8-speed automatic transmission. Consequently, depending upon the drive mode selected, it works on its own or in conjunction with the 241 hp turbo four. The total system output is 308 hp.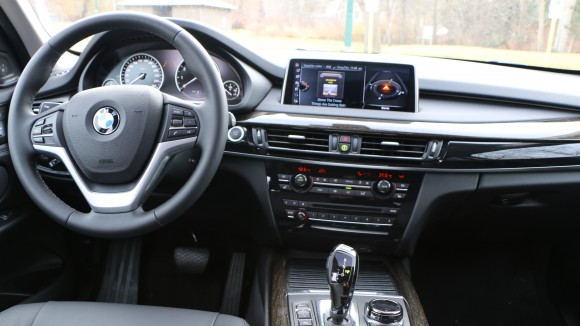 So, What is a Hybrid and What Does it do?
To those scratching their heads, allow me to enlighten you.
Yes, this is a large, heavy vehicle partially-powered by a 4-cylinder engine. Seems too small, correct? In the X5 xDrive40e, the robust electric motor contributes an additional 184 ft-lb of torque. This provides the low end "oomph" while pulling away from the curb or traffic lights which the 4-cylinder engine lacks. After the vehicle is moving, the horsepower in the internal combustion engine (ICE) builds and starts to do most of the work. That's pretty much how all hybrids work regardless of the manufacturer. The power boost from the synchronous electric motor is so noteworthy that the combination power plants are more than adequate to move this heavy SUV with eager enthusiasm. Although this X5 tips the scales at over a whopping 2304 kg (thanks to the added weight of the lithium ion batteries), BMW says it can reach 100 km/h in just under 7.0 seconds. Not too bad. All-wheel drive is standard and always operative, even when this X5 is running as an EV.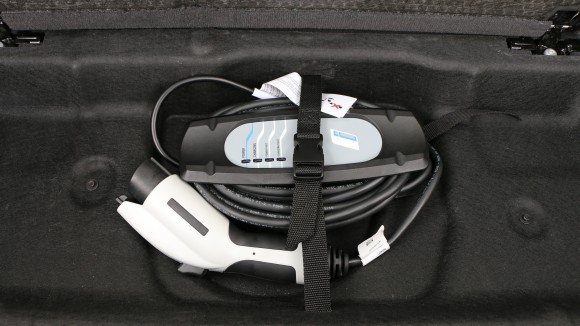 The overall power generated from the two drive units is transformed into seamless, even graceful forward motion courtesy of the 8-speed Steptronic transmission and the now quite familiar BMW xDrive intelligent all-wheel-drive system. Regardless of the proportion of drive power being sourced from the engine and the electric motor respectively, xDrive ensures optimal traction in all weather and road surface conditions, together with heightened handling stability and increased agility when powering through corners. BMW boasts that an electronically controlled multi-plate clutch provides the basis for fully-variable distribution of the drive torque between the front and rear wheels. xDrive is linked up to the vehicle's Dynamic Stability Control, (DSC) making it capable of acting in advance to counter possible understeer or oversteer and to always direct drive power in such a way as to optimize the overall handling dynamics. In other words, this beast drives the way you would expect a BMW to perform, with confidence and in an enthusiastic, slightly aggressive manner while still behaving like a gentleman!
Looks can be Deceiving
Visually, this hybrid X5 looks just like any other X5 in the lineup, differentiated only by minor details, such as the door on the front driver-side fender that houses the charge port and the model-specific badging inside and out. In this way, this PHEV X5 mostly hides the fact that it is actually electrified.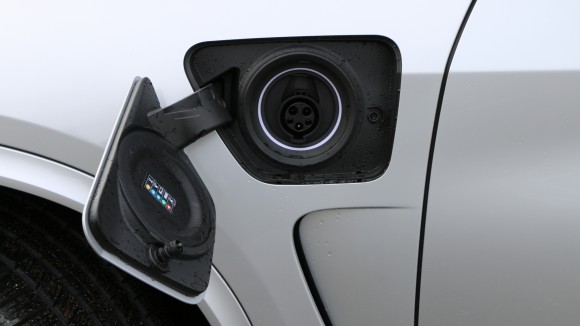 One of the hybrid's disadvantages however is its smaller cargo hold, which shrinks significantly in order to make room for the lithium-ion batteries. In a "traditional" X5, this area in rear is deeper.
The BMW navigation system is another standard feature in the BMW X5 xDrive40e. Consider the following:10.2-inch high-resolution screen; 3-D maps; 200 GB hard drive with 20 GB storage for audio files; voice feedback and, of course a responsive, dare we say intuitive voice command system; and navigation map with Over-the-Air (OTA) updates. In fact, the model driven was upmarket-optioned for another just over $9,000 in BMW-speak, this pretty much represents the premium enhanced package plus—including an audibly-appealing Harman/Kardon sound system and a plethora of BMW ConnectedDrive options, including, but not limited to Active Cruise Control with Stop & Go, BMW Head-Up Display, the BMW Night Vision system with pedestrian and animal recognition, Lane Active Blind Spot Detection, Adaptive LED Headlights and LED fog lights, Parking Assistant, rear view camera, and Surround View and Speed Limit Info. To be 100 percent clear, it should be noted that even if/when driving in full EV mode, all driver assistance systems are also available.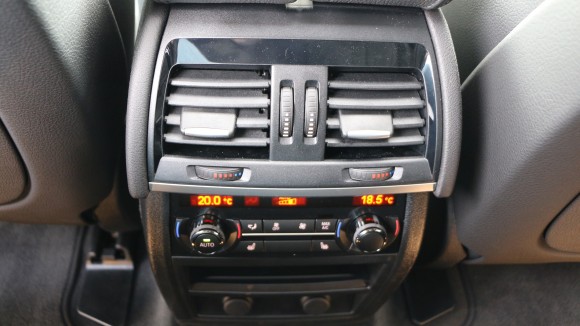 Will the Cost Benefits Outweigh the Price Tag?
So is BMW's PHEV for you? Perhaps. If you have a hankering for the utility that an SUV delivers and the desire for the BMW marque, then sure why not? Further, if your typical one-way commute to the office is between 30–60 km, the EV only mode will, dependent upon conditions, deliver around 30 plus additional km from a single charge. If, at work you have access to a Level 2 charger, a full load may be achieved in under 3 hours—just over seven hours if plugging into conventional household current. In other words, for your daily commute, anywhere from some or all of your "fuel" costs may be covered by the plugging into the grid. You may find yourself spending less time pumping gas—a welcome respite, especially during our often harsh winters. So there is some economic benefit—long term as far as annual costs is concerned. And, remember this: in Ontario, the provincial government will provide a one-time incentive of $8,460 toward your purchase price—after the fact.
The decision rests firmly with you.
2017 BMW X5 xDrive40e
Body Style: PHEV SUV–Plug-in Hybrid Electric Sport Utility Vehicle. BMW refers to the X5 xDrive40e as an SAV, a Sport Activity Vehicle.
Drive Method: Front-engine, full-time all-wheel-drive including when electric only mode is engaged.
Engine: 2.0 L 4-cylinder engine with TwinScroll turbocharger and an additional electric motor (total contribution is 308 hp, 332 lb-ft of torque).
Cargo Capacity: 968 L (with all seats in place) and 2,053 L maximum.
Fuel Economy: 11.4 L/100 km (combined city/highway). For the week we drove this vehicle, we averaged 10.1 L/100 km with over 700 km driven in town and on highways.
Price: $86,395*. In Ontario, the provincial government will offer an incentive of $8,460** (only on the MSRP).
*Includes freight and PDI. HST extra.
** If an eligible electric vehicle was purchased with a MSRP equal to, or greater than $75,000 prior to February 10, 2016, the applicant will receive the Ontario incentive available at the time of purchase. There are also incentives available should you decide to lease: ask your preferred BMW dealership for details.
David Taylor is an independent automotive lifestyle writer, producer, and editor based in Barrie, Ontario who is fascinated by innovation and technology which enhance the overall driving experience. He's also a member of the Automobile Journalists Association of Canada (AJAC). Follow him on Twitter @Omemeeozzie or on Instagram @hugoscaroftheweek.