Many years ago, BMW understood that performance meant more than getting from point A to B in the shortest time possible.
It was always about the journey.
Back in 1985, BMW engineers understood that by improving handling and traction, especially on cornering and while driving on disparate road surfaces, that there was an opportunity to make the overall driving experience more memorable, and yes, safer. By offering improved surface purchase and superior driving dynamics, they made the long-standing marketing and advertising tag line, "The Ultimate Driving Machine", a reality. All-wheel drive was introduced to an unsuspecting audience at the Frankfurt Auto Show in 1985 in a BMW 325i.
Since then, many changes have been made to this evolving, innovative system. Today, the intelligent BMW xDrive all-wheel-drive system takes typical BMW driving dynamics to new and exciting heights.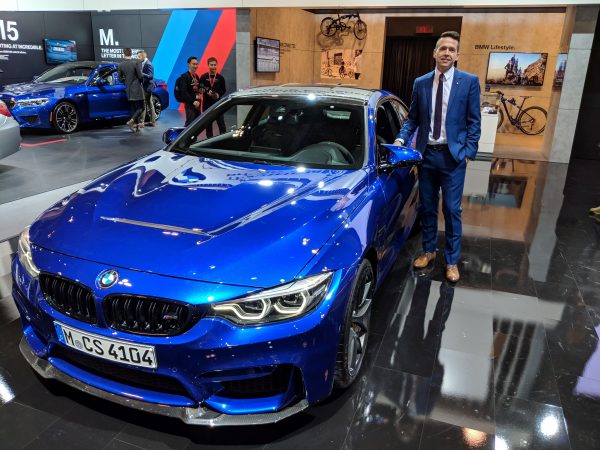 We spoke with Matthew Wilson, national manager, product planning, BMW  about this proprietary system—before heading out to a BMW-sponsored event which would simply and efficiently, demonstrate the attributes of this unique, electronic intelligent all-wheel drive system to BMW clients and aficionados. "You see," stated Mr. Wilson, "BMW's integrated chassis management (ICM) and dynamic stability control (DSC) systems ensures that xDrive continuously responds precisely and correctly at the earliest possible moment, based on reliable sensing and monitoring of the current driving situation. The resulting fast and accurate control of drive power distribution ensures typical BMW handling characteristics—even under vigorous cornering."
Precise Steering Response, With Virtually no Torque Steer
"BMW's all-wheel-drive system is biased towards the typical BMW rear-wheel-drive characteristics." Quite simply, xDrive maintains typical BMW-precise steering response, with virtually no torque steer. The latest-generation BMW xDrive system starts imperceptibly increasing the amount of power sent to the rear wheels as soon as the vehicle enters a corner, further enhancing the driving pleasure.
So, on the shores of Lake Ontario, in a closed off area of Ontario Place and conducted under the watchful eyes of professional drivers/instructors, there to provide advice, guidance—everything required to enhance the three hour event—there was an opportunity to experience the xDrive on several different current BMW automobiles. The testing was, for each segment, brief—minutes long, at most—yet vividly demonstrated optimal traction, control and stability leaving no doubt in one's mind of the intent behind BMWs xDrive system—regardless of the vehicle it was in.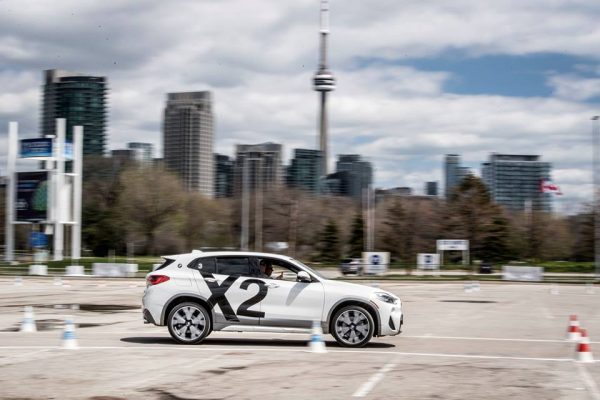 There were three unique tests to experience: driving a new model BMW X2 or the M Performance X3 on a dynamic cone course; then slow and deliberate driving either an X5 or X6 on an exclusive course intended to demonstrate the actual dynamics and engineering of xDrive and BMW engineering; and, finally, if you had the appetite, be a strapped-in passenger for an exhilarating hot lap in an all-new, extraordinary BMW M5 with M xDrive—while being expertly piloted at speed around a course setup to demonstrate both the physical performance of the 600 hp, 4.4 L V8 engine with M TwinPower Turbo technology and 553 lb.-ft. of torque!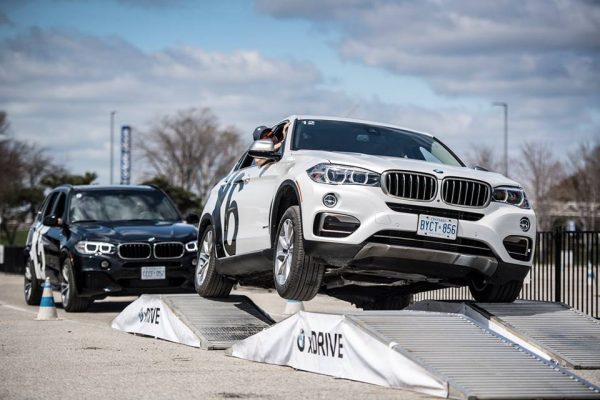 SAVs—not SUVs
The cone course was an interesting setup, looking to bring out the features—and benefits of two distinct BMW SAVs–Sports Activity Vehicles. First up was the latest edition to the BMW SAV family—the X2. Smaller yet comfortable and with room to spare, this auto performed admirably on the track. It felt very safe, especially when pushed hard in Sport mode. But it lacked a certain, "je ne sais quoi"—until one of the instructors whom I have driven with and listened to many times over the years, suggested driving in Normal mode, without any adjustments to suspension, handling and performance. Wow—huge difference! The X3 "performed" like a provoked proverbial bat out of hell, yet never felt as if control would be wrenched from your hands. Under those conditions, the X2 executed well against the more powerful and aggressive-sounding M Performance X3.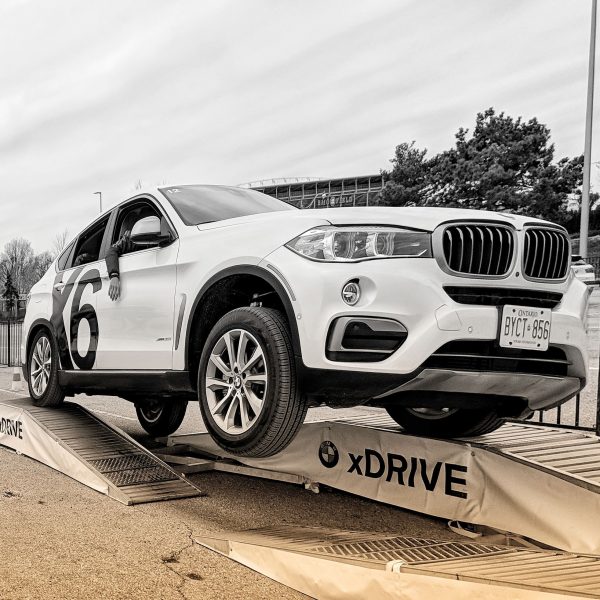 The xDrive course provided some unexpected fun and a couple of leaps of faith! Driving either xDrive equipped X5 or X6, there was a short course with different elements. Driving slowly, we were expected to "feel" the autos via the throttle pedal—a light touch was all that was required as we balanced and cajoled the SAVs into unusual positions—each demonstrating vividly the premise of xDrive and the appropriate transfer of power to specific wheels. There was another exercise reminiscent of a giant teeter-totter. Drive to the utmost uphill edge and then, with hill descent enabled, allow 5,000 plus pounds to balance precariously then tip over to a controlled roll downhill.
For those who had the stomach, the final test was to be a passenger in the new M5 as a skilled professional driver launched the car down a straightaway and then cornered sharp right into the balance of the course. In this instance, picture leaping off an imaginary line and being propelled down some 300 or so metres, hitting speeds in excess of 120 km/h! Then being thrown to one side and forward under severe braking and acceleration conditions entering and exiting that first turn!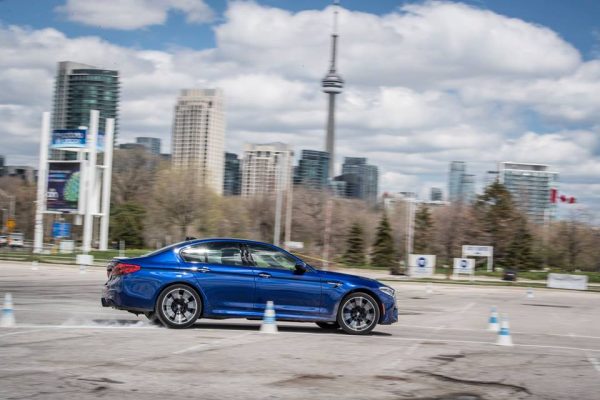 Each of these different executions showed the remarkable capabilities of BMW's xDrive system.
If you are in the market for a German-engineered performance vehicle, why would you consider one without xDrive?
David Taylor is an independent automotive lifestyle writer, producer, and editor based in Barrie, Ontario who is fascinated by innovation and technology which enhance the overall driving experience. He's also a member of the Automobile Journalists Association of Canada (AJAC) and is a Co-Chair and a a Director of that organization's Canadian Car of the Year Award (CCOTY). Follow him on Twitter @Omemeeozzie or on Instagram @hugoscaroftheweek.