A dress being shared on social media sites has prompted an intense debate: Is it black and blue or white and gold? Who really cares?
A lot of people do, apparently, as evidenced by the 100 or so tweets per minute on the piece of clothing. If you're curious, the dress photo originally popped up on Tumblr. According to Gawker.com, more than 76 percent of people thought the dress is white and gold, while 24 percent thought it is blue and black.
There's an explanation for the madness, according to tweet that's been circulating. 
An explanation why you see this dress as blue and black or white and gold. pic.twitter.com/ayXpqavC9B

— Andy Rexford (@andyrexford) February 27, 2015
Here's the full text: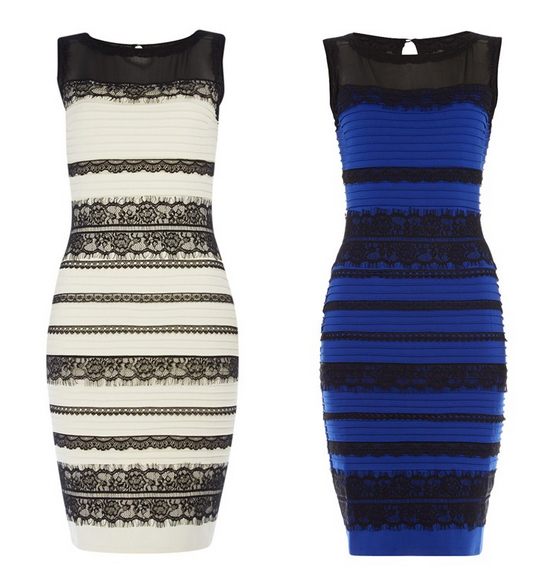 I may be colorblind but that dress is definitely black and blue

— Erin (@erin_siobhann) February 27, 2015
Rt for white and gold, Fav for black and blue pic.twitter.com/EKLfxKtqXk

— Braden Henderson (@Henderson_08) February 27, 2015
I just saw white and gold… got out the shower and it's black and blue… wtf

— Neishmy Rodriguez (@Blow_the_Gripx3) February 27, 2015
OMG I SEE BLACK AND NAVY BLUE

— SLAPPYZ (@YungPeachy) February 27, 2015
DENISE SAYS THE DRESS IS WHITE AND GOLD AND I SEE BLUE AND BLACK IM FREAKING OUT WHAT IS HAPPENING

— DJ kell (@oooh_KELL_em) February 27, 2015
@makennacapalbo yup so it's black and blue!

— Michaela (@MichaelaBurr) February 27, 2015 
And here's the original Tumblr post:
 More Twitter confusion:
The dress is whatever color you see, there is no certain color (= i see "black and blue" but you may see different pic.twitter.com/H5s9XllGUL

— Khalil Underwood (@RealKhalilU) February 27, 2015
*on a first date* girl: *takes out phone* so what color is this dress? boy: blue and black girl: yeah sorry this isn't going to work out

— maggie (@maggiee_rose) February 27, 2015
I guess this dress is like my heart and choice of clothing. Black. And I guess a blue…lol

— Rachael (@rachh_xoxo17) February 27, 2015
"How did you get so many followers?" Why does a white and gold dress look black and blue? Don't ask me questions I can't answer.

— Bama Nurse (@bama_nurse) February 27, 2015
There is no gold-and-white dress. There is no black-and-blue dress. There is only the United States of dress.

— Tim Carvell (@timcarvell) February 27, 2015
I'm trying to get to sleep but I can't with all this dress confusion. It's blue and black. I need sleep. I'm scared and confused.

— riley burns ॐ (@Riley_xVx) February 27, 2015
just saw this dress thing.. it's blue and black… but then I saw white and gold… now I don't know… what is happening

— Katie Stevens (@thekatiestevens) February 27, 2015