Bloomberg to Bloomberg: Former Mayor Retakes Data Firm
September 4, 2014 5:15 pm Last Updated: September 5, 2014 5:50 pm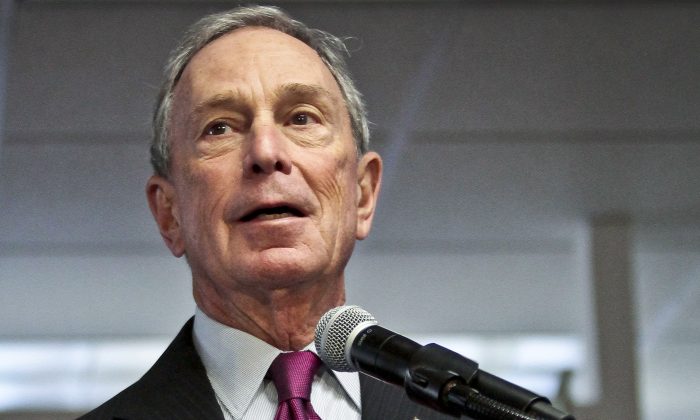 NEW YORK—Former Mayor Michael R. Bloomberg revealed Wednesday his return to Bloomberg LP, his software and data company.
The announcement comes as no surprise to many who have observed the billionaire stopping by the doors of the company each day and growing increasingly hands on at meetings. 
Bloomberg is not planning on taking the CEO title, but he will run the company for the near future. Bloomberg LP's chief executive and old friend, Daniel Doctoroff, will be stepping down. 
Pace University business professor Joseph Pastore observed in an emailed statement that the former mayor was still energetic, "Michael Bloomberg may be 72—but today, and especially for him, that is the new 60." 
Bloomberg had insisted for years that he would not return to run the company, which earned $7.9 billion in revenue last year. 
He was originally expected to spend his retirement from politics donating money to causes such as gun control and immigration—work that he expects to continue, even as he takes on the 15,000-strong company.
Pastore noted that Bloomberg may be channeling the three terms he served as New York mayor and also that Bloomberg Philanthropies, a charity only 20 blocks away from the data company, didn't have the challenge he sought. 
"Michael Bloomberg no doubt has lots of waxing leadership energy begging to be rekindled," said Pastore. "Turning his attention to philanthropic efforts—as important as that is and as committed as he might be—really doesn't demand the entrepreneurial and creative energy that he craves." 
Pastore observed that Bloomberg LP had just the environment the former mayor was seeking in "a highly competitive and transformative industry." 
CORRECTION: An earlier version of this article incorrectly attributed a source. The correct attribution is Pace University business professor Joseph Pastore. Epoch Times regrets the error.