Police have allegedly recovered a shirt and other items stained with missing Connecticut woman Jennifer Dulos' blood from a Hartford garbage bin, according to the Hartford Courant.
Citing law enforcement sources, the publication reported that a bloodstained T-shirt Dulos was believed to be wearing the day she disappeared was found in the area her estranged husband, Fotis Dulos, was reportedly seen discarding trash.
A bra and cleaning supplies stained with blood were also among the items allegedly found in a Hartford trash can days after Jennifer Dulos vanished on May 24, according to the report. The 50-year-old mother of five was last seen after she dropped off her children at school in New Canaan.
The New Canaan Police Department has refused to confirm the Hartford Courant report, according to CBS New York.
"As this remains an active and dynamic investigation, no comment will be provided on any evidence that has been collected nor will information be provided regarding the results of any forensic testing," a department spokesperson said in a statement cited in the report.
Fotis Dulos' lawyer Norm Pattis said in a statement cited by CT Post that he had no knowledge of the alleged discovery of any of the described evidence.
"I am unaware of any evidence about what she was wearing when she disappeared," Pattis said. "This sounds like desperate speculation."
Fotis Dulos, and his girlfriend, Michelle Troconis, have been charged with tampering with evidence and hindering prosecution. Both have pleaded not guilty to the charges.
Troconis had been out on bail since her initial court appearance, while Fotis posted a $500,000 bond on June 11, reported the Courant.
Authorities cited by CBS have previously said Fotis Dulos and Troconis dumped items that contained Jennifer's blood at locations in Hartford.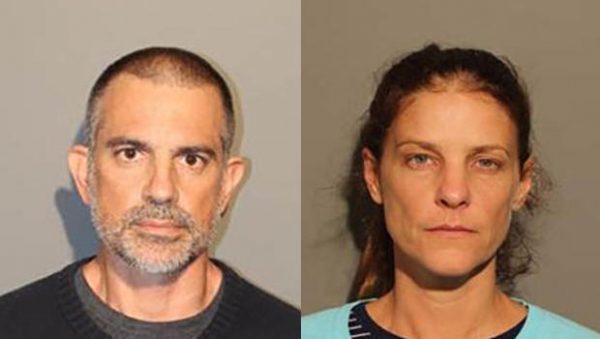 Details of the Investigation
Police cited by the Hartford Courant said that on the day Jennifer Dulos went missing, Fotis Dulos and Troconis were allegedly seen disposing of two garbage bags filled with bloody clothes, towels, and sponges. Courant reported that the blood on the items seized from the garbage cans matched Dulos'.
The pair allegedly attempted to get rid of license plates that had been partially taped by throwing them in a storm drain, reported the newspaper, citing an arrest warrant. The license plates belonged to a vehicle Fotis used to own in 2017.
According to WTNH8, authorities have gone back to a trash facility on June 14 to search for evidence.
Today marks exactly three weeks since New Canaan mother #JenniferDulos went missing. https://t.co/Z3tSK7LkkJ

— WTNH News 8 (@WTNH) June 14, 2019
Fotis' defense attorney claimed to WPLR that Troconis has been ruled out as a suspect in the case as she had passed a polygraph test claiming she did not know what was in the bags when she helped her boyfriend dispose of them and has an alibi for when Jennifer had disappeared.
"My understanding is … the police have ruled her out as a participant in any foul play in New Canaan," Pattis said.
"My understanding is she's taken a polygraph exam on the question of whether she had any knowledge of any foul play or disposal of evidence and she satisfied police in that polygraph exam and she provided an alibi," he added.
DEDICATED WEBSITE AND E-MAIL CREATED IN THE SEARCH FOR JENNIFER DULOS On May 24, 2019, at approximately 6:59 PM, the New Canaan Police Department received a report of a missing person. The missing person was identified as Jennifer Dulos ("Jennifer"), age 50, a New Canaan resident and mother of five children. Since receiving the initial call that Jennifer was missing on May 24, 2019, the New Canaan Police Department Patrol Division and Investigative Section in partnership with the Connecticut State Police Western District and Central District Major Crime Squads, with the assistance of Federal Law Enforcement Agencies, and other Connecticut law enforcement agencies, worked around the clock to locate Jennifer by exploring all leads and tips. This law enforcement team launched both a missing person investigation and a criminal investigation, and they have worked together throughout the State of Connecticut. Information from the public has aided the progress of this investigation. Investigators have received over 310 tips regarding the disappearance of Jennifer and nearly 75 responses with video surveillance from homes or businesses. In addition to the tip line, 203-594-3544, to further gather information regarding Jennifer's disappearance we now have a dedicated e-mail FindJenniferDulos@newcanaanct.gov and website www.FindJenniferDulos.com We urge everyone with information regarding Jennifer's disappearance to contact us. We will not rest until we find Jennifer. #findjenniferdulos #newcanaanpolice #townofnewcanaan
The Connecticut mom was last seen driving a 2017 black Chevrolet Suburban in New Canaan, which had been located by police on the same day she went missing. She was allegedly embroiled in a custody battle with Fotis, who she was married to for 13 years.
The couple had five children, aged between 8 and 13, including two sets of twins. Documents reviewed by Fox 61 showed that Jennifer filed for divorce in 2017.
Jennifer has been described as a very slender, 5-foot-7 female with a soft voice, dark brown eyes, and shoulder-length brown hair.