Update in November: The Sea Shepherd group sent new photos of the whale killing.

Denizens of the Faroe Islands—located in the northeast Atlantic Ocean—have rounded up and killed dozens of whales on a beach in a centuries-old hunt that animal rights groups call a barbaric practice.
The Faroese Government say some 450 pilot whales have been killed this year, and 295 were killed during hunts known as "Grindadrap." About 500 were killed in 2015, the government said. Grindadrap can happen several times per year—depending on where the whales are.
Pilot whales are not an endangered species.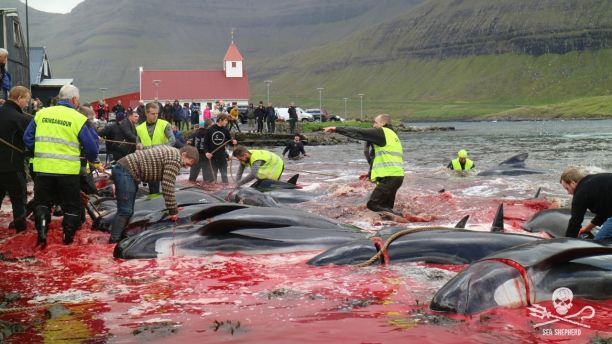 A spokesman for the Faroe Islands government told Fox News that whale hunting is sustainable and lawful.
"There is no doubt that whale hunts in the Faroe Islands are dramatic and result in a lot of blood in the water," he told the news outlet. "They are, nevertheless, well organised and fully regulated."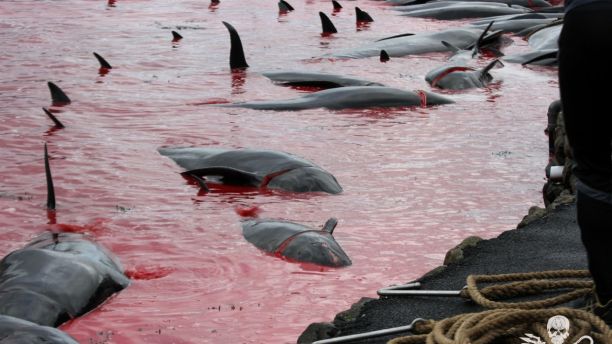 Images of the hunt—which turn the sea red with blood—go viral every year, with a chorus of condemnation from animal welfare groups.
A spokesperson said that the way the whales are killed is humane, as many hunters use a special "spinal lance" that kills the whales within seconds.
"Normally, the entire pod of whales is killed in less than fifteen minutes," the spokesman said. "A rounded blowhole hook is used to haul the whales further up onto the shore."
The government says the hunting technique dates back to 1584. Whales are herded toward the shore where they're beached and then subsequently killed.
"Whaling is a natural part of Faroese life and pilot whale meat and blubber are a cherished supplement to households across the islands," a government spokesman told The Sun.
Militant animal rights group Sea Shepherd has pilloried the Faroese for the practice over the years.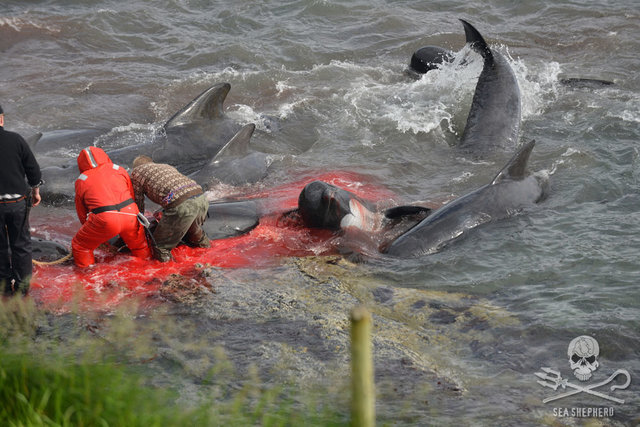 "You can't explain to someone what a pod of dolphins looks like when they're in absolute sheer panic," an activist told The Dodo. "They're swimming in each other's blood. You see babies who don't want to leave their mothers' bodies. They are so exhausted after being driven that some of them just drop on their sides. Some of them die of sheer exhaustion."
"Is it exactly these kinds of atrocities that authorities in Denmark and the Faroe Islands are attempting to cover-up, by refusing Sea Shepherd crews entry to the archipelago," said Sea Shepherd Operation Bloody Fjords Campaign Leader, Geert Vons, in a statement last year. "And this is exactly the reason why we continue to push the increasing global momentum to end this bloody and brutal practice."
As The Dodo reported, entire families of whales and dolphins are killed.
Earlier this year, Denmark's famed Little Mermaid statue was vandalized, and it was painted it blood red. They wrote: "Denmark defend the whales of Faroe Islands." While the Faroe Islands are part of Denmark, they're not part of the European Union.