Six states are now under a blizzard warning as a rare April winter storm is forecast to bring harsh winds and heavy snow over the Central United States. Some forecasters say it could become a "bomb cyclone" or close to it.
Portions of Colorado, Kansas, Nebraska, Wyoming, South Dakota, and Minnesota, as of April 10, are under blizzard warnings, according to the National Weather Service (NWS).
"The system will produce snow over parts of the Northern/Central Rockies onto parts of the Northern Plains that will expand into parts of the Upper Mississippi Valley by Wednesday evening. The snow will expand into the Upper Great Lakes overnight Wednesday," says the NWS's Weather Prediction Center.
#AccordingToAllTheExperts…a dangerous spring storm system will bring multiple weather hazards to the U.S. today and tomorrow.

❄Blizzard conditions
💨High winds
⛈Enhanced risk of severe weather
🔥Extremely critical fire danger

Check https://t.co/VyWINDk3xP for updates. pic.twitter.com/QTOMIGG0IV

— NWS (@NWS) April 10, 2019
Forecasters said that the storm will spread snow over the Central and Northern Plains on Wednesday.
Meanwhile, it added, "Blizzard conditions are expected as heavy and wet snow combines with strong wind."
Between one and two feet of snow is slated to hit the Northern and Central Plains before moving to western Minnesota through Thursday night. Locally, higher amounts are possible, said the NWS.
Blizzard warnings are posted from Wyoming to Minnesota with up to 2 feet of snow and hazardous travel expected. Here are the latest Key Messages from the NWS Weather Prediction Center. Check https://t.co/VyWINDk3xP for your local impacts. https://t.co/pI8ROgD62X

— NWS (@NWS) April 9, 2019
AccuWeather reported that snow is now hitting the Rockies and 30 inches may accumulate in some areas. "Thundersnow" might also occur.
"The already massive storm will continue to gain strength across the nation's heartland into Thursday, bringing everything from damaging winds to blizzard conditions, flooding rain and severe weather," the weather outlet stated.
AccuWeather Senior Meteorologist Dan Pydynowski stated in the article that flight disruptions and road closures are likely.
There's potential for another #bombcyclone to unleash a variety of wild weather across the central U.S. this week! 🌨⛈⚡❄ https://t.co/bjUXKs4NNR

— FOX59 News (@FOX59) April 9, 2019
"Snow may also streak well ahead of the main storm center along a narrow swath," added AccuWeather Meteorologist Randy Adkins.
Drivers who plan on traveling down interstates 94, 90, 80, 35, 29, and 25 in potentially affected areas should pay attention to road conditions, the weather forecasting website said.
'Bomb Cyclone'
According to the Omaha World-Herald, the storm could morph into a "bomb cyclone," which means the storm will see a rapid drop in atmospheric pressure. "The storm is fueled by a column of air—similar to the eye of a hurricane—that rushes up into the atmosphere, leaving a void. Surrounding air whooshes in quickly to fill that void," it explained.
Technically, it's a bomb cyclone when the pressure drops 24 millibars in 24 hours.
Blizzard conditions with two feet of snow and 70 mph winds are expected in South Dakota… but that's just part of this large storm.

Posted by AccuWeather on Tuesday, April 9, 2019
Such storms can bring harsh winds and heavy rain or snow. A similar "bomb cyclone" hit the Midwest and Plains last week, bringing power outages, flooding, and travel delays.
The World-Herald noted, however, that the storm forecast to hit this week could be "just shy" of the definition of a bomb cyclone.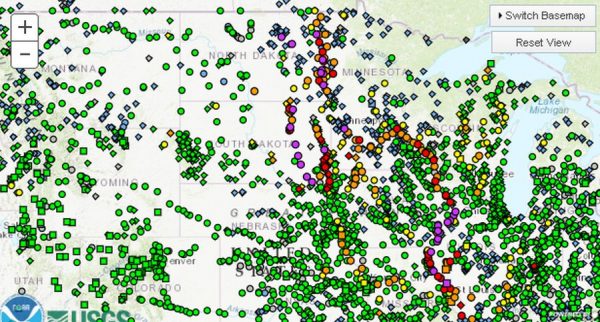 According to CNN, the cyclones usually hit the Northeast United States in the form of nor'easters.
After the storm hits, in South Dakota and Minnesota, rivers will see moderate to major flooding after the snow melts. The Red River is currently flooding in some areas, and the extra precipitation likely will exacerbate that.
River forecasts and current water levels can be accessed at the NWS's website.