Iran's nuclear ambitions are a problem that can best be resolved through diplomacy, according to U.S. Secretary of State Antony Blinken.
Blinken made the remarks in Rome at the end of the G-20 conference.
"We continue to believe that diplomacy is the best way to deal with the challenges, the threat posed by Iran's nuclear program," he told CNN on Oct. 31.
Blinken said the United States has been "absolutely in lockstep together" with its allies to get Iran back to the nuclear deal—the Joint Comprehensive Plan of Action (JCPOA), which President Donald Trump pulled out of in 2018.
Under the deal, Iran would limit its nuclear development in exchange for sanctions being lifted.
Trump has consistently called it the "worst deal," citing that the deal only "delays" but doesn't prevent a possible nuclear weapons program in Iran and that approximately $100 billion of Iran's internationally frozen assets would be released, which might enable Tehran's terrorism and insurgency.
On the other hand, President Joe Biden has pledged to rejoin the nuclear deal, which President Barack Obama brokered when Biden was vice president.
"We're continuing to suffer" from Trump's pulling out of the deal, Biden said in a press conference at the end of the G-20 summit.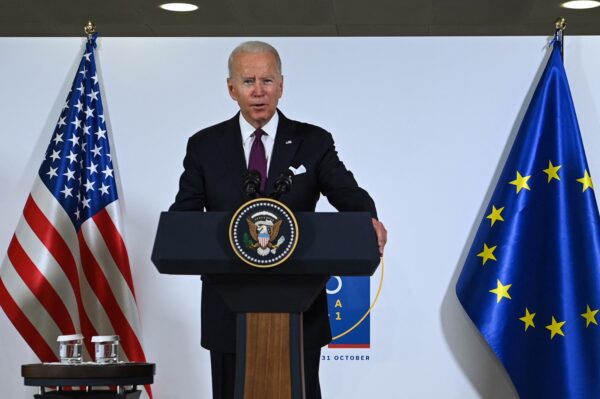 Blinken said coming back to "mutual compliance with the agreement" would be the best result, but it depends on whether Iran is serious about doing that.
"All of our countries working—by the way with Russia and China—believe strongly that that would be the best path forward," Blinken said. "But we do not yet know whether Iran is willing to come back in to engage in a meaningful way and get back into compliance."
In April, Tehran and six other parties—the UK, France, Germany, Russia, China, and the EU—started talks to salvage the nuclear deal. But the talks were put on hold because of the change of the Iranian government. Hardliner Ebrahim Raisi became Iran's new president in June.
Iran recently announced that it would come back to talks in November.
In another interview, Blinken said the United States has also been looking at other options if Iran didn't "engage quickly in good faith." Blinken refused to rule out the possibility of military action.
"Well, as we always say, every option is on the table. But here's what's important: Iran, unfortunately, is moving forward aggressively with its program. The time it would take for it to produce enough fissile material for one nuclear weapon is getting shorter and shorter," Blinken told CBS on Oct. 31.
"The other thing that's getting shorter is the runway we have where, if we do get back into compliance with the agreement and Iran gets back into compliance, we actually recapture all of the benefits of the agreement. Iran is learning enough, doing enough, so that that's starting to be a problem."
Last week, Iran allegedly carried out—or at least facilitated—a drone attack on U.S. forces in Syria. On Oct. 29, the Treasury Department announced sanctions related to Iran's unmanned aerial vehicle program.
Biden said on Oct. 31 that the United States will "respond" to actions Iran has taken against Washington's interests, including drone strikes.
On Oct. 31, Iran's top diplomat said if the United States was serious about rejoining the 2015 nuclear deal with world powers, Biden could just issue an "executive order," according to the state-owned Iran newspaper.
"It is enough for Biden to issue an executive order tomorrow, and they announce they are rejoining the pact from the point where his predecessor left the deal," Iranian Foreign Minister Hossein Amir-Abdollahian said. "If there is a serious will in Washington to return to the deal, there is no need for all these negotiations at all."
Reuters contributed to this report.