Secretary of State Antony Blinken said in a policy speech on Dec. 14 that the United States will "advance a free and open Indo–Pacific," and hit out at China for its aggressive actions in the region.
"We're determined to ensure freedom of navigation in the South China Sea, where Beijing's aggressive actions threaten the movement of more than $3 trillion worth of commerce every year," Blinken said during the speech at the University of Indonesia on Tuesday.
China is currently locking horns with Brunei, Malaysia, the Philippines, Vietnam, and Taiwan in a territorial dispute over reefs, islands, and atolls in the South China Sea. A 2016 international ruling rejected Beijing's vast territorial claims over the disputed sea.
The Chinese Communist Party (CCP) has ignored the ruling and taken aggressive tactics to stake its territorial claims, such as deploying its coast guard to deny ships from other nations access to the South China Sea.
"We and other countries, including South China Sea claimants, will continue to push back on such behavior," Blinken said.
Blinken's criticism of Beijing did not stop there. He also slammed Beijing for "distorting open markets through subsidies to its state-run companies," "engaging in illegal, unreported, and unregulated fishing activities," and "revoking deals for countries whose policies it does not agree with."
"Countries across the region want this behavior to change," Blinken said. "We do too."
Blinken arrived in Indonesia on Dec. 13 for a four-day visit that also includes stops in Malaysia and Thailand. He is scheduled to return to the United States on Dec. 17 with a visit to Hawaii. The trip is designed to deepen ties between Washington and U.S. allies in the region.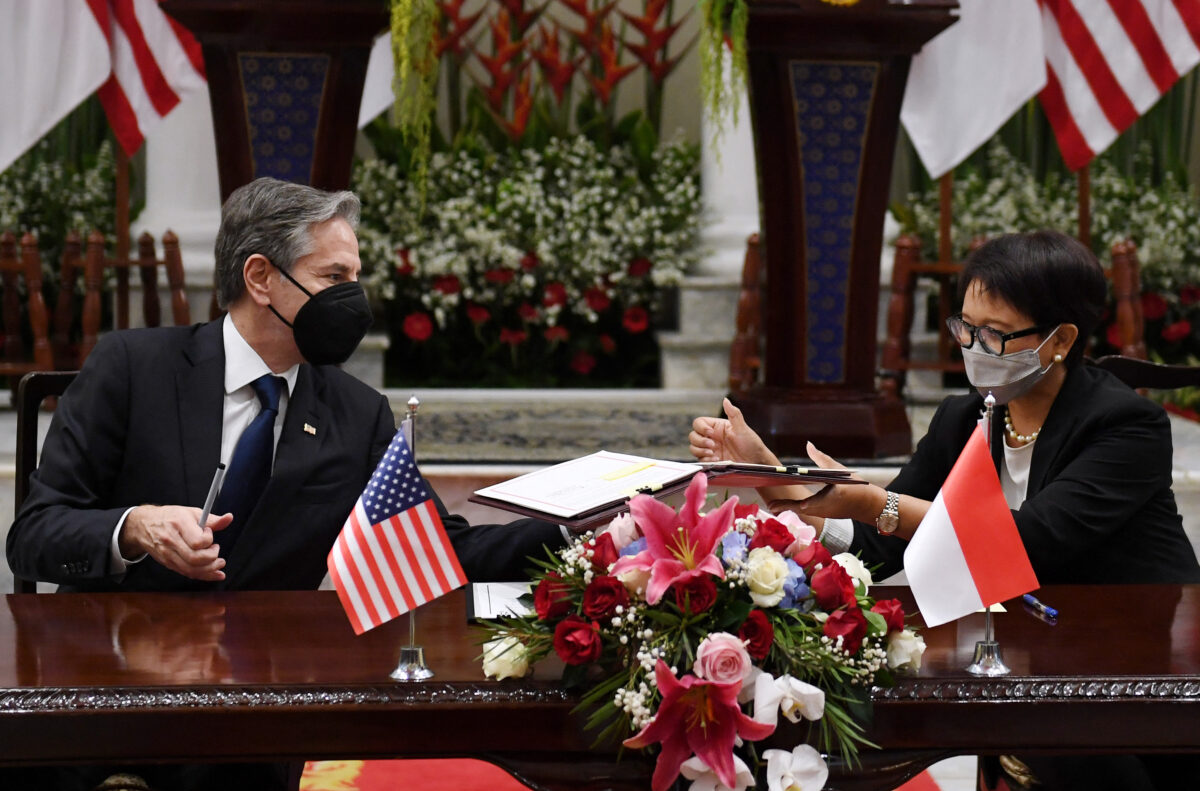 On Monday, Blinken met with Indonesian President Joko Widodo and the two emphasized the importance of a bilateral "strategic partnership," the State Department announced in a statement. Blinken also applauded Indonesia for being "a strong proponent of the rules-based international order."
Washington will work with allies in the region to defend such order, Blinken said during the speech, saying that doing so will "protect the rights of all countries to choose their own path, free from coercion, [and] free from intimidation."
"Let me be clear about one thing: the goal of defending the rules-based order is not to keep any country down," he added.
Currently, Taiwan sits at the forefront of the communist regime's intimidation, as Beijing seeks to bring the self-ruled island under its fold, by force if necessary. On Tuesday, Blinken repeated Washington's long-standing support for Taiwan, saying the United States has an "abiding interest in peace and stability in the Taiwan Strait."
"We'll adopt a strategy that more closely weaves together all our instruments of national power—diplomacy, military, intelligence—with those of our allies and partners," Blinken said.
Blinken also said Washington and U.S. allies in the region will pursue shared objectives under a new "comprehensive Indo–Pacific Economic Framework." These objectives included digital economy and technology,  resilient supply chains, decarbonization and clean energy, infrastructure, and worker standards.
Washington will also "forge stronger connections" with treaty allies in the region, Australia, Japan, the Philippines, South Korea, and Thailand, according to Blinken.
For the Indo–Pacific region, Blinken said it was not a contest about turning the area into a U.S.-centric or China-centric region.
"We all have a stake in ensuring that the world's most dynamic region is free from coercion and accessible to all," Blinken said.
Also on Tuesday, Secretary of Defense Lloyd Austin applauded Lithuania for standing up against China, when meeting with Lithuanian Defense Minister Arvydas Anusauskas at the Pentagon. According to a statement, the two signed a reciprocal defense procurement agreement following their meeting.
"I commend your government for its firm policy regarding China, and we know that you have faced reprisals for your principled decisions," Austin said, according to the Pentagon.
Lithuania is involved in a diplomatic row with China, after the Baltic nation decided to allow Taiwan to open a de facto embassy in its capital Vilnius, using Taiwan's own name. In retaliation, Beijing downgraded its diplomatic ties with Lithuania and was reportedly blocking Lithuanian exports from being cleared by Chinese customs.