U.S. Secretary of State Antony on Blinken on Tuesday announced that he had canceled a scheduled Thursday meeting with his Russian counterpart, Foreign Minister Sergei Lavrov, over Moscow's decision to recognize Ukraine's separatist regions as independent entities.
Shortly after a meeting with Ukrainian Foreign Minister Dmytro Kuleba in Washington, Blinken told reporters that given the circumstances, a meeting between him and Lavrov would not be going ahead as planned.
"Now that we see the invasion is beginning and Russia has made clear its wholesale rejection of diplomacy, it does not make sense to go forward with that meeting at this time," Blinken said. "I consulted with our allies and partners—all agree."
The decision comes after Russian President Vladimir Putin on Monday announced that he would recognize the self-proclaimed Donetsk People's Republic and Luhansk People's Republic, two Kremlin-backed enclaves that have accused Ukrainian armed forces of shelling and flaring tensions—claims that Ukraine has unequivocally denied.
The United States and Ukrainian officials have been warning they expect Moscow may fabricate "pretexts" to justify an invasion of Ukraine.
Putin signed a decree issued by the Kremlin on Monday authorizing Russian military troops into the Donbas region in eastern Ukraine, saying they will "maintain peace." Russian special operations forces have been reported in the Donbas on numerous occasions since the Crimean crisis in 2014.
Blinken said the United States remains committed to diplomacy "if Moscow's approach changes" and if Russia is "prepared to take demonstrable steps to provide the international community with any degree of confidence it's serious about deescalating and finding a diplomatic solution."
He added that he would do anything he could "to avert an even worse-case scenario, an all-out assault on all of Ukraine, including its capital."
"But we will not allow Russia to claim the pretense of diplomacy at the same time it accelerates its march down the path of conflict and war," Blinken told reporters.
Blinken said he informed Lavrov in a letter of his decision to cancel their meeting.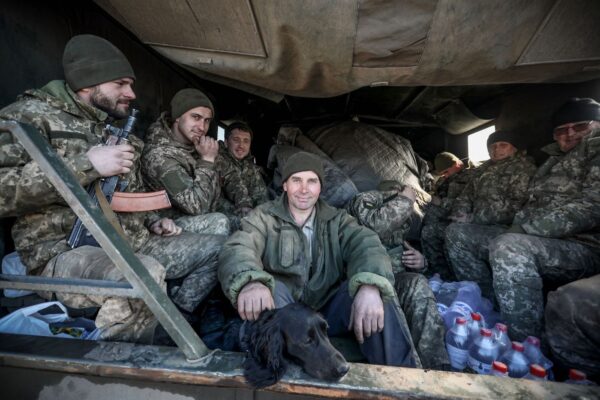 On Tuesday, Russia was hit with a fresh wave of sanctions for ordering troops into Ukraine's separatist regions.
The United States, the European Union, Canada, and Britain announced plans to target banks and elites while Germany halted a major gas pipeline project from Russia.
Moscow has repeatedly denied that it is planning an invasion despite estimates from western officials that Russia has massed more than 150,000 troops near its borders with Ukraine.
According to U.S. firm Maxar, satellite imagery over the past 24 hours shows several new troop and equipment deployments in western Russia and more than 100 vehicles at a small airfield in southern Belarus, which borders Ukraine
"This is the beginning of a Russian invasion," President Joe Biden said on Tuesday.
The White House on Tuesday also said a meeting between Biden and Putin "certainly is not in the plans." Press secretary Jen Psaki had said on Sunday that Biden had "accepted in principle" a meeting with Putin, but only "if an invasion hasn't happened."
Reuters contributed to this report.