A blind Michigan woman has gone missing in Peru, triggering a red alert and a search as authorities scramble to find out what happened to her.
Carla Valpeoz, a 35-year-old social worker, went missing on Dec. 12. She was staying at the Pariwana Hostel in Cusco.
Valpeoz missed her flight home on Dec. 15, and her phone has been turned off for days, investigators told the Detroit Free Press.
Valpeoz planned to go to the popular Machu Picchu village and meet back up with a friend, 32-year-old Alicia Steele of Detroit, in Lima on Dec. 13.
Valpeoz texted her friend late on Dec. 11, affirming she'd been to the tourist site.
"I can't wait to tell you all about it. It was absolutely worth 100 percent," the text message read. "I'm coming in on Thursday afternoon so I will send you the details through email once I check in. It would be a wonderful welcoming to have all of you come pick me up."
She didn't show up in Lima, though. Her friend figured she may have run into some difficulties and would just meet her at the airport but she didn't show up there either.
"We've been searching ever since," Steele, who is still in Peru, told the Free Press. "The last thing we heard is that a man who works at the entrance of Machu Picchu saw her. She was by herself on [Dec.] 15 and was going to climb up Machu Picchu. … She looked well and she looked good."
Family members, though, aren't sure about the timeline.
"This would have been after her flight back to Detroit. She already did that. She spent the entire day there. Why would she have to go back?" said her brother, Carlos Valpeoz of Brooklyn, New York.
Photographs confirm Valpeoz was at Macchu Piccu with a group of one Argentinian and three Spanish travelers on Dec. 11 but after that, it's not clear. The last time she was heard from, she texted one of her new friends after dancing at a club on Dec. 12 and said she was going on a trip.
Surveillance footage showed her entering a taxi but investigators aren't sure where she went, although some signs point to her being in a town called Pisac about an hour north of Cusco. Officials believe she may have gone back to Macchu Picchu.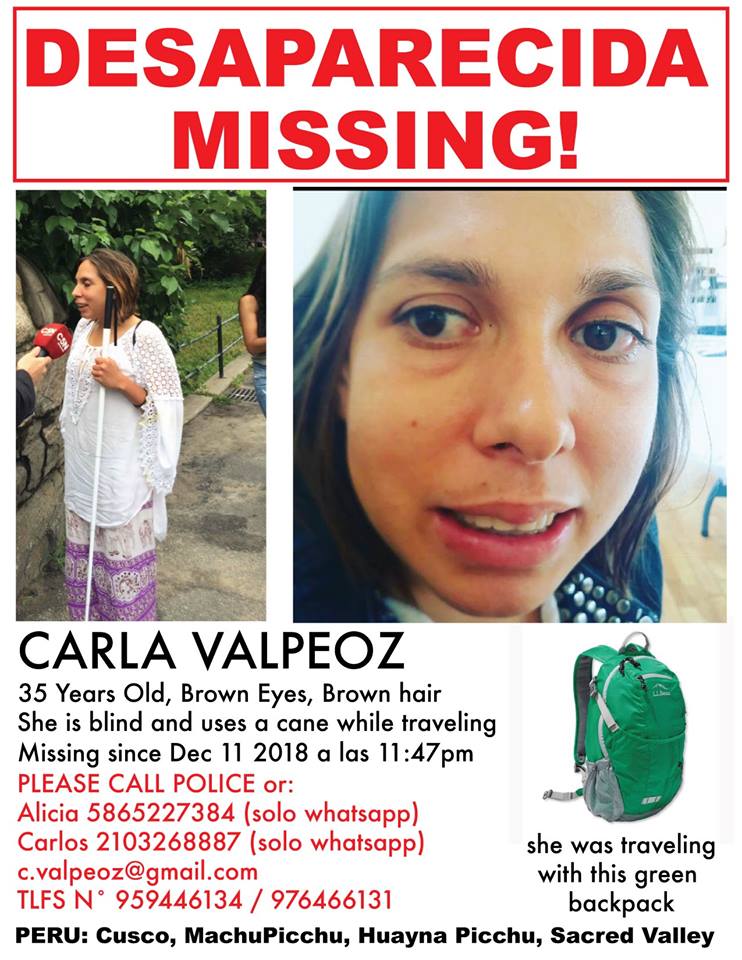 Red Alert Issued
The Peru national police said at a press conference on Dec. 19, that the search for Valpeoz has shifted into "red alert" status as officers try to find her.
"We are committed to the Sacred Valley of the Incas. We have teams on all fronts searching for her at the moment throughout the area and we have dedicated our entire force to find this person because we are very worried," Col. Manual Mar of the Peru national police said at the conference, reported ABC.
The U.S. State Department and FBI agents are assisting with the search.
"We have deployed the red alert to start the search in all of the police stations of Cusco as well as Arequipa, Puerto Maldonado, and Puno," Mar said.
The search is focused on Pisac and the surrounding environs, in addition to outlying areas.
From NTD News