Blind Human Rights Activist Sues Local Government for Persecution, Abuse
July 16, 2006 12:00 am Last Updated: July 16, 2006 12:00 am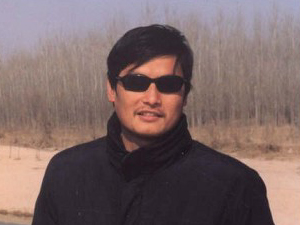 CHINA – Chen Guangcheng, a blind human rights activist form Linyi City, Shandong Province is exposing the local authority's illegal persecution of him and met with attorney Li Jinsong, who will file a law suit according to his account. The local police also threatened Chen's wife, Yuan Weijing, threatening to incarcerate her after her baby is no longer being breast-fed.
A longtime crusader against China's forced-abortion One Child policy, Chen is filing a lawsuit against the local government alleging an ongoing campaign of illegal persecution. The suit, prepared by Chen's attorney, Li Jinsong, describes the local authorities' repeated harassment of Chen, and even details an incident where local police threatened to incarcerate Chen's wife, Yuan Weijing, as soon as she is no longer breast-feeding the Chen's infant child.
Chen has been under house arrest since he first exposed the actions of the Linyi City birth control planning office. The local authority stationed cadres and hired thugs in the village and while they deprived Chen of his freedom, they also assaulted and injured Chen's fellow villagers. After one such conflict, the police arrested the injured villagers instead of the hired thugs. When villagers gathered together to protest on February 5, 2006, they were beaten, this time by the police. In response, the enraged villagers overturned a police car. In the midst of the chaos, Chen escaped from his home and fled to the house of a relative, Chen Guangyu.
On March 11 Chen Guangyu was viciously beaten by thugs who came looking for Chen Guangchen. As Chen Guangcheng came out the house to help Chen Guangyu and other villagers who came to protect him he was then kidnapped by local officials.
Chen Guangcheng and his wife were then charged with the bogus crimes of sabotaging public property and organizing an illegal assembly which blocked the flow of traffic.
Attorney Li Jinsong said he would defend Chen's innocence of these two unlawful charges. At first it seemed that evidence would be hard to obtain as the officials tried to stop him from to entering the village several times. However last week Attorney Li successfully met with Chen in the Yinan County Detention Station. Since there were no officials on the scene this time, Attorney Li got a detailed account of the officials' illegal persecution of Chen. The attorneys will file a suit according to their conversation.
Attorney Li told the press about his meeting with Chen. Attorney Li said the main reason for their meeting was to confirm some basic facts, including the illegal violation of Chen's human rights. "Because the officials were not allowed to be present there was only the two of us. So he directly told me the names of the officials who had committed these unlawful actions. The first of them is Liu, Deputy Mayor and Director of Public Security Bureau of Linyi City. Many others were named, including the town government's secretaries, directors and so on."
Li said "The police illegally kidnapped him from Beijing. They viciously beat him until he was unconscious. The supervisor in the lockup threatened him with death while interrogating him. There were other kinds of threats too."
Local officials not only persecuted Chen, but also his family and his children. Last Tuesday was Chen's little daughter's first birthday. She has been under house arrest with her parents since she was born. Chen's elder brother told a reporter they were making steamed dumplings to celebrate the child's birthday. Just one day before the birthday celebration Yuan Weijing, the baby's mother, was threatened by local police. The police warned her that they would definitely detain her after she finished breast-feeding her baby. When the police summoned Chen's wife on that Monday she was also charged with sabotaging public property and assembling a crowd to disturb traffic order.
Attorney Li said, "The two crimes were completely fabricated by the corrupt officials and the evil forces in the communist regime. We cannot continue our investigation because the hired thugs, who assaulted me the previous two times, have not been caught and nor are they likely to be. Meanwhile, I will go through legal procedures for Chen to sue the officials who have persecuted and done illegal deeds to Chen. They will have to take legal responsibility."