Blind Human Rights Activist Arrested on Criminal Charges
June 14, 2006 12:00 am Last Updated: June 14, 2006 12:00 am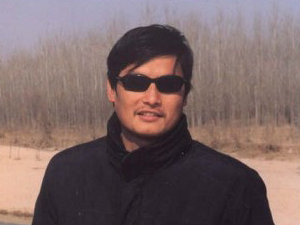 Mr. Chen Guangcheng, a renowned Chinese human rights activist from Shandong Province, had been under house arrest for over six months before he was taken into custody 89 days ago. On June 11, 2006 Mr. Chen's wife, Yuan Weijing, received a criminal arrest warrant from Linyi City Public Security Department in Yinan County. The warrant stated Mr. Chen is currently detained in Yinan Police Station for suspected involvement in willfully destroying property and disrupting traffic when he was organizing gatherings.
As a blind individual, Mr. Chen Guangcheng has not only spoken out for people with disabilities for many years, but has also extended his work to other fields, including exposing the violent means used to implement birth control in Yinan City, protecting the public's rights, and preventing any attempts to breach those rights.
According to the Chinese Rights Defender website on March 11, 2006, police detained and interrogated Mr. Chen Guangcheng for obstructing traffic. Without any legal procedures, Mr. Chen was illegally detained for 89 days. During this time, his relatives said the police refused to release information of Mr. Chen's location, and whether he had been formally arrested.
Mr. Li Jian, from the Chinese Rights Defender website, believes the police purposefully violated the Chinese Constitution and other related laws. Mr. Li revealed that Linyi City police abducted him on September 6, 2005, from Beijing and moved him back to Linyi City. The police also put his entire family under house arrest for 186 days—blocking all forms of communication with the outside—and they even acted violently toward him and his relatives.
Mr. Li is extremely concerned over the police's decision to arrest Mr. Chen on criminal charges. He said the police are likely to pursue prosecution, and Mr. Chen would be put in a very dangerous situation. Mr. Li asks the general public to condemn the Linyi City police's illegal actions and help Mr. Chen regain his freedom.
Police Threaten Chen Guangcheng's Family
Mr. Chen Guangcheng's family has received the criminal detention notice, and the visitation request of Yuan Wejing, Chen's wife, was denied. Mr.Chen's brother said, "The public security officers are closely monitoring [Yuan Wejing], and she is denied the freedom to leave her house. However, she still refuses to sign the detention warrant. Since the government refuses to act according to the law, we are helpless. The neighbors are very sympathetic, but powerless."
The police also harassed Yuan Wejing by claiming that if it were not for Yuan's young child, they would also arrest and sentence her, according to Mr. Li Jian.
Mr. Li Jian said, when the police were attempting to negotiate with Mr. Chen Guangcheng, they were hoping he would not focus on the violence they used to enforce birth control—such as forced abortions and sterilization. If Mr. Chen had complied, the police say they would have set him free. The police station was trying cover up a series of violent birth control incidents that occurred in 2005. At the same time, the police are trying to stop these prisoners of conscience from taking actions to gain their human rights. Mr. Chen refused to cooperate, and Mr. Li believes that caused police terror and anger.
Along with Mr. Chen Guangchen, Mr. Chen Gengjiang, Mr. Chen Guangdong, Mr. Chen Guang, and three other villagers were also arrested for "intentionally destroying public property." Lawyers were unable to visit the accused on May 8 due to police interference .
On May 1, Mr. Chen Guangchen was chosen by Time magazine as one of "2006's Top 100 People Who Shape Our World" in the category of "Heroes and Pioneers."