Blind Human Rights Activist Abused in Chinese Prison
March 3, 2007 12:00 am Last Updated: March 3, 2007 12:00 am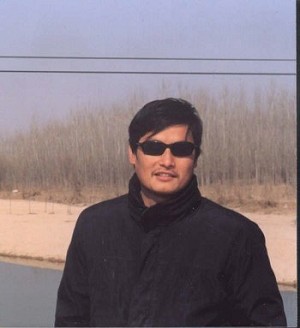 CHINA—The family of human rights activist Mr. Chen Guangcheng from Shandong Province, China, have been unable to visit him since his incarceration last August. On March 1 this year, they finally met for ten minutes.
Chen, 36 years old, assisted lawyers and overseas reporters on numerous occasions to investigate issues of birth control, violence and abuse of women in Linyi, Shandong province. Chen had been under house arrest since August 2005. In August 2006, the Yinan Court sentenced him to four years and three months for "destruction of articles of public and private property and assembling a crowd to disturb public traffic."
Chen was secretly transferred from the Yinan Detention Center to the Linyi Prison two weeks ago. Chen's wife, YuanWeijing, requested a family visit on February 27 and was denied.
On March 1, Yuan again went to the detention center at 8 a.m. and requested a visit with Chen. Her request was approved. Under the supervision of the guards from the detention center, she brought Chen's mother, son, and daughter, and arrived at the Linyi Prison around noon. The meeting lasted ten minutes. Chen and his family were separated by a table. The prison guard forbade Yuan and Chen to told hands and twice interrupted their conversation.
According to Yuan, Chen hasn't eaten well for the past seven months. Chen was finally given enough to eat before the family visit. Chen told Yuan that he has not received a decent meal since his transfer to the Linyi Prison. He is always feeling hungry. Chen also disclosed that the prison applies an inhumane system: it has certain prisoners governing the others.
Before the meeting ended, a prisoner came to take Chen away. As Chen was about to pat his daughter's head again, the prisoner slammed Chen's hand away. "I can tell he is being mistreated in the prison from the conversation. I didn't have time to ask the details. I am very worried," said Yuan.