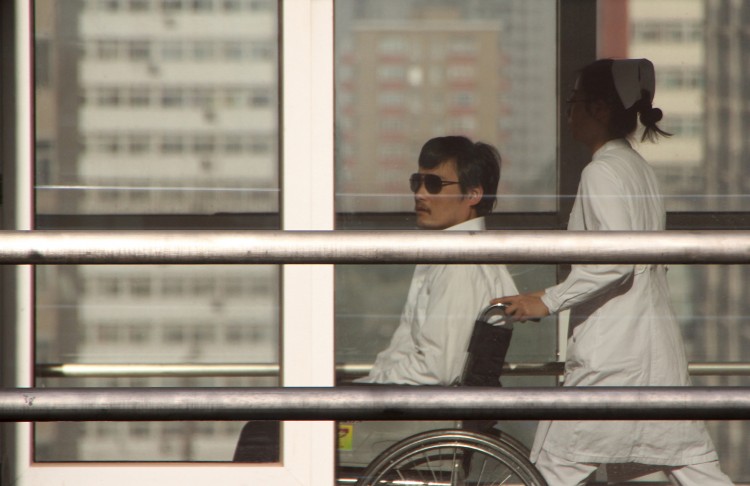 UPDATE (4:30pm UTC): Chinese Regime's apparent promise of safety in question
The Associated Press has reported that Chen Guangcheng left the U.S. Embassy after being threatened by Chinese officials. According to AP, in one version of events Chen said a U.S. official told him that Chinese authorities would arrange having his wife beaten to death if he did not leave the U.S. Embassy. In another version of events, a U.S. official told Chen that the Chinese authorities would send his family back to Shandong if he did not leave the Embassy. AP spoke to Chen from his hospital room, where he had been taken after leaving the embassy on Wednesday. Similar statements appeared on the Twitter feed of Zeng Jinyan, the wife of activist Hu Jia and a close friend to Chen. She said Chen only left U.S. protection because of the threats to his family. According to AP, after he arrived at his room at the Chaoyang Hospital in Beijing with his family, no American officials stayed behind. According to AP, Chen said his family is now afraid and wants to leave China.
---
Chen Guangcheng, the human rights lawyer who made a dramatic escape from house arrest last week and spent six days in U.S. care in Beijing, has now been given assurances of safety and will remain in China.
Chen left the embassy on the afternoon of May 2, according to American officials who briefed foreign journalists in Beijing.
Secretary of State Clinton said in a statement that she was "pleased that we were able to facilitate Chen Guangcheng's stay and departure from the U.S. embassy in a way that reflected his choices and our values." She added: "I was glad to have the chance to speak with him today and to congratulate him on being reunited with his wife and children."
Chen was promised a safe living environment and the ability to pursue higher education, Clinton said, as conditions of his release. "Making these commitments a reality is the next crucial task," she said.
---
Click www.ept.ms/ccp-crisis to read about the most recent developments in the ongoing power struggle within the Chinese communist regime. In this special topic, we provide readers with the necessary context to understand the situation. Get the RSS feed. Get the Timeline of Events. Who are the Major Players?

---
Chinese authorities also said they would not punish his family and those that helped him escape, according to the Los Angeles Times, who quoted an anonymous U.S. official. The Los Angeles Times also said that "Chinese officials agreed to investigate Chen's extralegal detention in his village of Dongshigu," but no source was provided, and no official Chinese statements make this reference.
No agency in the Chinese Communist Party (CCP) has made an official announcement about what promises were made to Chen, but a Foreign Ministry spokesperson expressed anger at the U.S. for shielding him. The statement said that the regime was "extremely unhappy," and demanded that the U.S. "apologize for this, thoroughly investigate the matter, punish the responsible people, and guarantee that this will not happen again."
It is unclear, however, what law America violated. Professor Don C. Clarke, a professor of law specializing in China at George Washington University, wrote on his blog: "Chen is not a wanted man; he has neither broken nor been accused of breaking any Chinese laws; it is perfectly legal for a law-abiding Chinese citizen to walk into a US embassy if the embassy is willing to let him in; it is perfectly legal (as far as I know) for that law-abiding citizen to stay in the embassy as long as both he and the embassy are happy with the arrangement."
Reports indicated that the U.S. intended to follow-up on Chen's safety, though it was unclear what the U.S. could do if Chen was subject to further persecution. In the Chinese official world, the persecution of Chen Guangcheng did not happen; it took place outside the law and judicial institutions, and was carried out by plainclothes guards.
Chen had been held under strict guard in his farmhouse in rural Shandong Province for 19 months, from late 2010 until April 22 this year, when he is understood to have made an extraordinary escape, possibly aided by a guard, and aided by supporters from around China. The surveillance, which, according to Chen, was coupled with occasional savage violence against Chen and his family, was conducted outside the purview of the law.
The body responsible for the persecution of Chen is the Political and Legislative Affairs Committee (PLAC), a Communist Party organ that controls the courts, police, armed police, and all domestic security forces. Its powers are not circumscribed by legislation, and it is not subject to any form of oversight.
Chen had been detained in his house after serving a four year prison sentence after exposing violence associated with the implementation of the Communist Party's "one child policy," which included forced sterilizations and forced abortions, often paired with violence.
In the context of his release, no mention has been made of what will happen if Chen continues to advocate for women who have their children forcibly aborted, or are forcibly sterilized—both practices that still take place across China under the oversight of family planning officials and security forces.
chinareports@epochtimes.com